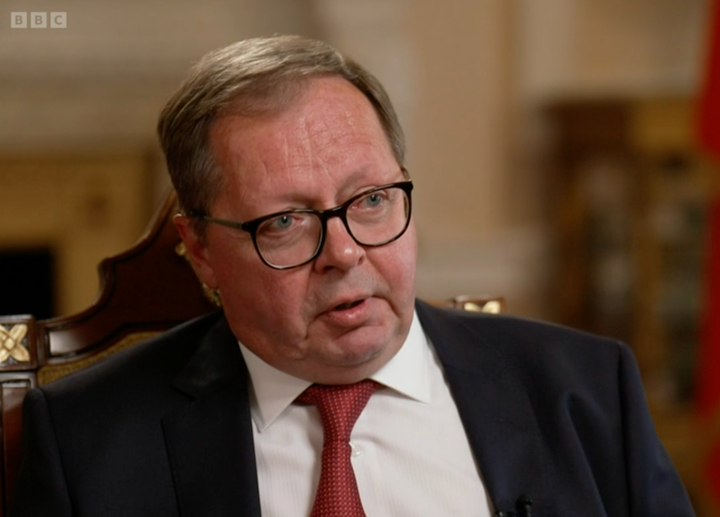 Russia has has not yet begun acting "seriously" in Ukraine, Moscow's ambassador to the UK has said.
In an interview with the BBC's Laura Kuenssberg On Sunday programme, Andrei Kelin warned there could still be "a new dimension" to the war.
"It is a big idealistic mistake to think that Ukraine will prevail. Russia is 16 times bigger than Ukraine," he said.
"We have enormous resources and we haven't just started yet to act very seriously."
Asked how long the war could go on for, Kelin said: "It depends on the escalation of war that is taking place.
"Sooner or later this escalation might have a new dimension that we do not need and we do not want."
Pressed on what that meant, the ambassador pointed to the delivery of missiles, tanks and jets by Nato to Ukraine.
During the interview Kuenssberg challenged Kelin for repeating claims that had been disproven.
"You are happy to mislead our audience about the truth," she said. "Maybe you are even lying to yourself about what's going"
It came after Kyiv was subjected to the largest drone attack since the start of the war, local officials said, as the city prepared to mark the anniversary of its founding on Sunday.
Russia launched the "most massive attack" on the city overnight into Sunday with Iranian-made Shahed drones, said Serhii Popko, a senior Kyiv military official.
The attack lasted more than five hours, with air defences reportedly shooting down more than 40 drones.
A 41-year-old man was killed and a 35-year-old woman was injured when debris fell on a seven-storey non-residential building and started a fire, Kyiv mayor Vitali Klitschko said.
Ukraine's air force said Saturday night was also record-breaking in terms of Shahed drone attacks across the country. Of the 54 drones launched, 52 were shot down by air defence systems.
Kyiv Day marks the anniversary of the city's official founding. The day is usually celebrated with live concerts, street fairs, exhibitions and fireworks, but scaled-back festivities are planned for this year – the city's 1,541st anniversary.
The timing of the drone attacks was likely not coincidental, Ukrainian officials said.