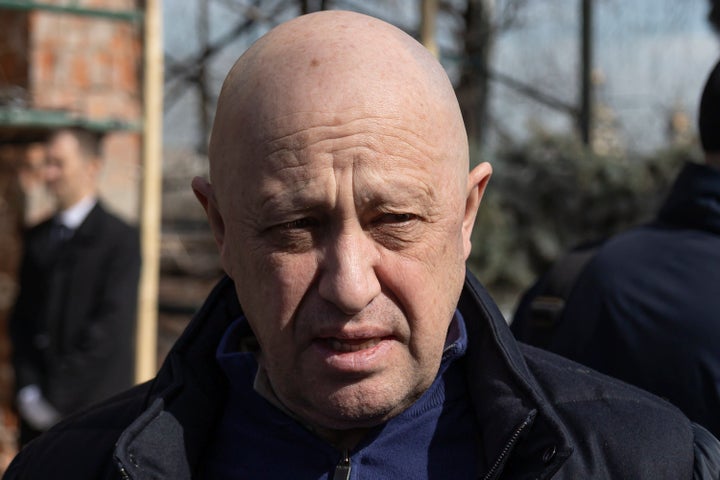 In an interview posted on his Telegram channel and shared by Reuters, the oligarch warned: "We are in such a condition that we could fucking lose Russia – that is the main problem. We need to impose martial law."
He suggested that if the general Russian public kept seeing their children die in Ukraine while the children of the elite "shook their arses" in the sun, there would be a return to the 1917 revolution when the poor rebelled against the aristocracy, and civil war followed.
Prigozhin said: "This divide can end as in 1917 with a revolution – first the soldiers will stand up, and after that – their loved ones will rise up.
"There are already tens of thousands of them – relatives of those killed, and there will probably be hundreds of thousands."
The mercenary chief also dismissed what he called the optimistic view that the West would get bored of the war – Ukraine's success is linked to the widespread support for the country from its Western allies – and China would broker a peace deal.
In Prigozhin's mind, Ukraine is preparing a counteroffensive which would hope to return its borders back to before 2014, prior to the annexation of Crimea.
Kyiv has repeatedly said that it wants to regain all of its land from Russia, including the Crimean peninsula.
He predicted that Ukraine would soon encircle Bakhmut, the besieged city in the east of the country which Russia (and the Wagner group) says it has taken. Kyiv has rejected such claims.
The city is now a shell of what it once was, but Russian-backed officials in the area have reportedly now renamed it after its Soviet-era name: Artemovsk.
He concluded: "This scenario will not be good for Russia so we need to prepare for an arduous war."
It's this outcome which will mean Moscow will "lose Russia", according to the high-profile mercenary.
Prighozhin also dismissed his own nickname, "Putin's chef", which was a reference to his restaurant chain which was reportedly popular with the Russian president. Instead, he suggested the more chilling nickname of "Putin's butcher".
Prighozhin has frequently criticised the Russian military in recent months, even though he always stops short of hitting out at the president and made a point of saying in his interview, "I love my motherland, I serve Putin."
He said the military had "fucked up" throughout the war and failed in demilitarising Ukraine and claimed the decision to call the war "the special military operation" is unclear and confusing.
He blamed a lot of the war's failures on the Russian defence minister Sergei Shoigu too, adding: "Shoigu should be judged and we will fight on."