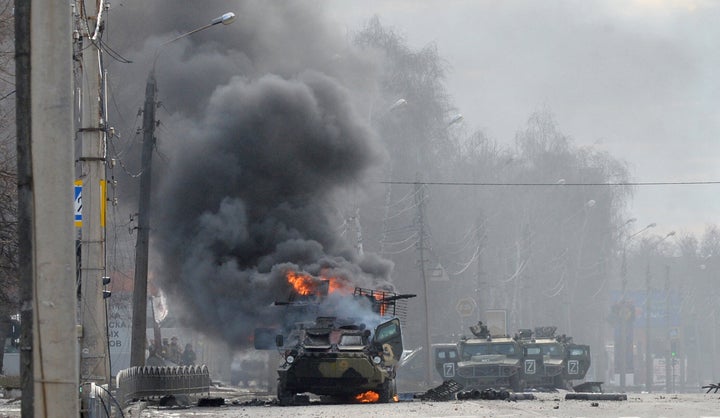 Kharkiv is Ukraine's second-largest city behind the capital of Kyiv. It has 1.5 million residents, and is a Russian-speaking region of Ukraine, near to the north-eastern border of the country.
The city remained under Ukrainian control even as Russia started to target the city over the weekend, but the attacks started up again with renewed aggression and "indiscriminate" shelling from the Kremlin on Monday.
One person tweeted: "Under the distraction of 'peace' talks in [Belarus] massive atrocities are being committed with indiscriminate rocket attacks in the civilian districts of Kharkiv."
Ukraine's interior ministry adviser Anton Herashchenko, wrote on Facebook this morning that the initial attacks on the city had already left "dozens of dead and hundreds of wounded" in rocket strikes.
Well-known broadcaster Andrew Neil even dubbed the decision to bomb Kharkiv "a war crime".
The bombing followed a warning from defence secretary Ben Wallace, who warned the "West must brace itself for what comes next", as he suspected Moscow would escalate its efforts as its invasion has stalled.
A Downing Street spokesperson also noted on Monday that prime minister Boris Johnson "categorically condemned the barbaric airstrikes being carried out by Russia against innocent civilians, including children."
Here's a roundup of some of the most heart-breaking footage.