Jeremy Corbyn has defied the global condemnation of Russia over the Salisbury nerve agent attack, warning against a "rush" to judgement.
As the UK awaited Russia's retaliation for expelling 23 diplomats, Corbyn wrote in the Guardian that there was a "McCarthyite intolerance of dissent" in a clear sign the Labour leader is refusing to soften his line on the poisoning controversy.
He also suggested that the attack could have been carried out by Russian-linked gangsters rather than ordered by Moscow.
His comments came as Shadow Brexit Secretary Keir Starmer backed Theresa May's conclusion that Moscow was directly responsible for the attack as "the right conclusion".
Shadow Defence Secretary Nia Griffith and Shadow Foreign Secretary Emily Thornberry have also split from Corbyn and said Russia is to blame.
Donald Trump, Emmanuel Macron, Angela Merkel and Theresa May said "there is no plausible alternative explanation" and the Salisbury attack came amid "a pattern of earlier irresponsible Russian behaviour".
Within hours, the US underlined the nations' unity by increasing sanctions over Russian interference in the 2016 elections and accusing Russia of a cyber-attack against the US' infrastructure.
At home, May won widespread support for her decision to expel 23 Russians diplomats believed to be spies and to suspend high-level meetings between British and Russian officials.
The Prime Minister visited the bedside of DS Nick Bailey, who is still being treated after exposure to the nerve agent.
May was also at the scene of the attack in Salisbury where she spent time chatting with members of the public and first-responders.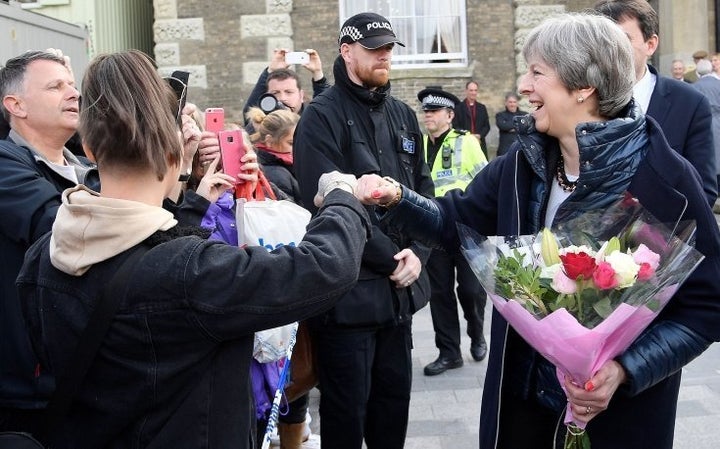 "This happened in the UK but it could have happened anywhere and we take a united stance against it," May told journalists.
Meanwhile, the Russian foreign minister, Sergei Lavrov, indicated that Russia would expel British diplomats from Moscow in retaliation for similar sanctions announced by May.
In his Guardian article, Corbyn made clear he backed May's crackdown, but suggested a financial crackdown on Russian oligarchs would be more effective.
But he was also clear the "horrific event" demands the "most thorough and painstaking criminal investigation".
Corbyn said: "To rush way ahead of the evidence being gathered by the police, in a fevered parliamentary atmosphere, serves neither justice nor our national security."
He continued: "Labour is of course no supporter of the Putin regime, its conservative authoritarianism, abuse of human rights or political and economic corruption.
"However, that does not mean we should resign ourselves to a 'new cold war' of escalating arms spending, proxy conflicts across the globe and a McCarthyite intolerance of dissent."
He said May was right on Monday to identify two possibilities for the source of the nerve agent – either Russia authorised the attack or had lost control of the Novichok substance.
"If the latter, a connection to Russian mafia-like groups that have been allowed to gain a toehold in Britain cannot be excluded," he said.
Corbyn added: "There can and should be the basis for a common political response to this crime.
"But in my years in parliament I have seen clear thinking in an international crisis overwhelmed by emotion and hasty judgments too many times.
"Flawed intelligence and dodgy dossiers led to the calamity of the Iraq invasion.
"There was overwhelming bipartisan support for attacking Libya, but it proved to be wrong.
"A universal repugnance at the 9/11 attacks led to a war on Afghanistan that continues to this day, while terrorism has spread across the globe."
Speaking earlier during a visit to Carlisle, Corbyn's focus was more on making clear his outrage at the attack.
He told reporters: "I was extremely definite yesterday that I totally condemn this attack. The perpetrators must be brought to justice.
"The international chemical weapons convention must be invoked and the source of this weapon, which appears to be Russia either from the state or from a rogue element of the state, must be brought to justice as a result of it.
"This is a very serious issue and has to be dealt with. I made that very clear yesterday."
When pressed on the issue and his shadow defence secretary's comments, Corbyn said: "The evidence points towards Russia on this, therefore responsibility must be borne by those that made the weapon, those that brought the weapon into the country and those that used the weapon.
"What I was asking was questions, questions about the identity of the weapon, questions about the reference to the weapons convention and also the support of other allies. That's what Oppositions are there for."