The leader of the Scottish Conservative and Unionist party has accused Jeremy Corbyn and John McDonnell of "actively" wanting the IRA to win.
In a speech at think tank Bright Blue's event on Monday, she said Labour's leader and Shadow Chancellor had ruled themselves out of leading the country by standing with "the guys with the balaclavas" and "against the British Army".
"Having a leader of the opposition and a Shadow Chancellor who didn't just equivocate over the troubles in Northern Ireland, but who actively wanted the IRA to win, immediately counts them out from being allowed to be Prime Minster and Chancellor of this nation", she told the Conservative think tank.
"When you stand with the guys who wore the the balaclavas.. with the bullets and the bombs, and you stand with them against the British Army - I'm sorry, I will do everything in my power to stop them ever taking office."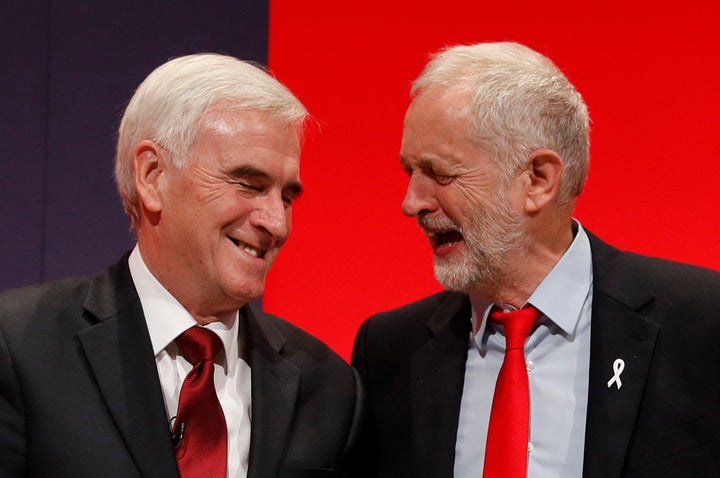 "Perhaps this cuts stronger in Scotland because of the historic links between Scotland and Northern Ireland. Perhaps this is writ large against the whole of the UK", she said.
Corbyn has defended reaching out to the IRA at the height of Ireland's troubles, last year telling the BBC's Andrew Marr programme he had "wanted the violence to stop".
He faced criticism for bringing former IRA members to the House of Commons during the 1980s, but later said he had been attempting to open a political dialogue with them and his actions had helped achieve the ceasefire in 1994.
McDonnell has also attracted controversy over his remarks that IRA members should be "honoured" for their role in the peace process.
In 2003 he said it was "about time we started honouring those people involved in the armed struggle".
"It was the bombs and bullets and sacrifice made by the likes of Bobby Sands that brought Britain to the negotiating table.
"The peace we have now is due to the action of the IRA. Because of the bravery of the IRA and people like Bobby Sands, we now have a peace process", he said.
McDonnell has since apologised, in 2015 telling an audience on the BBC's Question Time: "If I gave offence – and I clearly have – from the bottom of my heart I apologise. I apologise."