Muslim families have been telling Sadiq Khan they have been put off entering politics over what happened to him during the election campaign, the new Mayor of London has said.
Khan defeated Tory Zac Goldsmith, whose campaign was accused of "dog-whistle racism" by trying to emphasise Khan's alleged links with extremist Muslims.
The campaign outraged even Tories. Andrew Boff, the former leader of the London Assembly's Conservative group, said that he and many other Tories in the capital were "really troubled" by the Goldsmith tactic of painting Labour's candidate as an extremist.
"I don't think it was dog whistle, because you can't hear a dog whistle. Everybody could hear this," he said.
Speaking to Sky News on Saturday, Khan said he had spoken with many Muslims in recent weeks who told him they felt discouraged about entering mainstream politics for fear of the same thing happening to them.
"I've spent my entire life fighting extremism and radicalisation, encouraging minority communities to get involved in mainstream politics and civic society," he said.
"In the last few weeks, I've had dozens and dozens and dozens of parents, uncles and aunties and grandparents saying: 'You know what, our son or our daughter, was thinking of going into politics but after seeing what's happened to you, we're advising against that'.
"I'm hoping Thursday's result encourages young people to get involved in mainstream politics, encourages Londoners of the Islamic faith and other minority communities, to get involved in mainstream politics.
"The decency of Londoners will cut through."
When asked if he felt David Cameron should apologise for the campaign, Khan said: "It's for David Cameron to decide what he wants to do but I'll work with the prime minister in the interest of Londoners."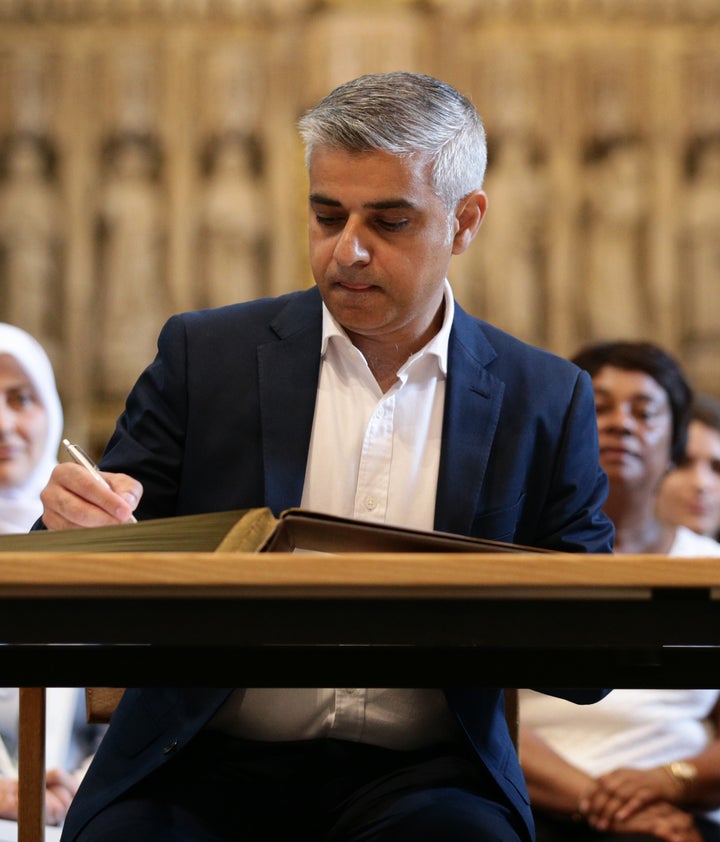 At the ceremony, Khan was given a huge applause when he declared: "My name is Sadiq Khan, I am the Mayor of London."
He told those assembled: "I'm determined to lead the most transparent, engaged and accessible administration London has ever seen, and to represent every single community, and every single part of our city. A Mayor for all Londoners.
"So I wanted to do the signing-in ceremony here. In the very heart of our city, surrounded by Londoners of all backgrounds."
Speaking to Sky News, Khan also confirmed he would stand down as Tooting MP as soon as possible, which will trigger a by-election in the south west London constituency.
Popular in the Community