London elected its first Muslim mayor despite the rival Zac Goldsmith campaign trying to paint him as sympathetic to Islamic extremists, leading to accusations the Conservatives were guilty of "dog whistle" tactics appealing to xenophobic.
One message of congratulations, which crossed party politics, emphasised how significant a moment his victory was.
Business Secretary Sajid Javid tweeted his congratulations "as one son of a Pakistani bus driver to another".
Like Khan, Javid has made much of his humble background since entering politics. His father arrived in Britain from a Pakistani village and ended up working "night and day" on the buses to support his five sons.
Khan grew up on a council estate in Earlsfield, south west London, one of eight children.
Javid's congratulations came despite the Goldsmith campaign being labelled "appalling" for its treatment of Khan.
Some on Twitter pointed this out but others said Javid should be praised for his cross-party "decent gesture".
Writer Bonnie Greer - no friend of the Tories - was among those praising Javid for his statement. She said Javid should be praised for his "gent's statement".
Khan, who is due to be sworn in as mayor on Sunday, has previously joked about his and Javid's common background.
"And you know what they say. You wait ages for a Muslim son of a bus driver to turn up and then two come along at the same time."
Khan claimed Londoners chose "hope over fear" after he won the race on second preferences, winning 57 per cent of the vote to Goldsmith's 43 per cent.
Speaking at 12.30am on Saturday, after a count that went on for more than 16 hours, Khan said he was "deeply humbled" by the "hope and trust" placed in him by Londoners.
With Goldsmith looking on, Khan said: "This election was not without controversy and I am so proud that London has today chosen hope over fear and unity over division.
"I hope that we will never be offered such a stark choice again. Fear does not make us safer, it only makes us weaker, and the politics of fear is simply not welcome in our city."
Goldsmith said he was disappointed by the result but wished Khan well said he should "build on the successes that we have seen under Boris Johnson".
As he stepped away from the podium, Labour MP Dawn Butler shouted "apologise" at Goldsmith.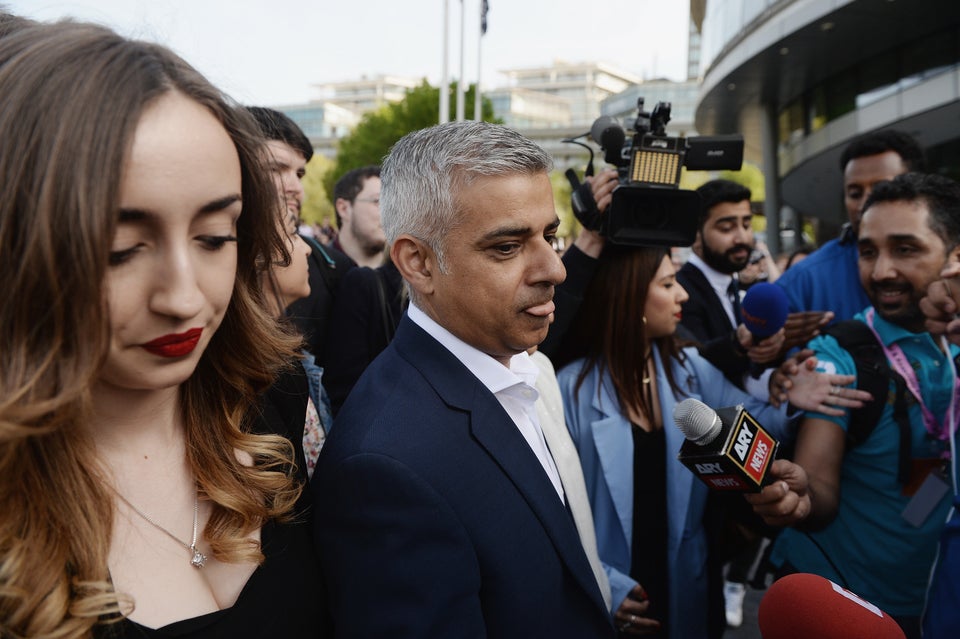 Sadiq Khan Wins London Mayoral Election