Sainsbury's has announced it will be updating its toilets in stores across the UK to make them dementia and stoma-friendly.
The move will see 'way out' signs attached to doors to help people with dementia find the exit and toilet cubicles will be fitted with a shelf and a hook to cater to the needs of customers living with a stoma.
The inclusive toilets will be installed in all Sainsbury's stores by March 2018.
One person who is delighted by the change is Angela Clayton-Turner, whose husband has dementia. She said: "I have been talking about the difficulty my husband had finding his way out of public toilets for some years.
"I am absolutely over the moon that Sainsbury's has taken this problem on board. Hopefully where Sainsbury's leads, other organisations will follow."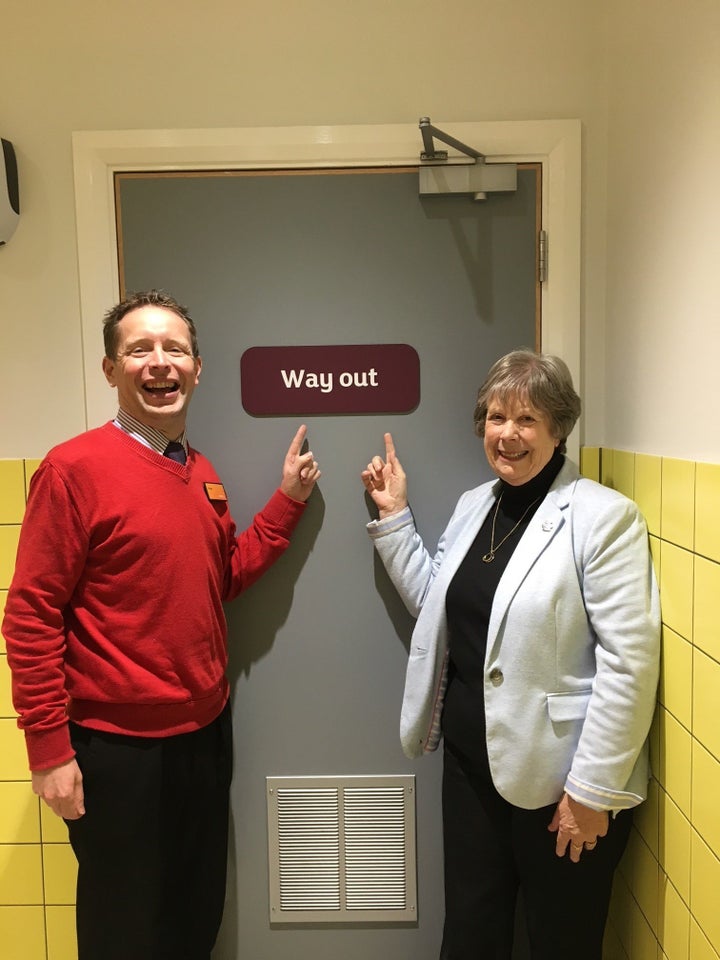 Emptying stoma bags can prove extremely difficult without the right facilities. Caroline Richards, an ostomy campaigner living with a stoma, previously explained in a blog post on HuffPost UK just how troublesome it can be.
"Going to the toilet with a stoma means that I need enough space to be able to change my bag without having an accident," she wrote.
"It means having some kind of clean surface that I am able to use all the accessories I need to change my bag. It means having somewhere to hang my clothes and luggage so that they don't get soiled."
Caroline, and many others, have been forced to kneel on toilet floors to change their stoma bags in the past. And if the toilets aren't clean, this can prove to be a horrendous experience.
Emma Bould, programme partnerships project manager at the Alzheimer's Society, said the charity is "delighted" by the move to make the toilets dementia-friendly.
"Finding and exiting toilets can often be confusing for people living with dementia, causing anxiety when they are out and about," she explained. "This small but significant step will enable people with dementia to quickly find the exit, while also making the route clearer to all customers."
Rachel Thompson, admiral nurse professional & practice development lead at Dementia UK, told HuffPost UK: "At Dementia UK, we welcome initiatives that enable people with dementia to live as independently as possible."
She said the move "can make all the difference to someone with dementia, who might become otherwise become disorientated in an unfamiliar room".
A recent survey by Alzheimer's Society showed that almost 80% of people with dementia listed shopping as their favourite activity however 63% didn't think that shops were doing enough to help people in their position.
Key issues people with dementia face when out shopping include:
:: problems navigating around the store,
:: challenges caused by their memory problems (such as picking up the wrong item or being unable to find the right words to describe the items they need),
:: problems at the checkout (such as having difficulty counting money, coping with new technology and payment methods, feeling rushed and worrying that they will forget to pay),
:: concerns over how other people will react to them (for example, people not understanding their difficulties, staff not being confident to help or the reaction of security staff to unusual behaviour).
"Often people stop going shopping as their dementia progresses because they are worried about getting the support they need, including finding their way in and out of the toilets," Bould added.
A Sainsbury's spokesperson told HuffPost UK: "Our vision is to be the most inclusive retailer where people love to work and shop. We're always looking at ways to create an environment that meets the needs of our customers and we're delighted to be the first supermarket to install these signs in our store toilets across the UK."