A woman is showing off her bikini body after a lifesaving operation left her with a colostomy bag.
Heather Grant, 23, from St Helens, Merseyside, was diagnosed with Crohn's disease - a type of inflammatory bowel disease - last July, after three years of crippling pain.
In December, Heather underwent a lifesaving operation to remove part of her bowel but complications caused a deadly amount of fluid to build up in her stomach.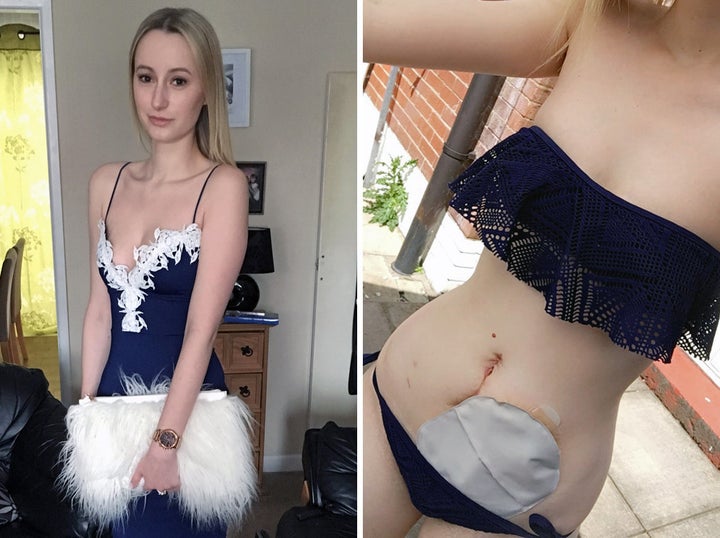 She was taken back down to theatre five days later and fitted with a colostomy bag.
Heather, who had been in agonising pain for months, felt relieved she was no longer suffering but devastated about how her life had changed in just a few days.
Now, five months later, Heather has booked her first holiday and is proudly showing off her bikini body to help others with the condition.
Heather, a sales assistant at New Look, said: "I'm so lucky I survived the operation but when I first woke up I was devastated to see they'd fitted me with a bag.
"I never thought I'd feel confident enough to wear a bikini again, I was just so embarrassed and disgusted with myself at first.
"But I knew it had saved my life and it felt amazing not to be in agonising pain.
"Now I'm really happy and back to my normal self, I know in the future I can have it reversed but now I've lived with a stoma bag for the past five months, I know it's not that bad at all.
"I hope other people with diagnosed with Crohn's disease can read my story and see that life does go on after the operation."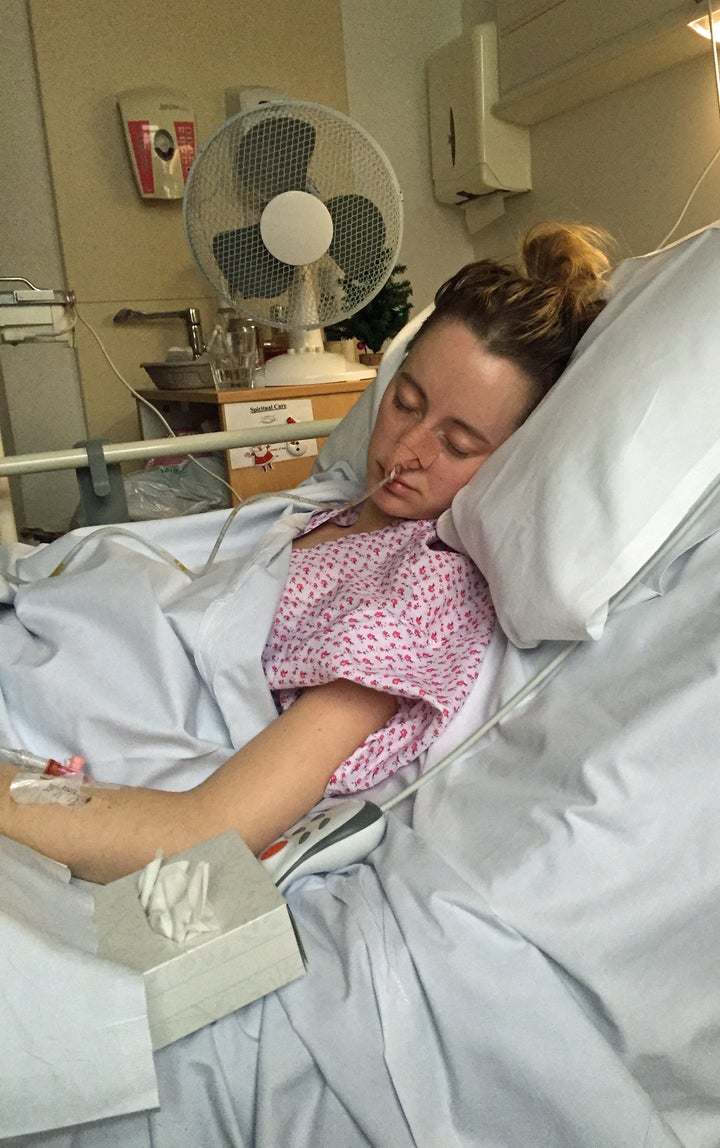 Heather first began suffering from stomach cramps in 2013 - doctors first dismissed her symptoms as period pains and IBS.
She added: "I finally had the MRI scan I needed last summer and that revealed I had Crohn's disease.
"It was a shock when they revealed I needed surgery to remove part of my diseased bowel.
"I had no idea how serious my condition was until I woke up in unbearable agony after my operation.
"I weighed just six stone after being unable to eat for such a long time.
"I was screaming in pain before nurses realised something serious was wrong and I was taken back down to theatre, my stomach was filling with blood due to a complication with my first operation and I needed a stoma bag."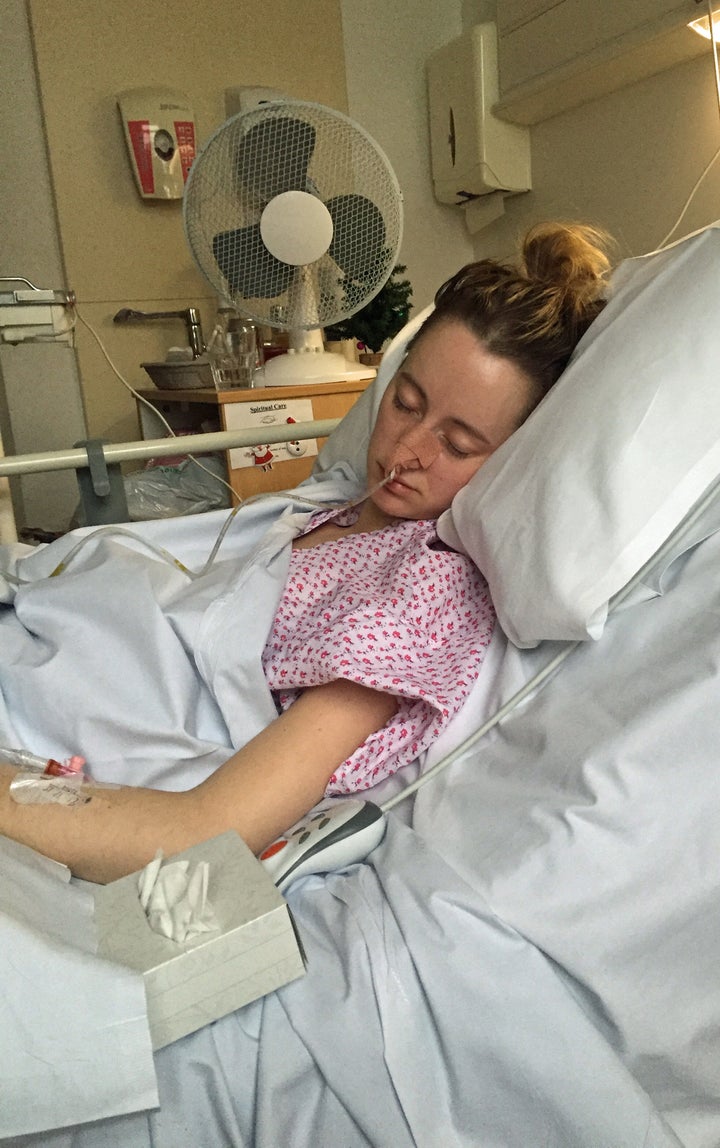 Heather's parents Susan, 45, and David Bell, 49, were told it was a close call but thankfully their daughter had pulled through the four and a half hour operation.
She said: "My parents have been my rock throughout it all and so has my boyfriend, Niall Roughley.
"I'm so excited to finally be able to go on holiday without having to worry about my toilet habits or severe pain.
"I've been through so much in the past year but I can't wait to get on the beach in Greece now.
"I have some lovely bikinis to wear and I'm so thankful to those surgeons that saved my life, I have my whole future to look forward to now."
Heather has been left with a seven inch scar on her stomach due to her operations but she insists nothing will hold her back.
She said: "I'm not bothered by my scar and at the end of the year, I'm hoping to have a stoma reversal.
"I hope my story gives other people who are diagnosed with Crohn's disease the confidence to show off their scars and colostomy bags, we have nothing to be ashamed of."
Isobel Mason, Nurse Consultant and IBD Nursing Development Manager at Crohn's and Colitis UK said: "Every 30 minutes someone in the UK is diagnosed with Crohn's Disease or Ulcerative Colitis – the two main forms of Inflammatory Bowel Disease (IBD).
"These are chronic conditions that can cause ulceration and inflammation in the colon (Ulcerative Colitis) or any part of the digestive system (Crohn's Disease).
"Symptoms can include diarrhoea (often with blood), severe pain, extreme fatigue, and depression.
"Weight loss is also a key symptom but not always as dramatic as in this situation.
"At present there is no cure for Crohn's and Colitis, but drugs and sometimes surgery can give long periods of relief from symptoms.
"This means 1 in 210 people are living with these unpredictable, life-long and potentially life-threatening conditions.
"Crohn's and Colitis UK provide high quality information and personal care, support life-changing research and campaign vigorously for more knowledge, better services and more support for people affected by IBD."