Samaritans responds to more than 5.4 million calls for help every year and these don't stop over the festive season.
So this December, the suicide prevention charity is urging us all to stop striving for a "perfect Christmas" and have a #RealChristmas instead.
The campaign aims to show people that it's okay not to feel merry over the holidays.
To encourage us all to be honest about our feelings and listen to one another, the charity has produced a set of vouchers that can be given as Christmas presents on their own or along with staples like chocolates, bubble bath, cufflinks or socks.
Each voucher can be personalised and entitles the person receiving it to some one-to-one listening time from the giver.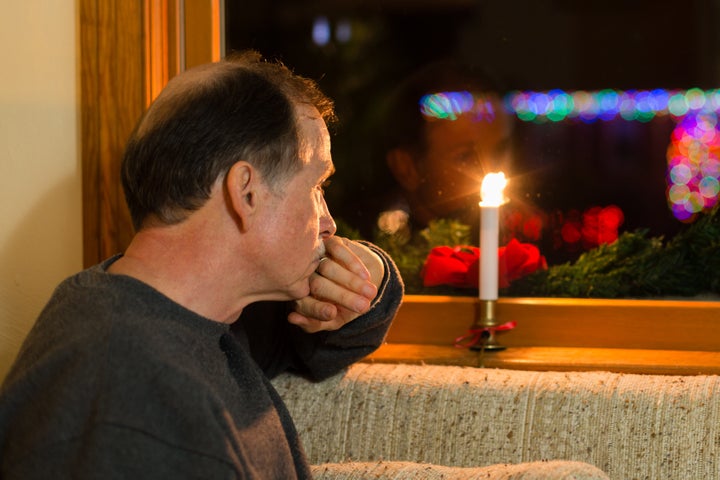 According to Samaritans, thousands of us will find it hard to have a happy Christmas.
But by giving the gift of listening and taking time to understand what's really going on in our own and others' lives, more people will open up this Christmas and ask for the support they need.
Commenting on the campaign, Samaritans CEO Ruth Sutherland said: "Difficult feelings don't discriminate. They don't care if it's December or June. We know that one in five adults has felt suicidal - it's not that uncommon and can happen to absolutely anyone.
"On average, more than 500 people take their own lives in the UK every month and every death from suicide is a devastating tragedy. So, away from the idyllic images and all the hype around the season's celebrations, let's get real about how we can save lives, not just at Christmas but all year round.
"And that's by listening to how a person who may be having a tough time really thinks and feels."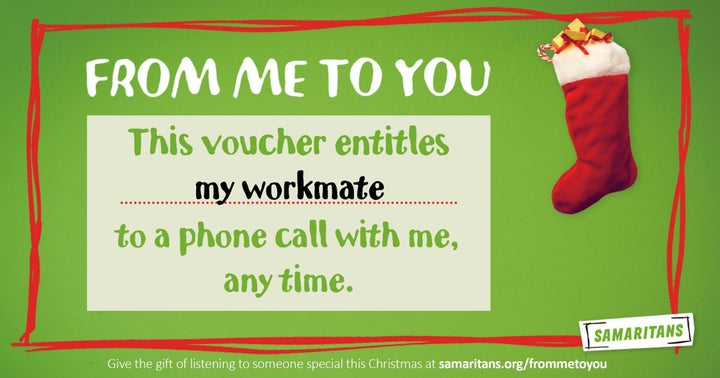 Each Christmas voucher can be personalised and used to suit an individual's needs.
The vouchers are available to download for free on the Samaritans website along with a free guide to having a #RealChristmas.
The guide gives tips on how to be a good listener, what to do when someone doesn't want to talk and how to look after yourself as well as supporting others this Christmas.
Keith King has been a Samaritans volunteer for eight years and will be on the phones over Christmas.
"Samaritans isn't saying don't have a good Christmas this year, but try to put aside the demands of the season and focus on the support you may need or can give," he said.
"If you can, spend time listening to somebody who needs it."
Samaritans is also encouraging donations of £4.26, another way to give the gift of listening as that's the cost to the charity of taking a life-saving call.
If you're in need, you can call Samaritans on 116 123. Or if talking on the phone is tricky, you can email, text or write to Samaritans. Find out more on the Samaritans website.
As King said: "We are always there. Even at Christmas."
Useful websites and helplines:

Samaritans offers a listening service which is open 24 hours a day, on 116 123 (UK and ROI - this number is FREE to call and will not appear on your phone bill.)
Mind, open Monday to Friday, 9am-6pm on 0300 123 3393
Get Connected is a free advice service for people under 25. Call 0808 808 4994 or email: help@getconnected.org.uk