Honestly, it's life changing is a regular series where we talk about the weird and wonderful possessions we can't imagine life without. Think of it as an ode to the mundane, bizarre and, sometimes, wholly unnecessary products in our lives.
My kitchen is tiny – the kind of tiny where even two's a crowd. As such, minimising clutter and maximising storage space is vital.
The Tefal Ingenio Saucepan Set consists of three pans, each compatible with a single stainless steel handle that attaches and detaches easily yet securely with just one click. As a result, the handleless pans form a satisfyingly neat stack, slotting obediently into any cupboard.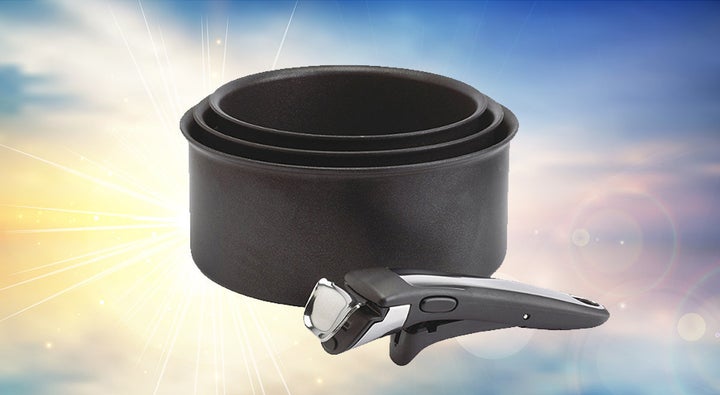 It's only after welcoming the set into my life that I realise how annoying my old pans were. I'd battle with them daily, struggling to stack them neatly into my cupboards, handles akimbo. Removing one from the precarious pile – then getting the cupboard door closed again – was like playing the world's worst game of Jenga.
Inevitably, I'd throw the (kitchen) towel in, abandon all construction attempts and leave the pans splayed out on the counter instead – a constant reminder of my inability to adult and the fact that I will never be Marie Kondo.
But now, I am a woman transformed.
Because we're the coolest people ever, my partner and I had actually asked for new pans for Christmas. But that didn't stop us from thinking "eh?" when we opened the handleless pots. Turns out though, his parents are a wise pair.
An added bonus of the pans is the fact they're dishwasher-safe and even fit into our diddy two-person slimline, meaning those hours of scrubbing off Bolognese are behind me.
They also conveniently slide into the fridge for storing leftovers and double up as tins for baking cakes, meaning we've gained even more storage space without the need for umpteen food vessels.
If you're going to live in shared housing or a small flat, I'd say making an investment for extra time and space is worth it.
We all work hard to earn our money – so it shouldn't feel like hard work to spend it well. At HuffPost Finds we'll help you find the best stuff that deserves your cash, from the ultimate lipstick to a durable iron to replace the one that broke (RIP). All our choices are completely independent but we may earn a small commission if you click a link and make a purchase.