Nearly 300,000 people signed a petition calling for Belfast City Council to release one-year-old Hank after he was seized from his home while his owners, Leonard Collins and Joanne Meadows, were at work.
The couple battled for three weeks to get their beloved pet returned, setting up the Save Hank campaign which was backed by hundreds of thousands of people.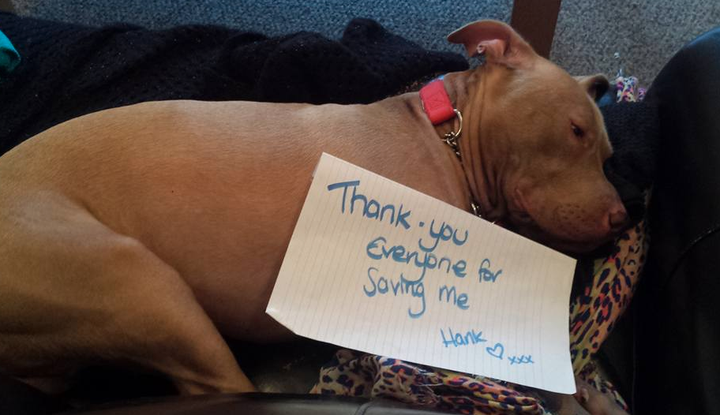 On Tuesday, Collins and Meadows were reunited with Hank.
The council said an expert determined Hank was a pitbull-type terrier but his temperament meant he could return home. As a result Hank was placed on the council's exemption register.
Collins and Meadows have to follow a number of rules, including keeping Hank on a lead and muzzled in a public place.
Hank's owners, who have been updating their supporters regularly through the Save Hank Facebook page, said they were "delighted" by the result.
Collins thanked the huge support he and his partner had received and said he wanted to now help others who are in a similar situation.
"Without the help we had from the public and the media we believe Hank would be dead by now, put down for being a mongrel whose blood line includes a bit of pitbull,' Collins told Belfast Live.
"He was sold to us as a Staffy-Lab cross and I still see that in him whatever the expert says but the important thing was to get him home.
"Now we want to help other people who are facing the situation as us, or who will face it the future. The stress of feeling helpless has been horrendous and we just want to get to normal."
Collins and Meadows said that, now Hank is back home, they will continue to challenge the contentious breed specific legislation.
Hank was taken from his home on July 14 after a complaint was made by a member of the public.
Collins returned home to find a warrant pinned to his door. His neighbour told him that eight police officers and four dog wardens came to remove Hank from the house.
Hank's owners said he has never shown any signs of aggression and the only complaint they could think of, which could have been made against him, was an issue of noise as Hank sometimes barked at people as they passed by.
Hank's owners said their pet had not been walked for days while in the council's care and they grew increasingly concerned as they were not allowed to visit him.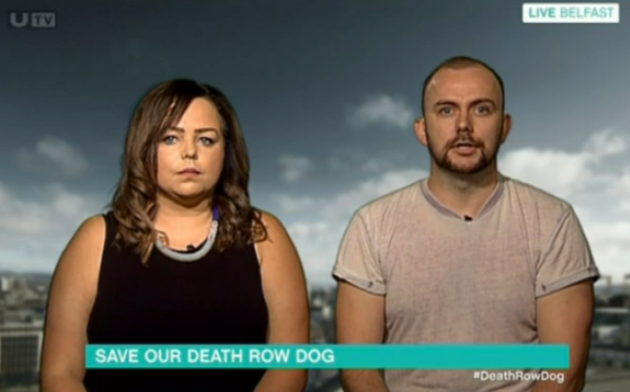 Belfast City Council said in a statement: "The council has a statutory responsibility to protect the health and safety of the public by carrying out its duties under the current breed specific legislation, which is set by the Northern Ireland Assembly and not Belfast City Council.
"This involves following the legally accepted assessment process to determine whether a dog is a banned breed and, if so, whether they pose a danger to the public."
Hank was confiscated under the Dogs (NI) Order 1983.
Vet Rodger Mugford told This Morning last week that he believes the current law has "no basis in science".
He said: "These dogs have done nothing wrong, it's just the way they look."
The expert added: "The people that do these assessments (to determine if a dog is a pitbull-type) have had no training in anatomy, little training in breeds, they aren't Kennel Club judges and it's such an amateurish, creaky system that is seizing these dogs in quite an arbitrary way.
"And no, the dogs are not well looked after in kennels, we see so many dogs that have suffered and lost weight."
In 2011 a two-year battle to save Lennox came to an end after the dog, who was seized by Belfast City Council because of his resemblance to a pitbull, was put down by officials.
Lennox was five when he was seized in 2010 and his owners said he did not commit any crime.