A secondary school class exercise has been branded "irresponsible" and "dangerous" after students were asked to write a fake suicide note.
GCSE English students at Cheney School in Headington, Oxford, were given the assignment while studying JB Priestley's An Inspector Calls, the BBC reported.
The class was asked to imagine they were a young woman in 1921, "writing a suicide letter to those who care about you", according to the mother of one of the pupils.
Wishing to remain anonymous, the mum told the BBC she was "genuinely shocked" to learn of the assignment.
The woman, who said a relative of hers had attempted suicide, penned a letter of complaint to the school's Head of English and the school has since apologised and "adjusted [the exercise] accordingly".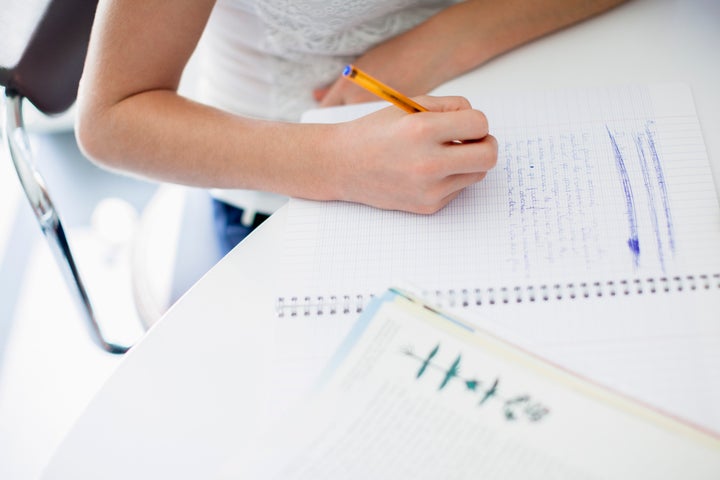 A spokesperson for young people's charity The Mix branded the exercise as "completely irresponsible".
"There are absolutely no creative or academic reasons which justify putting young people in the position where they are are imagining themselves having suicidal thoughts," they told HuffPost UK.
The charity calls two ambulances a day for young people who are at active risk of harm.
"It is completely irresponsible and dangerous to ask students to take part in an exercise such as this," they added.
The unnamed mum told the BBC there was "no warning, no support, no encouragement" for the teens doing the task, who she added are already at a "tumultuous time".
She said the assignment could have raised awareness of teen mental health and suicide, but instead labelled it "a massive fail".
An Inspector Calls is about the apparent suicide of a young girl called Eva Smith. An Inspector turns up at a wealthy family's home and begins an investigation into the girl's death, which all of the family members are somehow caught up in.
Eva Smith leaves behind a letter and a diary, which is never seen in the play.
In a statement shared with HuffPost UK, a spokesperson for the school said: "We are aware that a number of our Year 10 students were addressing the topic of suicide as part of a wider topic on social responsibility in the set GCSE text 'An Inspector Calls'.
"This topic was delivered sensitively with a focus on the events leading up to the character, Eva Smith's, death rather than the death itself."
They said during all the lessons students were advised that, if they found the topic of suicide distressing, they could excuse themselves from the lesson.
"We have however, reviewed the writing task that some of our Year 10 English students were asked to complete as part of the lesson and have adjusted it accordingly," they said.
"As most people will understand, school curriculums have to address many difficult issues such as mental health and suicide, which we try to do sympathetically.
"We are very sorry for any distress caused to any of our school community and will always look to reflect on our teaching and learning practice to make improvements."
Useful websites and helplines:
Mind, open Monday to Friday, 9am-6pm on 0300 123 3393
Samaritans offers a listening service which is open 24 hours a day, on 116 123 (UK and ROI - this number is FREE to call and will not appear on your phone bill.)
The Mix is a free support service for people under 25. Call 0808 808 4994 or email: help@themix.org.uk
Rethink Mental Illness offers practical help through its advice line which can be reached on 0300 5000 927 (open Monday to Friday 10am-4pm). More info can be found on www.rethink.org.