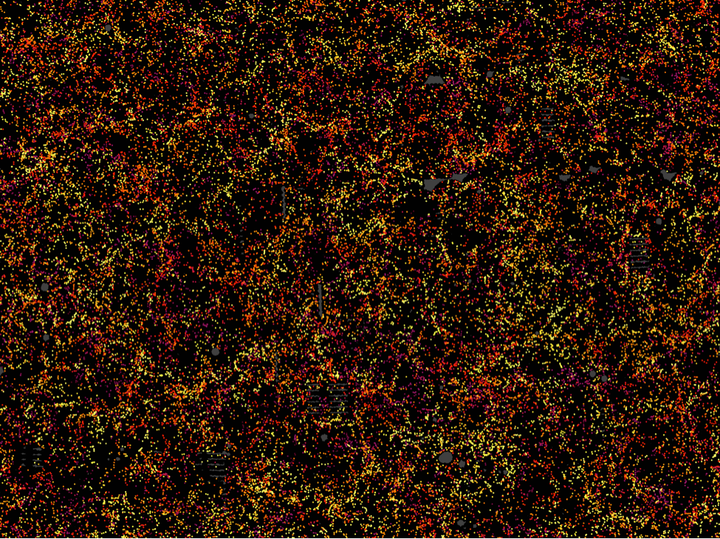 A team comprising hundreds of physicists and astronomers have collaborated to create the largest three-dimensional map of the universe.
The maps, containing 1.2 million galaxies, was created as a means of precisely measuring the mysterious dark energy which is causing the universe to expand at an increasing speed.
Jeremy Tinker of New York University, a co-leader of the scientific team explains the magnitude of the accomplishment: "We have spent five years collecting measurements of 1.2 million galaxies over one quarter of the sky to map out the structure of the Universe over a volume of 650 cubic billion light years,"
The image above is just a tiny slice of the known universe and represents 1/20th of the night sky.
What you're essentially looking at is a section of space that's 6 billion light-years wide, 4.5 billion light-years high and 500 million light-years thick. Containing a mere 48,741 galaxies the image represents just three per cent of the data collected.
Why collect so much information? With so little known about the properties and relationships of both dark matter and dark energy the huge map will hopefully reveal the speed at which the universe is expanding and in turn provide priceless information for scientists.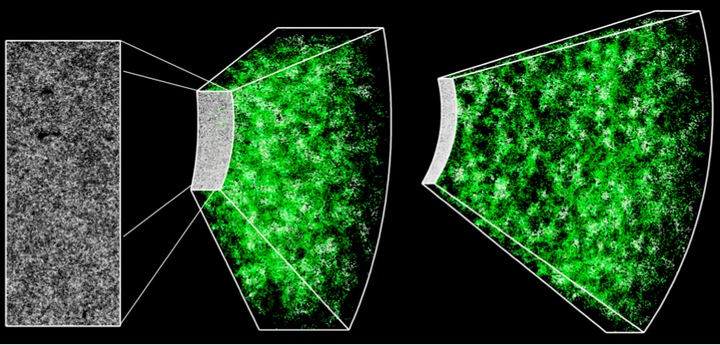 The map's primary function is not to show the galaxies themselves but the space in between - the 95 per cent of matter which makes up our universe.
David Schlegel, an astrophysicist at Lawrence Berkeley National Laboratory (Berkeley Lab) and principal investigator for BOSS explains: "In this map, we can see galaxies being gravitationally pulled towards other galaxies by dark matter. And on much larger scales, we see the effect of dark energy ripping the universe apart."
While significant for its scale, the map provides further evidence for the standard cosmological model which has been slowly fine tuned over the last 18 years.
NASA's Most Famous Images: