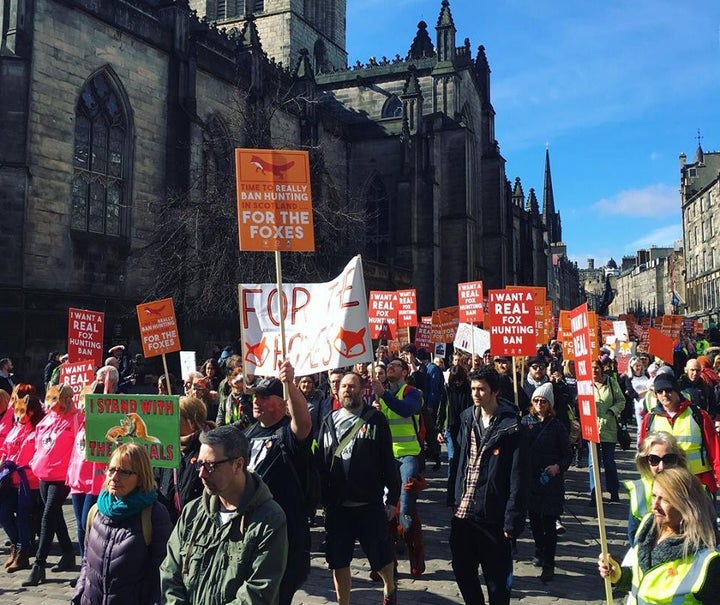 Last weekend, hundreds of people took to the streets of Edinburgh to call on politicians to introduce a real fox hunting ban in Scotland.
Having spent the past few months organising For the Foxes, it was an incredible sight to see around 800 people waving placards with the words "I WANT A REAL FOX HUNTING BAN" in the air as they marched down the Royal Mile in Edinburgh and gathered outside the Scottish Parliament. There were people of all ages with fox clothing, painted faces, and some who even opted for a full fox costume.
While the march was a fun event for everyone who attended, it also had a very serious message: the fox hunting ban in its current form is simply not working.
Fox hunting was meant to have been banned in Scotland in 2002 under the Protection of Wild Mammals (Scotland) Act. However, loopholes in the law mean that hunting still takes place very much as it did before the ban was introduced.
Last year there was a clear indication that fox hunting is still taking place when there was the first successful conviction of an offence under the Act since it was introduced. Johnathan Riley and John Clive Richardson, both members of the Jedforest Hunt, were found guilty of hunting a fox with dogs on farmland near Jedburgh in February 2016 following a trial at Jedburgh Sheriff Court.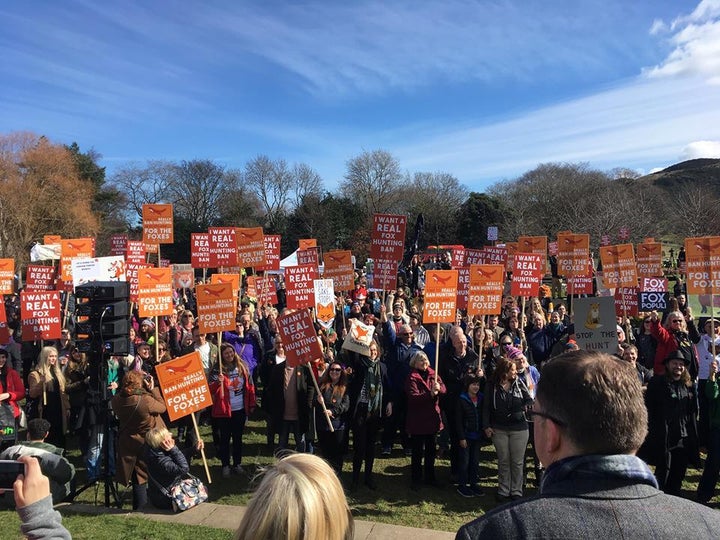 Outside the Scottish Parliament, the huge crowd chanted 'For the Foxes' as MSPs and representatives from OneKind, The League Against Cruel Sports and IFAW took to the stage.
Each speech was passionate and heartfelt as one by one people spoke of the horrors of this so-called sport. Labour MSP Colin Smyth summed it up when he said, "Hunting is a scar on Scotland's countryside…a scar the people of Scotland want to see an end to once."
I don't think I could have put it better myself. While I'm immensely proud of being Scottish, it's shameful that the country I call home still allows foxes to be killed in such a cruel and barbaric way.
The rally also saw messages of support from a host of celebrities including Ricky Gervais, Chris Packham, Bill Oddie and Peter Egan, all backing our calls for the introduction a real hunting ban.
So what's next for the future of fox hunting in Scotland?
Well it's clear the legislation that is currently in place is simply not working. Lord Bonomy's review into fox hunting in Scotland which was published in 2016 found that foxes are still being killed by packs of hounds. In fact, it suggested that 160 foxes are still killed in this way each year.
The Scottish Government's consultation on the future of fox hunting in Scotland ended in January and we're just awaiting their response. Green MSP Alison Johnstone, who spoke at the rally, has also outlined plans to bring forward a member's bill which would introduce a complete ban on fox hunting.
As the rally finished and the crowds started to disperse, I couldn't help but feel excited that change is on the horizon. It might be 15 years after the legislation to ban fox hunting was first introduced, but a real fox hunting ban has never looked so close.