Walk down St Peter's Mount in Bramley, Leeds and you'd think everyone was moving out. Estate agent signs line the traditional red-bricked terraces; traffic cones sit in parking spaces, reserving the bays. But look a little closer and you'll see the placards don't read For Sale, To Let or Sold. Instead, they're each emblazoned with a house number and four letters: WLTM.
WLTM: Walkers. Swimmers. People who like to look around fancy houses.
WLTM: Dog walkers and people who like gin.
WLTM: Anyone who's not straight.
WLTM: Anyone.
'Would Like To Meet' is the latest project from 33-year-old Scottee, a writer and artist whose work for BBC3 and others tends to focus on the marginalised and dispossessed in society, whether that's old people, queer people, fat people or the working class. He would identify as three of those four things himself. As he says on his new podcast series for Leeds: "I make arty things about the things we tend to ignore. In this case: each other."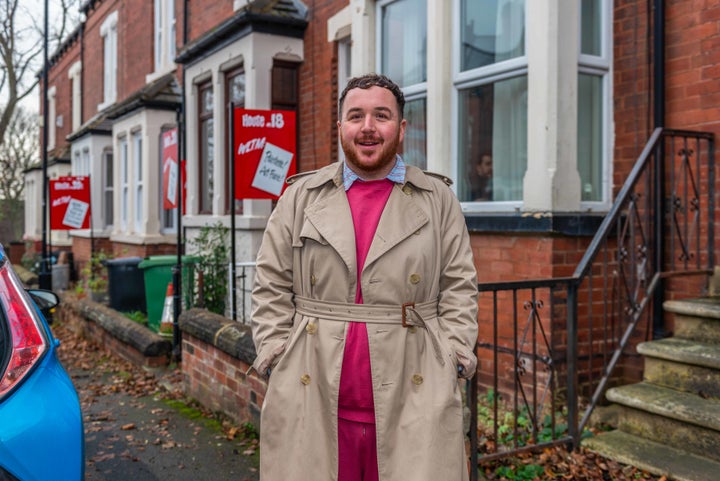 The idea behind WLTM – part of the city's 10-day Compass Festival – is simple: get people to meet their neighbours. "Why is it that we find it easier to talk to complete strangers on dating apps or Instagram," Scottee asks. "People from across the world? Why don't we talk to those we live so much closer to?"
Which is why, when Leeds invited him to take part in Compass, Scottee sent an invite of his own. In it, he asked the people of Leeds to nominate their city's loneliest street. "I thought: what would happen if those of us who lived on the same street talked to each other a little bit more? If we galvanised each other and were able to work out what it was other people were going through and how we might be able to support them?"
Of the 20 streets locals shortlisted, he chose to work with St Peter's Mount because it seemed representative of the city's mix: getting by but not wildly affluent, with older, more longstanding residents next door to newer arrivals and young workers moving into flats created from the street's original houses.
Oh, and those traffic cones. As documented in the first podcast, the street has recently been involved in a bout of "parking warfare" with not enough spaces to go round.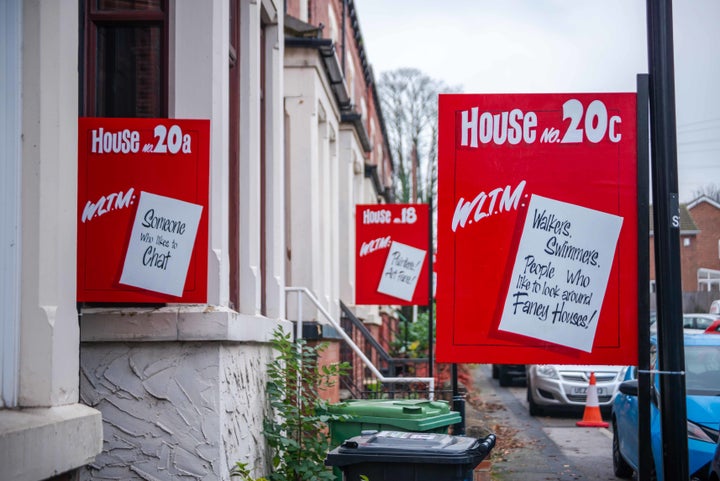 Braving this frontline, Scottee and his team have spent the past few months Whatsapping, Facebooking and knocking on doors to get to know residents: their lives, livelihoods and the kind of people they might like to meet.
"I've boiled all of those down to one statement per house," says Scottee – the same "personal ads" that are now printed on the red signs along the street and aim to encourage people to talk to each other, sometimes for the first time.
There's been the odd closed door, says Scottee, but no bigger barrier than a healthy dose of local pride. "The first response was: 'Leeds isn't an unfriendly place.' I had to remind people I'm not saying that. I'm saying we live in a society where we don't talk to each other." Once they'd got past that, he says, people got involved.
On the street, residents are beginning to chat to each other. A nurse on one side of the street has discovered a nurse who works at the same hospital on the other. Gin has been drunk. And for those still feeling shy, Scottee has popped some golden envelopes through doors, Willy Wonka-style, with words of friendly encouragement.
"No 6 is now talking to no 20. No 12 are contemplating who to talk to next," he reports four days into the festival. "The conversation has spread across Leeds and people are visiting the street like a landmark. People want to move in!"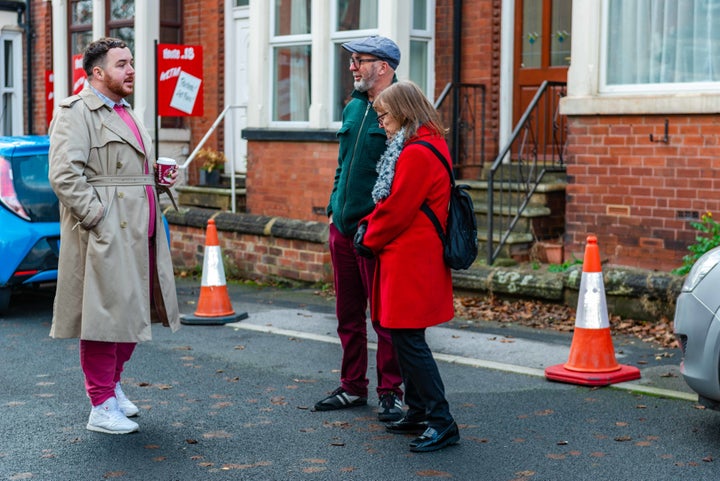 If you've read Scottee's HuffPost blogs and know about his radical politics, the inspiration for this latest project may come as a surprise. "There's this guy. I don't know if you know him, he used to be called David Cameron," he teases, with a giggle. "He had this thing called The Big Society, right? And as much as I thought, this is totally the government trying to shirk responsibility and rebrand socialism as our fault, I also thought: what's in this idea?"
He is clear that social isolation is the result of political choices, and scathing of what he sees as grandstanding by Theresa May and the royal family on the so-called "loneliness epidemic." It's not just about people being alone, he argues. Instead it's about people feeling abandoned by government, public services – the state, effectively.
"No one is born wanting to isolate themselves. No one is born wanting to feel distance or loneliness," he says. "But Tories have cleverly rebranded class in such a way that if you are from a lower socio-economic background, supposedly it's your fault for not trying hard enough."
But for Scottee, the issue is also personal. After spending his childhood on one London council estate and his twenties living on another, he moved to Southend in Essex with his husband two years ago. While acclimatising to living in "a house with stairs", he has also been noticing differences in how his new neighbourhood interacts.
"In my block I used to know people, talk to people. People would have you round for tea, take things in for you," he says. "Now that I live on a street, people do everything possible to avoid each other."
Scottee's not sure if he's necessarily going to change things on St Peter's Mount. He doesn't set out to create a project like "a successful Channel 4 documentary where, within an hour, everyone can be saved, healed or solved until the next programme," he insists. "What I'm trying to do is ask questions. Like: how can we use arts money to find better ways of supporting working-class people?"
You only have to watch his stories on Instagram to see how strongly Scottee feels on this subject. "I've talked about burning down the arts establishment and people think it's a symbolic, but I actually genuinely mean it," he says.
'Would Like To Meet' is at St. Peter's Mount, Bramley, LS13 3NF and open all day during Compass Festival which runs at venues across Leeds until 26 November, compassliveart.org.uk