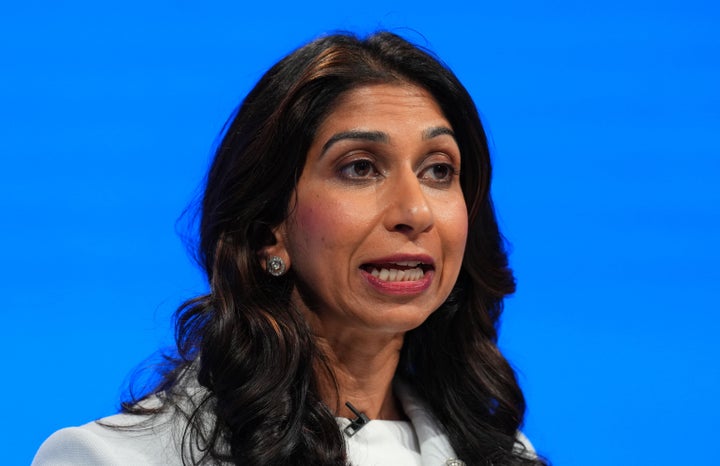 A senior Tory MP has accused Suella Braverman of wanting to act like Vladimir Putin with her plan to scrap human rights in order to deport people to Rwanda.
Damian Green, who served as de facto deputy prime minister under Theresa May, accused the former home secretary of being "unconservative".
"Giving the state the explicit power to override every legal constraint is what Putin and Xi do. We absolutely cannot go there," he said.
In her latest attack on the prime minister, Braverman said the only solution to ensuring the Rwanda scheme could go ahead was for the UK to opt-out of several international human rights laws.
On Wednesday the Supreme Court ruled the plan to send asylum seekers crossing the English Channel to Rwanda was unlawful.
It said this was because there was a real risk they would be then sent back to the country from which they originally fled persecution.
Sunak is poised to introduce "emergency legislation" which will seek to declare Rwanda a safe country in an attempt to overcome the court's concerns.
A new legally binding treaty is also due to be unveiled, which will see Rwanda promise no to send people back to their home countries.
But in an article for The Daily Telegraph, Braverman said this would not work and would still lead to legal challenges.
"There is no longer any chance of stopping the boats within the current legal framework," she said. "Tinkering with a failed plan will not stop the boats."
She said: "Legislation must therefore circumvent the lengthy process of further domestic litigation, to ensure that flights can take off as soon as the new Bill becomes law.
"To do this, the Bill must exclude all avenues of legal challenge. The entirety of the Human Rights Act and European Convention on Human Rights, and other relevant international obligations, or legislation, including the Refugee Convention, must be disapplied."
Sunak has said his plan will mean deportation flights will take off for Rwanda by the Spring. But Chancellor Jeremy Hunt yesterday said there is "no guarantee" this would happen.