The shocking moment a speeding car ran a red light and nearly hit a child crossing the road has been caught on CCTV.
Katie Jennings and her two daughters, aged six and eight, approached the road in Bangor town centre, in Northern Ireland, on 16 April, Belfast Live reported.
When the lights turned red for drivers, the family approached the road and a car sped up to get past them causing one of the daughters to hastily jump back.
Jennings can be seen reaching out to her daughter and pulling her back.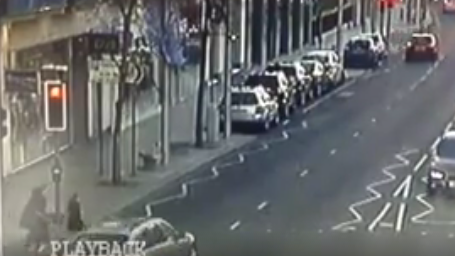 "I am hoping you guys will share to assist in identifying this driver. Con Douglas is investigating should anyone be able to help."
Jennings commented on the Facebook post and called the moment "terrifying".
"This is my daughters and I," she wrote. It was terrifying! Just the thought of what if.
"He came out of nowhere, all the other cars had stopped, he just came speeding past.
"Please share this as much as possible even if the driver is not caught, but to raise awareness to careless drivers.
"My girls are now very nervous near the roads."
The video has been shared more than 1,000 times in 17 hours since it was posted. It has had 40,000 views.