A shopkeeper knifed to death in a "vicious" newsagent robbery over the weekend has been named by police.
Ravi Katharkamar, 54, died from a single stab wound to the chest after his attacker fled with the till and "a few pounds' worth of coins" at 6am on Sunday.
Officers were called to the newsagent in Marsh Road, Pinner, north west London, after a passerby saw Katharkamar collapsed inside the shop with stab injuries.
The victim, who lived in Pinner for many years after moving from Sri Lanka, was pronounced dead at the scene around 45 minutes later.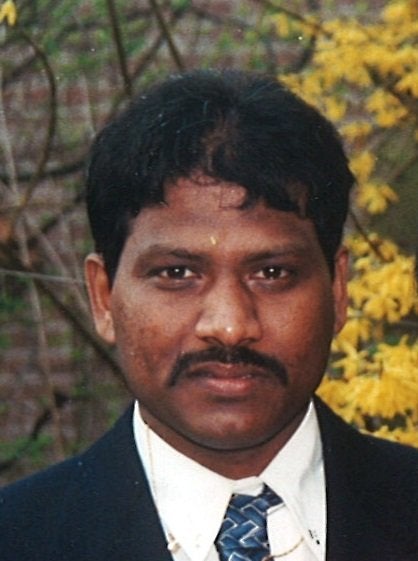 His next of kin were informed and a murder probe has been launched.
Detective Chief Inspector Simon Stancombe, leading the investigation, said: "This was a vicious and unwarranted attack on a completely innocent man. Ravi's attacker got away with a few pounds worth of coins, but he leaves behind a family utterly devastated and a close-knit community asking who could do such a thing.
"Help me catch the man who did this. The attacker fled with a shop till – have you found this discarded or seen someone in possession of a shop till who wouldn't normally have one? Do you know someone trying to use lots of loose change since yesterday morning?"
Local residents told the Evening Standard that Katharkamar was a "pillar of the community".
"He was extremely friendly, polite and hard-working man. I have seen him delivering papers at the crack of dawn for over 20 years and he will be missed by the community."
"This was a vicious and unwarranted attack on a completely innocent man"
Local shop owner, Siva Lingam, said: "We are all so sad. He was a very nice, quiet man. I can't believe anyone would hurt him.
"This robbery must have been planned. They knew he was coming in early to do the Sunday papers."
The attacker is thought to have fled in a black Vauxhall astra, and officers are also appealing for anyone with information about the vehicle, which was parked in nearby Cecil Park (DC).
"If you saw this car, or have seen a black Vauxhall Astra abandoned, please contact my team," said DCI Stancombe.
Anyone with information is urged to call 101 or contact Crimestoppers anonymously on 0800 555 111.