Non-essential are open across England under the tier system. But should we be visiting them before Christmas?
After months of being told to avoid contact with others, many might be tempted to stick to online shopping this year, relying on the big retail giants to bring gifts to their doors, in a bid to avoid the crowds.
Photos shared online since stores reopened on December 2 show large numbers of people gathered in city centre shopping locations, such as London's Oxford Street and Nottingham city centre.
Nottingham, which is in tier 3, also had its Christmas market shut down after less than 24 hours, due to overcrowding.
But there's also the delivery drivers and warehouse workers to think about – plus the impact on smaller businesses – if we flock to the likes of Amazon en masse.
The British high street is in need of a boost, too. Just this week, Arcadia (of Topshop and Dorothy Perkins-fame) fell into administration, putting 15,000 jobs at risk. Meanwhile Debenhams said it will begin to "wind down" operations, after rescue talks collapsed, putting 12,000 jobs at risk.
It makes the question – to shop, or not to shop – a tough one to answer. Ultimately, it comes down to weighing up the pros and cons, then deciding the right choice for you and your family, based on your Covid-19 risks.
We asked the experts what we should each consider.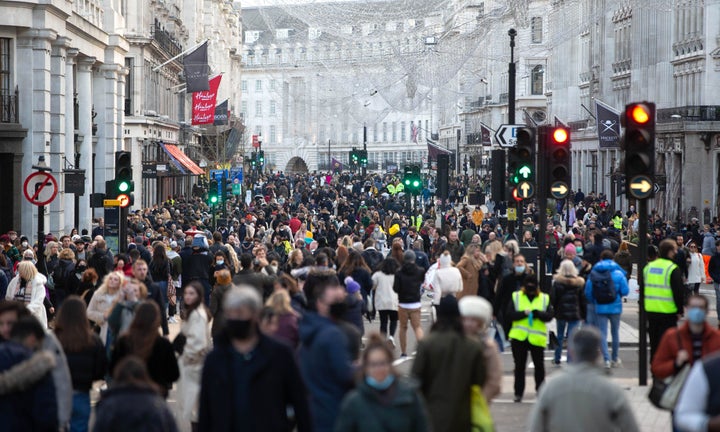 How dangerous is Christmas shopping?
Going Christmas shopping will increase your exposure risk to Covid-19 compared to sitting at home – but it might not be as risky as you think.
Professor Paul Hunter, an expert in infectious diseases based at the University of East Anglia, has been researching the impact of pandemic interventions, looking at what worked and what didn't during the first lockdown.
In the pre-print study (which is awaiting peer review), he and his colleagues found that the closure of all non-essential businesses, such as shops, did have an impact – but it was not as significant as the impact of the initial business closures when bars and pubs were instructed to close.
"So going shopping probably does pose some risk," he concludes, "but is likely not as important as other settings."
When asked whether it's better to go to a small, local shop, rather than a retail park, Professor Hunter says the type of shop is neither here nor there.
"Whether a shop is independent, part of a chain in a town centre, or on a retail park probably is not that relevant," he says. "In any situation, what matters for any risk is indoors vs outdoors, how long you spend there, how many other people there are and how close they get to you. To my mind, any type of shop that is heaving with people is a high risk."
The risk to you (and your household) also depends on how vulnerable you are to Covid-19, he adds. The government advice on shopping for those clinically vulnerable is to consider going at quieter times of the day, or to ask friends and family to shop for you. Because of this, you may want to stick to online shopping for non-essential items (such as Christmas presents) if you were previously in the shielding group.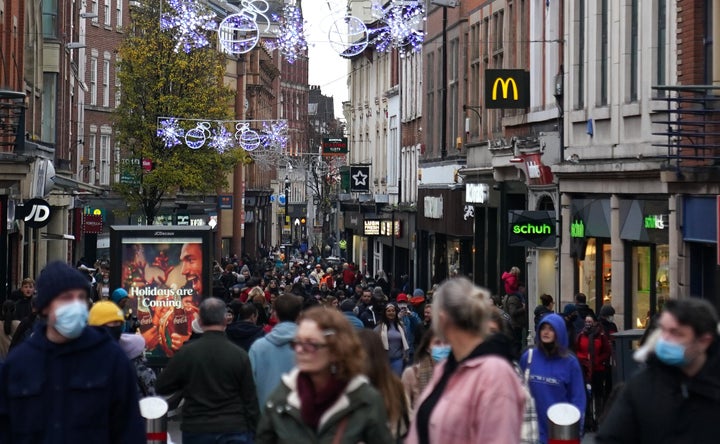 How will our choices impact the economy?
Christmas is "always make or break for retailers", says Clare Bailey, a retail expert and founder of The Retail Champion. The pandemic has only exacerbated existing challenges.
"Often Christmas represents between 30-60% of a retailer's turnover," she tells HuffPost UK. "If you look back over the last decade or more, it's January when the rent payments are due that those who have had a bad Christmas often declare insolvency. And if they've made it through January, it's often by the next rent payment in April that things start to collapse."
Perhaps surprisingly, Bailey doesn't believe small, independent businesses will take the biggest hit if we shift to online shopping.
"Small businesses have a big online presence via places like Etsy, eBay, Facebook marketplace and things like that," she says. "People don't realise how many tiny businesses start on a kitchen table with an Amazon marketplace account and become so strong that they feel they can open a shop.
"A lot of people are quick to say 'Amazon is evil' but actually, Amazon is a launchpad for a lot of businesses – and has an area called Launchpad – where small businesses can really start."
Instead, it's the city centre and shopping pavilion chains that Bailey predicts may take the biggest hit – stores such as Topshop, which sells online but isn't famed for it, like some of its (cheaper) online-only competitors.
"The ones who have really struggled this year are actually the big guys," she says, "because while they might be seen to have deep pockets – just look at Arcadia – they don't.
"Changing operations across 200 stores or more – say, by offering a click and collect service or better integrating the online and offline offering – that's costly and it takes a lot of change management, so they haven't been able to respond quickly in the way that smaller businesses have. "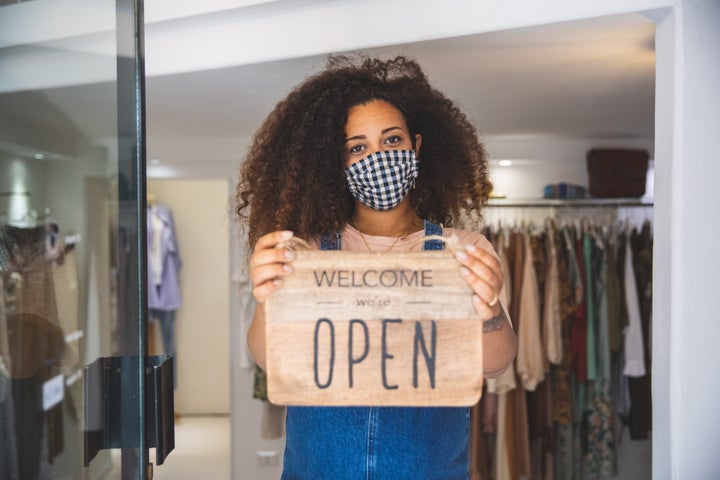 How can we shop as safely (and ethically) as possible?
If you're worried about a much-loved retailer going under but want to avoid the shops, check if they're online. This can include small, independent stores.
"Smaller retailers might not be online in the way you expect," says Bailey. "Say you've got a local farm shop, for example, they might have a Facebook page where they say 'give us a call, we've got Christmas hampers available'. You then call them up and they drop the order to your house. It's not online shopping in the traditional sense, but it's still a remote order."
Without our daily commutes pushing us into city centres, many of us have gotten to know (and love) our local shops throughout the pandemic, yet we may feel torn when we read headlines about the likes of Arcadia. Bailey points out a move back to local could be the most ethical option long-term, though, reviving small businesses and cutting our carbon footprint.
If you're planning to shop in-person, getting in and out of shops quickly is a good idea – both for your own health, and as a courtesy to staff. Sage professor Lucy Yardley previously told Times Radio shoppers should be in and out in under 15 minutes.
"The rule that is useful for contact tracing is that if you spend 15 minutes with somebody closer than two metres, then you have definitely had a potentially infectious contact with them," she said. "So that's quite a generous amount of time, I am not sure that most of us would need that amount of time in a shop. And really the less time that you spend in there, the safer you are."
Professor Hunter also offered HuffPost UK these tips on reducing your Covid risk while shopping:
Try and go shopping at times of the day and week when it will not be too crowded. This will mean some planning so don't leave everything to the last minute when shops are likely to be heaving with last minute shoppers.

If you see a shop is really busy with lots of people come back later if you can.

Try and decide what you are going to buy in advance so you can spend less time just browsing.

Wear a face covering whilst shopping indoors and try not to stand too close to other shoppers.

If you have a good open air market then you are lucky – and shopping here would be less risky.

Try not to fondle the merchandise whilst you are shopping unless you're definitely likely to buy it.

Wash your hands regularly or use a hand sanitiser, especially after handling goods.

If you are especially clinically vulnerable then consider getting a friend or relative to shop for you or buy online.