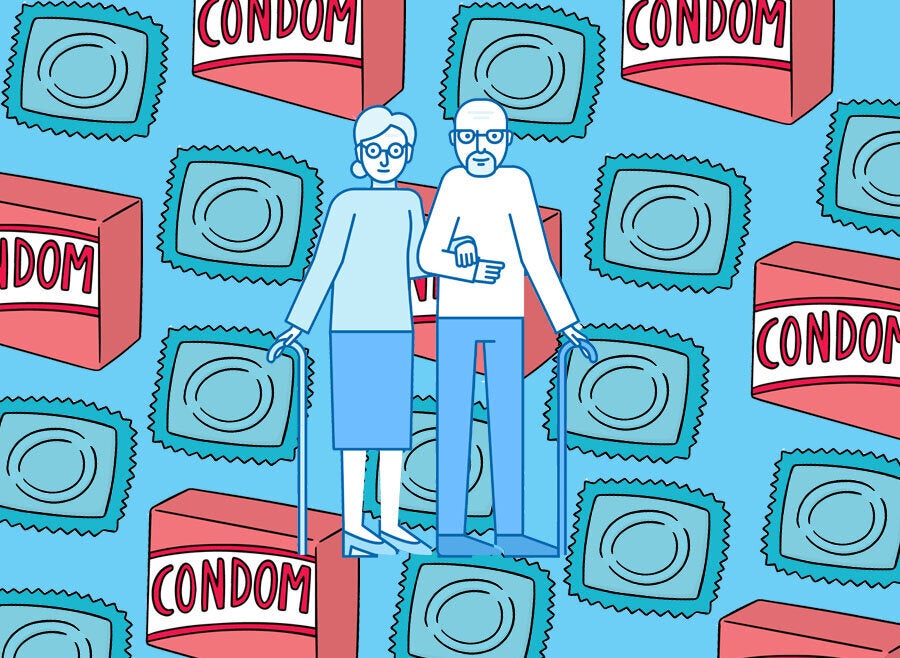 It had been almost 10 years since Jeremy, 57, last had sex. After his partner of 13 years, Danny, died from bowel cancer in 2009, he slipped into a period of depression, becoming disillusioned with love and relationships. It wasn't until he got offered a new job as a financial analyst in 2018, he decided it was finally time to begin the new chapter in his life.
Buoyed by the good news of his employment, he went on a night out in London – and ended up going home with a stranger. Jeremy has HIV, but it's at undetectable – therefore untransmittable – levels, even during unprotected sex. He didn't use protection that night, and the pair then went their separate ways.
A couple of months later when Jeremy attended a routine medical checkup for his HIV, he was diagnosed with two sexually transmitted infections (STIs): chlamydia and Hepatitis C.
When we speak on the phone two months later, the chlamydia has gone following treatment and the Hep C is still being managed – meaning he is suffering no symptoms. But it has given him pause for thought. "It was a bit of a surprise," he says. "I'm still trying to get my life back on track again really. I'm looking for a relationship now, not just one-night stands."
While the context of Jeremy's STI diagnosis, given his HIV status, is not extremely common, he is part of a growing community of people aged 50 and over who are contracting STIs in later life. Since 2012, experts have warned diseases like warts, syphilis, chlamydia, gonorrhoea and genital herpes are on the rise, with the number of diagnoses in the 50- to 90-year-old age group doubling between 2002 and 2012 in the UK.
In 2010, sexual health clinics in England recorded 11,366 new STI diagnoses among the 50-70 age group. This figure rose to 15,726 in 2014 – an increase of 38%. In 2016, England's chief medical officer, Dame Sally Davies, confirmed the trend was continuing in an upwards direction.
Today, the numbers show no signs of slowing down – and the data might not even reveal the true extent of the problem, says Caroline Abrahams, Age UK's charity director. She warns that many older people have never sought sexual health advice from their healthcare professional, either through embarrassment or not recognising the symptoms of STIs. They ignore the problem, and therefore aren't included in the data.
This rise has meant NHS trusts have had to come up with innovative ways to tackle the problem. In October 2018, the Royal College of Nursing published a 44-page brochure – 'Older People in Care Homes: Sex, Sexuality and Intimate Relationship' – that stated older people were still sexually expressing themselves, and nurses and care staff needed to acknowledge it within their care in a sensitive, legal and practical way.
In February 2019, an NHS trust in Derbyshire started a three-month plan, named 'Jiggle Wiggle', to hand out free contraceptives specifically to people in their 40s, 50s and 60s. Condoms and other contraceptives were made available at food banks, GPs, pharmacies and other community venues across the county. They also handed out at-home STI testing kits.
"We want to make residents aware that sexual health services are not just for young people – they are for all people," said Rebecca Spencer, general manager for the programme. The trust is currently waiting on a report that will evaluate the scheme's uptake, but anecdotally, they're optimistic it was a success.
So why has it taken so long for us to acknowledge STIs are not just a problem for young people?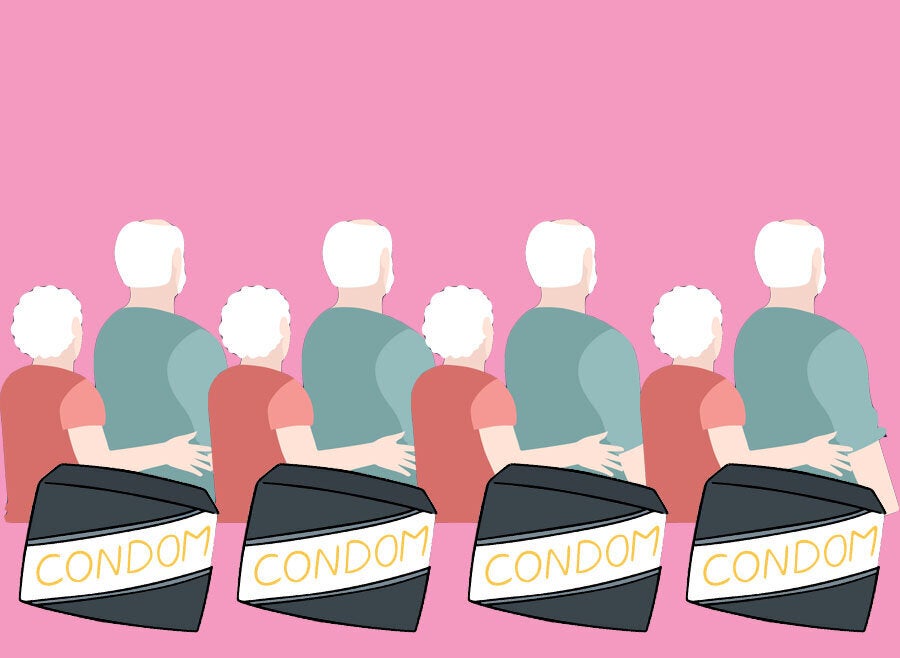 For decades, society has considered there to be a 'cut-off point' for sex, with asexuality kicking in somewhere between your 50th and 60th birthday. "There are many stereotypes and misconceptions about later life, including that sex becomes irrelevant," Abrahams says. "But sex continues to be a key part of life for many older people."
Research by the Terrence Higgins Trust [THT] found 80% of those aged 50-90 in the LGBTQ+ community are still sexually active, and two thirds rated sex as a "vital" part of their relationship. Undoubtedly this applies outside of this group, too. Clive Blowes, who leads on HIV and ageing campaigns at THT, agrees that historically, there has been little discussion of the sex lives of older people – all the conversation and campaigning focuses on the young.
These misconceptions may exist because people don't want to face the prospect of thinking about their parents and grandparents being sexually active, but this taboo could be contributing to the rise in STIs. "Unless we end the taboo around sex in later life, there's a risk that more older people will be at risk," says Abrahams.
"Health professionals should be more open about discussing sexual health with older people and not assume that it's irrelevant, and public health messages around sexual health and STI prevention should be inclusive of all ages."
"Public health messages around sexual health and STI prevention should be inclusive of all ages.""
Blowes says, quite simply, the fact we're all living longer – and in better health – means older people indulge in physical activity for greater periods than they historically may have done so.
People also have greater access to medication to aid them in having sex: viagra is now available to buy affordably over-the-counter rather than going to your GP for a prescription. And Murray Blacket, a sexual therapist in north London, says it isn't just men being given a new chemical lease of life. Lots of his female clients who are on hormone replacement therapy (a treatment used to relieve symptoms of the menopause) say the hormonal changes have "rebooted their sexual engines" and completely changed their sex drive.
Dr David Lee, from the University of Manchester, who helped produce the 2012 figures on older people's sexual health cited by Public Health England, said it's also possible rising divorce rates mean a wave of over 50s are looking for new partners after long periods spent in committed relationships. If women are post-menopausal, or men have undergone vasectomies, they don't always consider contraception as a requirement, he said. They may forget about STIs or naively dismiss them as something that only concerns young people – because this is what the messaging says.
Not only are older people single and ready to mingle, they also now have the perfect landscape to meet new people: online dating apps. Apps mean those who previously may have been deterred from dating can swipe from the comfort of their living room. Blacket says lots of his clients are even seeing targeted advertising for dating apps for the over 50s on social media. "These apps are accelerating the process of meeting," he says.
Such social and cultural factors – higher divorce rates, dating apps, access to viagra, and better health in general – have created the perfect storm. And Abrahams says in order to reserve this trend, or at least ensure the number of STIs doesn't keep rising, it's essential we change the conversation and start acknowledging that older people have sex, too.
"It is vital that health professionals take action to address the problem and are more open about discussing sexual health with older people," she says. "It can't simply be assumed to be irrelevant."