The 90-year-old naturalist suggested that people should not be allowed behind "big sheets of glass" but instead could look through peepholes so animals do not realise that they are there.
He added: "They (gorillas) are not just animals, they are related to us."
Kumbuka escaped from his enclosure last Wednesday after reportedly becoming "agitated".
The veteran broadcaster said it was "hardly surprising" the gorilla got "fed up".
Recalling how he felt upon hearing that the gorilla had escaped, Sir David told Good Morning Britain: "[I felt] deep sympathy and sorrow. They are wonderful animals gorillas, and they are animals which guard their privacy in the forests of West Africa.
"They don't live out in the open, they aren't stared at by people, they value their privacy and to be subjected to a panel of glass which for ten hours a day has people [looking].
"If the people were respectful that would be something, but sometimes visitors to zoos aren't respectful and they start shrieking or waving their arms in order to get the poor gorilla to do something and you may think 'oh they're just animals', they are not just animals, they are related to us… and that finally the alpha male got fed up with it is hardly surprising."
When Piers Morgan asked if he would like all gorillas to remain in the wild, Sir David said: "It would be nice to think that they were safe in the wild but they aren't and mountain gorillas 30 years ago were in very great danger of extinction and it might be they only survived because of zoos, and one of the function of zoos is to preserve species that are in danger of extinction...It's important for people to see what these wonderful creatures are like, and understand the responsibility that the human race has towards gorillas, so there's a lot to be said for zoos but they have to bear in mind the sensitivity of the animals."
Sir David added: "Maybe the solution is that people should not be allowed to be behind big sheets of glass but looking through peepholes so the Gorilla doesn't realise...but it's very difficult to do that in a zoo where there are tens of thousands of people wanting to see these animals."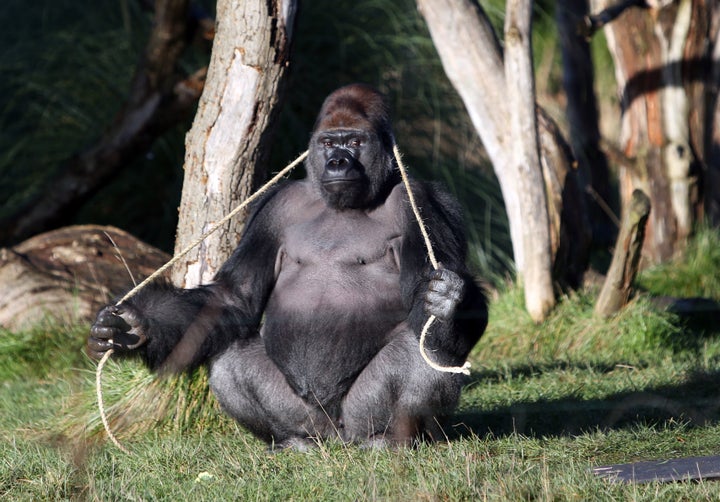 Wildlife charity the Born Free Foundation called for an urgent inquiry following Wednesday's incident.
The male Silverback reportedly smashed the window of his "cracked" enclosure at the zoo and was free for 90 minutes.
"I'm very disappointed with London Zoo," Draper told BBC Radio 4's Today programme.
"Accidents do happen, but this is a concerning turn of events.
"This is an enclosure that was built in 2007 at a cost of £5.3 million - funds that as far as I'm concerned could have been far better used conserving gorillas in the wild."
Eyewitnesses said they were warned not to look him in the eye while he was agitated before he escaped, but some were reportedly "egging him on" in the moments before he charged at the glass, the Daily Mail reported.