As one of HuffPost's better tea-makers, to which my colleagues can attest, I pride myself in making a good cuppa. I'm also a fan of drinking them. This is why I was sent to try Starbucks' new tea lattes - no added sugar, little caffeine, and a frothy top - which are a crafty way to make tea lovers part with their hard-earned cash.
As I headed to the Starbucks in central London to try the new offering, I'll admit I was dubious. As a Brit, the thought of anyone tampering with the winning formula of our good old breakfast cuppa left me slightly outraged, albeit intrigued.
Any coffee hater will know the pain of parting with £2.50 in a coffee shop for a cup of hot water, cold milk and a tea bag, could Starbucks' reinvention offer us more?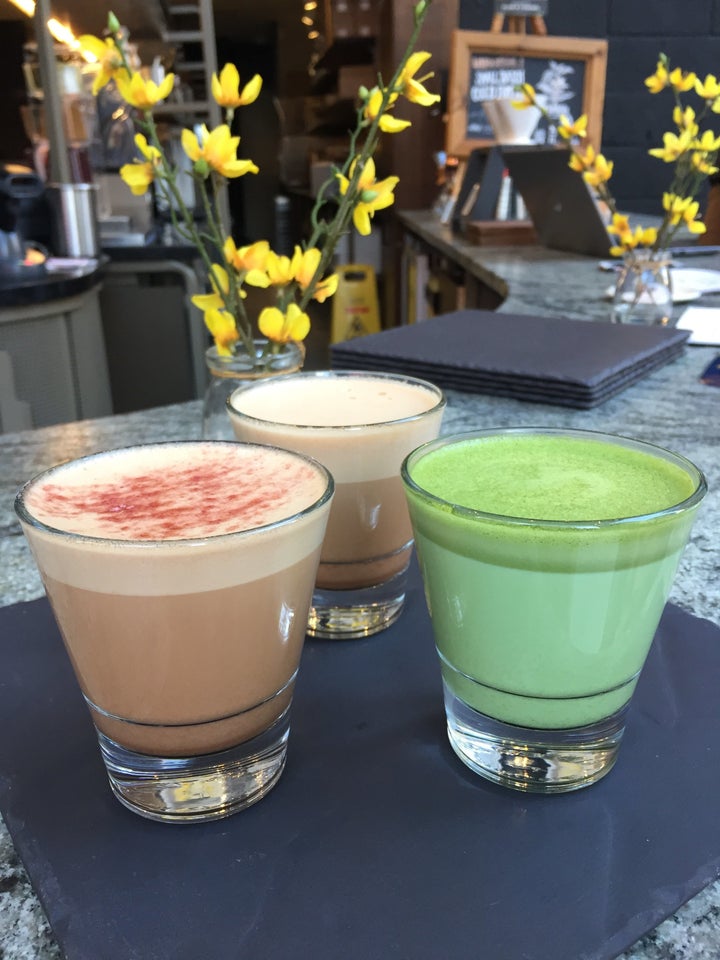 Starbucks' new range of tea lattes come in three flavours: rooibos, matcha and red apple rooibos and will set you back £2.75 for a short (the size pictured above). They look like lattes - they have a frothy top (as they're made using steamed milk) and are served in cute little glasses - but the taste is something else entirely. That's because the chain has used a special microgrind technique which transforms tea leaves into a fine powder. The result is an intense burst of flavour, which is far from the insipid cup of tea I'd expected.
Unlike coffee, the rooibos lattes are naturally caffeine-free, making them an ideal choice for anyone who's trying to cut back or for those who don't want to be wired after dark. They contain no added sugar (a welcome change from unicorn frappuccinos) and, in addition to the variations of cow milk, you can opt for dairy-free alternatives such as soy, almond, coconut or oat milk.
When I first tucked into a rooibos latte at 8.15am on Wednesday morning after battling the beast from the east, I was seriously ready for a hot beverage, but I was also anticipating disappointment. When I took a sip the froth hit my tongue and was followed by an influx of creamy tea. The best thing is that the tea taste is still strong, despite the drink being predominantly milk-based (a strong tea drinker's worst nightmare). This particular drink has subtle vanilla, caramel and nutty notes too, with an aftertaste of malt (kind of like after you drink a Horlicks). I tried it both with both cow's milk and almond milk, and preferred the latter. The almond milk made it nuttier and upped the creaminess, it was also slightly sweeter. Overall a very comforting winter drink.
As someone who sits firmly in the sweet tooth club, I fell head-over-heels for the red apple rooibos tea latte - which is definitely the most unhealthy drink of the bunch (why is it always the way?!). The drink is laced with a red apple syrup and topped with powder made from freeze-dried apples. The latter gives you a strong whiff of fruit as you bring the cup to your mouth. Usually I'd be a bit freaked out by the idea of teaming apple with milky tea, but this just worked. As I wrote in my notes: "It should be weird, but it isn't." It's the kind of sweet treat you need in your life when you hit your 3pm lull in the office. Plus, like its unsweetened rooibos predecessor, it's caffeine-free.
The matcha tea latte, like all matcha-flavoured goods, reminded me slightly of fish food. The tea latte smelt very 'green' - think plants and lots of 'em - and the taste was subtle but still distinctively matcha-esque. I know this type of tea has a bit of a cult following in the UK, so it'll undoubtedly be popular. If you're a die-hard fan and want the drink to be stronger, you can ask the baristas to put an extra scoop in. Likewise you can ask for it to be unsweetened or sweetened, depending on your taste. It's also bright green. Unlike the rooibos there is slightly more caffeine in this one- although it's still roughly 70% less caffeine than you'd get in a cup of coffee.
I'm not going to lie, my experience of tea lattes has been a real rollercoaster of emotion - from dismay at its existence to pure delight at the fact I was so wrong about it. As an avid tea drinker, I never would've considered popping into Starbucks for a cuppa in the past, but now things are different. Tea-lovers can queue up alongside their coffee rivals and enjoy something that's been carefully crafted by baristas, rather than a bog-standard brew that can be made at home.
Here's to Starbucks' reinvention of the Great British classic, I'll drink (tea) to that.
If you're intrigued by the concept of a tea latte, stores across the UK will be holding a Tea Tuesday on 6 March between 3-6pm so you can try one for free. If you can't wait until then, grab yourself a brew on 1 March when they land in stores.