In another dramatic political year, it seems like another age when the Labour Party was at war and backbenchers were demanding Jeremy Corbyn should go.
That was the starting point for the BBC documentary 'Labour – The Summer That Changed Everything', a film that charted the party's 2017 general election through the eyes of a clutch of MPs less than enthused by Labour's left-wing platform.
Much of the hour-long clip focussed on Stephen Kinnock, the MP and son of former leader Neil, who has at the vanguard of the anti-Corbyn resistance. Early on in the programme, he suggested his leader would have to take "a long, hard look in the mirror" after the election result.
But as it's slowly revealed Labour was going to defy expectations, Kinnock realises he will have to shift his tone.
Here's his stunned reaction as the exit poll indicated Theresa May had lost her majority.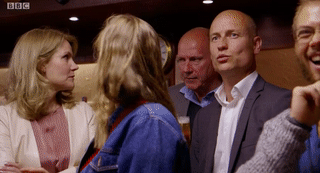 She also just happens to be the former Prime Minister of Denmark.
Kinnock jumps at the chance to appear on ITV, Sky and BBC Wales in the aftermath of the exit polls, but Thorning-Schmidt is not convinced he has the message right.
"Stephen is typically keen to oblige," film-maker David Modell notes. "But Denmark's ex-prime minister smells danger ..."
Watch the clip below:
Thorning-Schmidt: "Why are you doing this now?"

Kinnock: "Umm, I don't know."

Thorning-Schmidt: "Why? What are you going to say?"

Kinnock: "Do you think I should just wait?"

Thorning-Schmidt: "Yeah, you should wait. You don't know anything. It looks like we've had a really good turnout here, which is amazing."

Kinnock: "It won't be about this."

Thorning-Schmidt: "But let's talk about this."

Kinnock: "Oh."

Thorning-Schmidt: "It looks like a good turnout here. I'm hoping lots of young people have come out to vote. I'm hoping this will be a new chance for Labour. And we fought a positive campaign, just keep it to the campaign. Nothing about what you thought Jeremy would say. Keep it simple."
"Nothing about what you thought Jeremy would say." Corbyn-mania did help deliver Kinnock the second biggest majority in Wales so ...