Flights were cancelled, roads flooded and crane bent over as high winds hit Britain and amber weather warnings were issued for London and the South East.
The winds were so strong they caused a crane to collapse in Greenwich, south east London.
The crane was left 'bent double' in Greenwich, south east London, in the early hours of Easter Monday.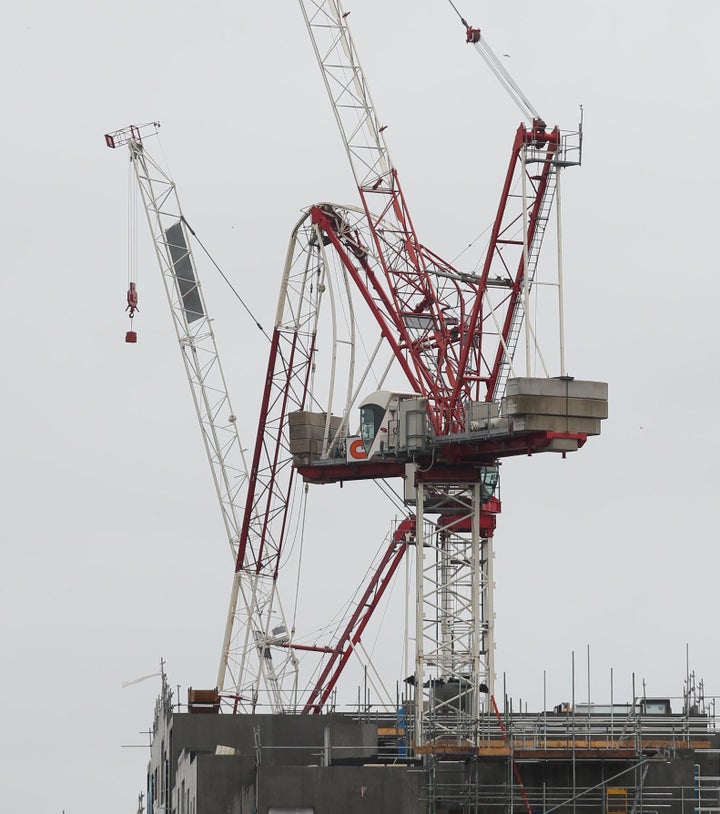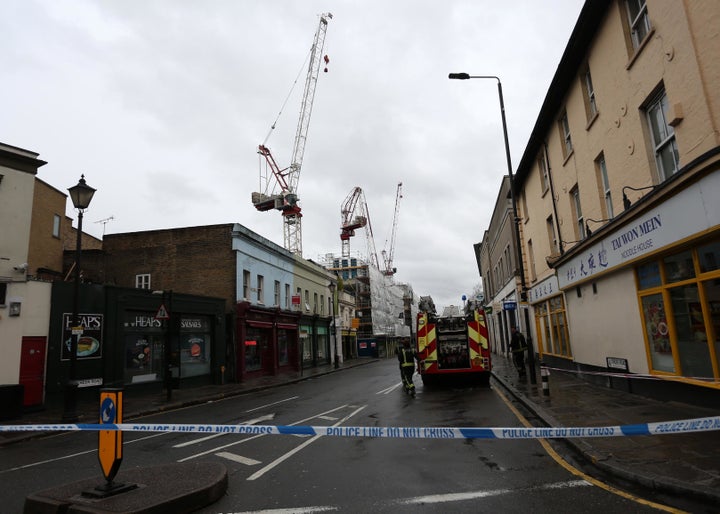 Police were called to the construction site at 2am on Monday morning. The wind also lifted the roof off a block of flats in Wimbledon, south west London.
In addition, Highways England said the Dartford River Crossing and M48 Severn Bridge were closed overnight on Sunday because of strong winds.
Flood water also forced motorway lanes, including the northbound side of the M4 in Staffordshire, to close on Monday morning.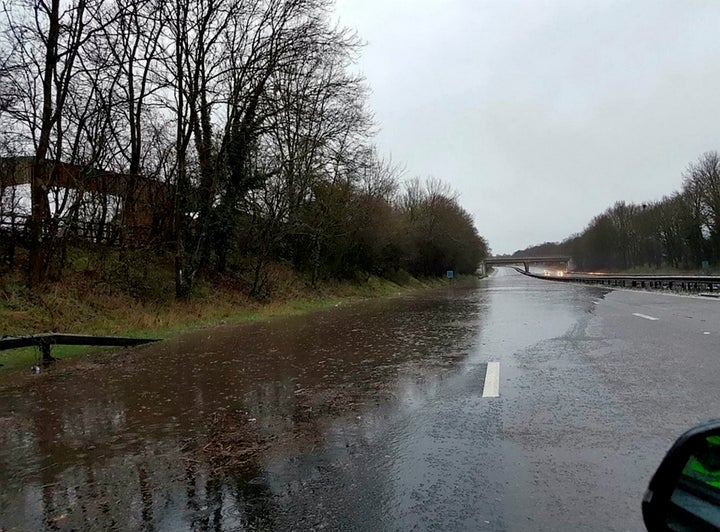 At Gatwick, 24 flights were diverted and 16 cancelled.
The Met Office tweeted that gusts of 77mph had been recorded at Berry Head and The Needles saw winds of 105mph.
Those travelling back from breaks across the country are advised to be careful on the roads, and if possible delay their journeys until later on Easter Monday afternoon.
Heavy rain moving north-eastwards across England and Wales presents a risk of localised flooding, while motorists are warned to be wary of branches falling from trees in the high winds.
Sky News' Joanna Simpson showed the severity of the winds as she stood speaking to camera as high winds lashed Brighton beach.
Gusty conditions made Bank Holiday travel conditions hazardous with several trees uprooted and the Dartford River Crossing was closed due to strong winds.
A yellow warning for wind was issued for south Wales, the East and South West, while a more serious amber warning is in place for London and the south-east.
Met Office forecaster Marco Petagna said: "There is likely to be a lot of surface spray on the roads, there could be localised flooding, and the winds could cause branches to come off the trees, and one or two tiles off the roof.
"On the south coast there could be quite large waves.
"People should keep tuned in to the forecast, and avoid the east coast, south coast and high grounds as well if possible. Allow extra time for your journey and if possible try and delay your journey as winds will tend to ease off throughout the day."