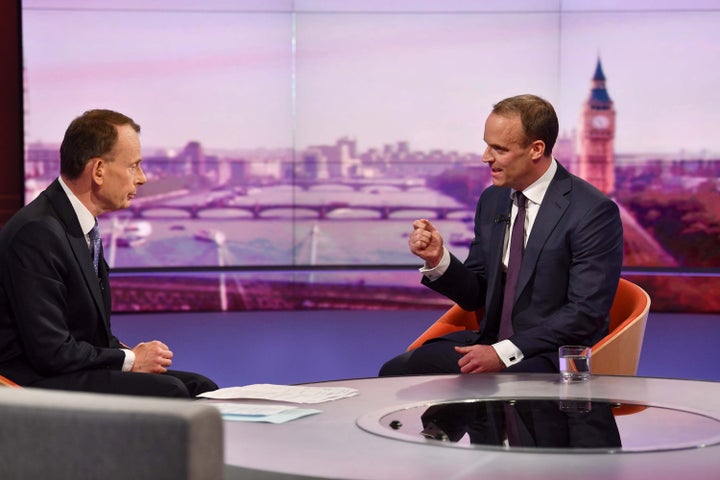 After a week which saw the issue of Europe topple another Tory leader, the Sunday papers and politics shows produced a predictably mind-bending amount of news.
We shall try and break it down for you.
Philip Hammond refuses to rule out backing a no-confidence motion in next PM
The most extraordinary news of the day was that the current chancellor may vote to bring down the next Tory PM if they back a no-deal Brexit.
Theresa May's chancellor said he could not rule out supporting a no-confidence motion in the Government if the UK faced crashing out.
Hammond told BBC One's The Andrew Marr Show that May's successor would be defying Parliament if they took the UK out of the EU without an agreement.
He said: "I think it would be very difficult for a prime minister who adopted no deal as a policy - we are leaving with no deal as a matter of policy - to retain the confidence of the House of Commons."
He added: "I would certainly not support a strategy to take us out with no deal."
With leadership contenders Boris Johnson, Dominic Raab, Andrea Leadsom and Esther McVey have said they would be prepared to quit with no deal on October 31 if necessary, this sets the scene for a very bitter leadership battle indeed.
Gove vs Boris, the sequel!
The other big news of the morning was that environment secretary Michael Gove has thrown his hat in the ring to be the UK's next PM.
Given that Gove scuppered the chances of his Vote Leave ally - and current frontrunner for the job - Boris Johnson during the last contest in 2016, the news has put the cat among the pigeons. Full write up of Gove's candidacy is here and of the current slate of declared candidates here.
And it rather overshadowed the big picture interviews of three of his rivals for the job - Esther McVey, who spoke to Sky News' Sophy Ridge, Dominic Raab, who was on BBC One's Andrew Marr Show and Rory Stewart who spoke to Five Live.
Both were keen to underline their willingness to back - or in McVey's case preference for - a no-deal Brexit on October 31.
McVey, who wants to cut foreign aid to fund schools and policing, said the UK should not "waste time" renegotiating a withdrawal agreement and begin preparations for no-deal.
In an apparent swipe at the outgoing PM, McVey called for "honesty for a change" over Brexit, saying May had broken trust by failing to deliver.
She added "Theresa May had tried to please by which she pleased neither" and said the government needed to "pick a side" and it should be "the side that won" the 2016 Brexit referendum.
Raab, meanwhile, stated he would not ask for an extension and that under a no-deal Brexit a "fraction" of the £39bn divorce bill would go to Brussels.
He also insisted he could renegotiate the controversial Northern Ireland backstop.
But perhaps his most intriguing reply came when he was asked about whether or not he would enter an electoral pact with Nigel Farage's Brexit Party at the next general election - something which could secure a clear majority for the Conservatives.
"I've no plans for that, and that's not what I'm aiming for," he said, which was far from a categorical no.
Stewart, who does not support a no-deal exit, meanwhile, had a message for frontrunner Johnson.
He told the BBC' Jon Pienaar: "What I want to say to Boris is let's focus on the future... let's be practical, let's be realistic and let's be truthful.
"Boris is an incredibly charming person, I worked for him in the foreign secretary, I find him really good company but it is sometimes quite difficult to be certain what's going on."
He also stressed: "There isn't a majority in parliament for a no deal Brexit and what parliament would do at that stage is request an extension to Article 50."
Who isn't running to be Tory leader?
It is a very, very crowded field with eight MPs already declared and many others expected to follow.
Justine Greening, one of the few Tories to advocate a second Brexit referendum, called the contest a "beauty parade of hard Brexiteers" and confirmed to Ridge on Sunday that she would not be putting her name forward.
The former education secretary also said the government's failure to properly fund schools could lead to a Labour government, and said, in her view, a no-deal Brexit was "not a viable option" for the UK given parliament's opposition.
International Trade Secretary Liam Fox, who ran for the top job in 2005 and 2016, also ruled himself out.
In fact, he seemed to want nothing to do with the whole thing, telling BBC Five Live Pienaar's Politics: "I can't imagine anything that will drag me into this particular race between now and June 10. I'm actually away next week."
Labour is still at war over a second referendum
Not to be outdone by the Tory wars over no-deal, Labour continues to tear itself apart over whether or not to back a second Brexit referendum.
Deputy leader Tom Watson used a piece in the Observer to warn that the party would lose a general election unless it "gets a backbone" over the issue.
"For our party's sake, but most of all for Britain's sake, Labour needs to find some backbone on Brexit, find our voice - and do it fast," he said.
He added: "Our performance (in the European elections) is a direct result of our mealy-mouthed backing for a public vote on Brexit when it is being demanded loud and clear by the overwhelming majority of our members and voters.
"Polls show Labour has been losing up to four times more voters to parties giving full backing to a people's vote than to (Nigel) Farage.
"And those same polls show we would have beaten him by a country mile if we had unambiguously backed a public vote on any form of Brexit.
"Once results are in, we must channel our frustration into winning those voters back. Never again can Labour policy on the most crucial issue of our generation be on the wrong side of its members and voters."
Unite general secretary Len McCluskey, however, had a direct reply for Watson.
He told BBC Five Live's Pienaar's Politics that he believed Watson was trying to turn members against Corbyn.
McCluskey said: "Tom Watson's already out, surprise surprise, trying to take on the role of Prince Machiavelli, but I've got news for Tom. Machiavelli was effective. He's a poor imitation of that.
"If he's trying to turn Labour members against Corbyn and in his favour, then he's going to lose disastrously. And there will be others in the coming days who try and do the same – now is the time to hold your nerve, because a general election which is the only thing that will resolve this situation, is closer now than anything."
Does a no-confidence vote beckon?
Labour's shadow attorney general Shami Chakrabarti certainly seems to think so.
She told Marr Labour should table a confidence motion in the government once a new prime minister was in place.
"I think that it is time for a general election," she said.
She added: "I don't think we can have a second unelected Conservative prime minister."
Chakrabarti said the new figure would not have the mandate to govern and suggested moderate Tories may back the opposition if the new PM favoured no-deal.
It could mean a general election is held sooner rather than later.
Meanwhile....
It could be all change for Change UK.
Heidi Allen said her party could join with the Liberal Democrats to form a single centrist party.
"I would like us to be in the same vehicle," the interim leader told BBC Radio 5 Live.
Asked if she meant the same party, Allen replied: "Yeah, probably, I don't know. This partisan thing completely passes me by and when I look across Europe, they seem to do pretty well with coalitions.
"I don't know what the format will be, but will we be singing from the same hymn sheet? I would hope as a collective, let's call us a collective, somewhere in the middle with other like-minded colleagues."