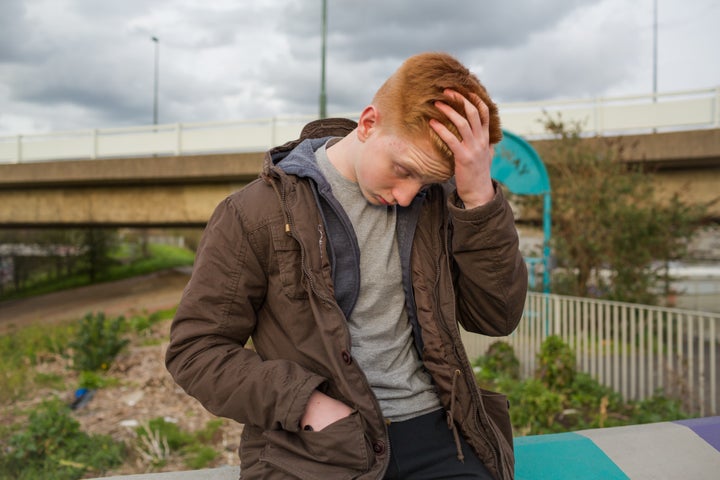 Late teenage years can be an awkward age for many young people as they approach adulthood and look to assume greater independence.
We know from our work at The Children's Society that this age can be even more difficult for vulnerable teenagers as they deal with additional challenges, including everything from mental ill health and child sexual exploitation to domestic abuse.
At the age of 16 councils will agree a plan with most children in care which helps with the tricky transition to independence, while the age until which care leavers receive support is being extended to 25.
This support is sometimes far from perfect it ensures these young people have at least some help.
But what about vulnerable children who are not taken into care?
The Children's Society's new report, Crumbling Futures, has found that help is too often falling short for around 58,000 young people aged 16 and 17 who are not in care but are still designated as 'children in need' by councils. This means that without support their health and development may suffer.
However, the report - part of our Seriously Awkward campaign, which aims to improve support for 16-17-year-olds - found that too often these young people are not getting the help they need.
Many face problems which we see much less in assessments of younger children such as mental health issues, drug use and child sexual exploitation.
They may also experience different challenges including living independently, moving into employment or claiming benefits. These can give rise to additional problems like homelessness and poverty, which are not identified in child in need assessments and are too often not adequately addressed.
Professionals sometimes consider these young people as old enough to cope and make their own choices, which we know isn't always the case.
We also have concerns that support often ends too soon. Data from councils which responded to our Freedom of Information requests shows that nearly four in 10 child in need plans for 16-17-year-olds lasted for less than three months in 2016/17.
More than a third of young people of this age had also been referred to children's services in the previous two years – possibly because the help offered earlier fell short of what was needed or a previous referral was rejected.
Then there are children who are referred to councils but who don't even get an assessment. Nearly half of young people referred are not accepted as children in need and in one in seven cases referred a decision not to offer support was made without an assessment.
Problems do not magically disappear when children turn 18, but any support usually vanishes because in most cases there is no requirement for councils to support young adults.
Fewer than 3% of closed cases involving 16 and 17-year-olds were transferred to adult services before they turned 18.
Councils do not have to collect data showing outcomes for children in need, but what we do know suggests that a failure to deal with issues at an early stage can take its toll.
Information from a small number of councils suggests that these young people are less likely than most other children to access education, employment or training, and more likely to claim benefits and experience homelessness.
We analysed the national Understanding Society survey, which asks teenagers about their well-being over several years. This found that one third of young people experienced an increase in vulnerabilities between the ages of 16-17 and 18-19, while the level of vulnerability remained the same for almost the same proportion.
So, what can be done to address this worrying situation?
The Children's Society wants to see better support for children in need as they prepare for adulthood and a comprehensive package of help once they turn 18.
The Government's recently announced review aimed at improving educational outcomes for these children is welcome, but we would like ministers to consider specifically how 16-17-year-olds can be better supported and to broaden the review to examine all aspects of their lives.
Councils and partner organisations should get the resources they need to address health, housing, employment and safeguarding needs, as well as their education – with consideration given to extending key services to the age of 25.
To ensure that no child misses out on support, we want all 16-17-year-olds referred to councils to receive an assessment with a focus on risks, mental health, family relationships and risk of poverty. Child in need and child protection plans, should last until at least a young person's 18th birthday to ensure they receive sustained support.
Together, these measures can create a real step change in help for vulnerable older children.
While extra government investment will be needed, the cost of failing to act may be much greater. Dealing with deeply ingrained problems like mental health issues into adulthood doesn't come cheap.
But more important is the impact on young people's lives and their ability to overcome challenges and flourish. It's hard to put a price on that kind of happy ending.