Police are appealing for witnesses to come forward after a horse rider was caught on camera repeatedly striking a hunt saboteur with a riding crop at the weekend.
The clash happened when Brighton Hunt Saboteurs shadowed East Sussex and Romney Marsh Hunt Club on Saturday.
In the footage, the huntswoman was accused of charging her horse into hunt sabs, before they took hold of the animal's reins.
She can be heard shouting "get off my horse" as she swipes at hunt sabs in Herstmonceux, East Sussex.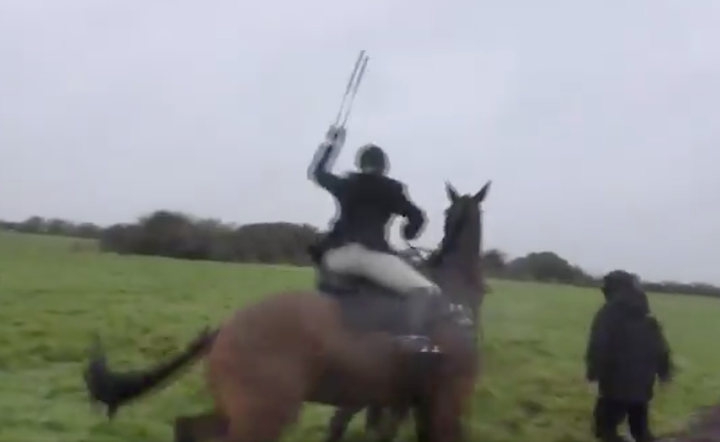 A Sussex Police spokesperson said in a statement: "A third party report of an assault has been made after a man was allegedly struck with a riding crop by a horse rider in Herstmonceux on Saturday.
"The incident happened in a field off Church Road around 12.30pm.
"The victim was reported to have received a bruise and bump to the head, but did not require medical treatment.
"The informant was not a witness to the incident, but police have now identified the alleged victim and an investigation is under way.
"Police are aware of a video reportedly showing the incident being available on social media."
Police asked anyone who witnessed the incident to call 101 quoting serial 585 of 18/11.
A East Sussex and Romney Marsh Hunt spokesperson said in a statement: "The East Sussex and Romney Marsh Hunt does not condone any form of violence even when faced with extreme provocation, personal harassment and other offences.
"The hunt acts lawfully within the confines of the Hunting Act 2004 and takes every measure to ensure the law is adhered to."​
It is not uncommon for members of a hunt and hunt sabs to clash, particularly during the traditional hunting season, which runs from November to April.
Every weekend, masked men and women trek across Britain's countryside in a bid to disrupt hunts.
Fox hunting in its traditional form was banned under the 2004 Hunting Act.
Sabs argue they are saving Britain's wildlife, hunts say they are trying to interrupt legal activity.