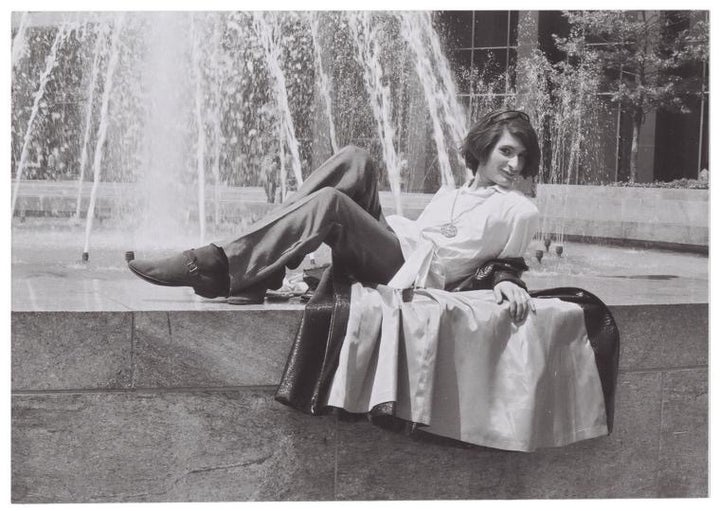 I have a love/hate relationship with LGBT History Month. History can be like a drug, we can get very high on the stories of how our elder sisters and brothers fought for our rights. We can do that without committing ourselves to carrying that struggle forward. If LGBT history becomes a sanitised, self congratulatory pat on the back; a look back at how far we've come, we are missing something important.
History isn't an island in the past, it is a moment in a continual collective struggle, something against which to define and measure yourself. Trans teens and children have few role models and reference points. Discovering about Sylvia Rivera when I was younger was a wake up call to action and a realisation that I wasn't alone. Here was someone I could finally understand and identify with. I had found gender a bewildering and confusing concept. Sexually precocious, I grew up knowing I was a girl yet was treated as an effeminate boy. I grew up suffering sexual abuse. It made me feel dirty and used. Sylvia Rivera had been abused too, she was a gender non-conforming outcast and a campaigner who unashamedly used sex work to survive and fund her campaigning.
Stonewall was already a thing when I came to adulthood. The name applied to an organisation fighting for gay and lesbian rights. I was pretty sure I wasn't included. A kickass non-binary gender rights activist, Sylvia Rivera was there however during the June 1969 riot at the Stonewall Inn. She is credited as having thrown one of the first bottles! It was an event I had associated with gay men. To find that gender queers and trans people had been involved too was a revelation. I felt empowered to learn that someone from my community had been there at the start of a long struggle for equality and inclusion. Sylvia Rivera subsequently joined the Gay Activists Alliance (GAA) to campaign for a Gay Bill of Rights in New York City. Sadly, as gay issues developed a more mainstream momentum, GAA dropped their inclusion of gender rights in a bid to make their campaign more acceptable. Through it all, Rivera never stopped campaigning. What isn't as widely remembered is her work supporting young homeless trans girls of colour working in the sex industry. Together with Marsha P Johnson, Rivera founded the STAR (Street Transvestite Action Revolutionaries) house to protect and care for young trans kids hustling on the streets of NYC. She fought continually for the inclusion of black and trans voices in the struggle for gay rights at a time when the assimilation of gay culture meant that gender rights got left behind.
Sylvia Rivera passed away on February 19th 2002. She died in poverty but she gave the gender variant community the inspiration to fight for inclusion that we continue today. In spite of advances, Trans rights are still an afterthought in the struggle for fairness and equality. Barely a week goes by without one element or the other of our community being vilified in the press. Feminists we fight alongside want to deny our right to self identification. Society accepts equal marriage but the plight of trans children is not so good. Parents supportive of their trans kids are branded as conniving in a delusion that gender can be fluid or reassigned. Trans women are still dismissed as 'men in dresses' by radical feminists. Trans women like Rivera or myself, who choose to work in the sex industry are stigmatised by a society which sees us as either deviant or reinforcing gender stereotypes. Rivera fought for our acceptance as human beings, regardless of gender norms or stereotypes. She did so, long before many of us were born.
Gender queer individuals have at times been seen as an embarrassment to the LGBT Community. Too often we iconise our heroes. We sideline individuals who are controversial and hard for the masses to identify with. If someone is uncomfortably difficult to like we have a tendency to write them out of history. I want to write Sylvia Rivera back in. Sylvia Rivera was a different kind of hero, not an icon but a passionate human being. We need more like her today.
This LGBT History Month we are hosting a mini-series from our blogging community on the LGBTQ+ figures who have been the biggest inspiration for them.