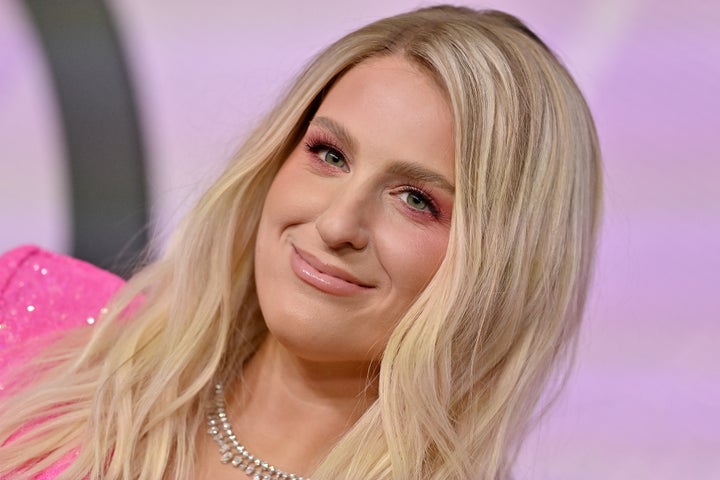 Meghan Trainor, 29, has opened up about living with vaginismus – a painful condition experienced before and during sex.
The singer spoke about how intercourse with her husband, Spy Kids star Daryl Sabara, is "painful" – and that she doesn't necessarily enjoy sex in the typical sense that others do.
"I was told I have something called vaginismus," Trainor shared. "I thought that every woman walking around was always in pain during and after sex. I was like, 'Doc, are you telling me that I could have sex and not feel a single bit of pain?'
"[It's got] to the point where I'm like, 'Is it all in?' and he's like, 'Just the tip.' And I'm like, 'I can't do anymore.' I don't know how to fix that."
Vaginismus is "the body's automatic reaction to the fear of some or all types of vaginal penetration," according to the NHS. Whenever penetration is attempted, the vaginal muscles tighten up on their own – and those experiencing it don't have any control over it.
But it might be even more common than that – a recent Lovehoney study found 28% of women in the UK have had issues with vaginal tightness specifically, with this number rising to 54% of 18–24-year-olds.
Of these, 59% said this has had an impact on sex drive, and a further 75% haven't tried any treatment for it.
The top reasons for not seeking treatment or talking about it included not knowing who to speak to, as well as feeling embarrassed.
Speaking on a recent episode of her podcast Workin' On It, Trainor said pain related to the condition can feel like "stingy burning" and is so bad that after she's had sex, she can hardly walk.
"As he would penetrate, I would be like, 'Ow, ow, ow,' like to the point when I was making this baby, I had to ice myself after and I go, 'There's gotta be another way'," she shared.
Signs of vaginismus
You find it hard inserting a tampon into your vagina,
You struggle with vaginal penetration during sex,
You feel burning or stinging pain during sex.
What causes vaginismus?
Reasons for experiencing the condition can widely vary, but medical professionals agree it's thought to be affected by anxieties and past sexual trauma.
Occasionally, people can get vaginismus even if they've previously enjoyed painless penetrative sex.
Can it be treated?
Treatment varies depending on the specific root cause. But most treatment plans look at reducing the automatic tightening of the pelvic muscles; taking away the mental trauma, stress and anxiety; and resolving fears around sex that are causing your muscles to tighten.
One core treatment is slowly working with fingers and plastic dilators to increase the movement and opening of the vaginal muscles and allow for more penetration slowly, over time.
Other treatments include counselling, Botox injections to stop the muscles working and pelvic floor exercise.
Despite her issues with pain during sex, Trainor has remained optimistic about her and Sabara's sexual future together, saying: "I'm gonna figure it out. I'm gonna be a star at sex." We love that energy.