A Tate poster asking staff to contribute towards a boat for their outgoing boss has sparked anger among employees, many of whom are in "low paid" jobs and have been left feeling "sick" at the request.
Nicholas Serota, who receives a six-figure basic salary, will be stepping down as director of the gallery at the end of May to join Arts Council England.
A poster headed 'Nick's leaving fund' was placed in the staff rooms in London museums Tate Britain and Tate Modern last week, asking employees to donate to the collection for a sailing boat.
But a spokesperson for the Tate later told the HuffPost UK money was being raised for a "small dinghy".
"The legacy that he has left is one of privatisation, cuts to workers' pay and... I think this has got people's backs up, they are really annoyed about it," Tracy Edwards, Public and Commercial Services (PCS) union officer for the Tate, told HuffPost UK.
The notice read: "As you know, we are making plans to say goodbye to Nick in a way that is fitting to mark the immense achievements of his 28 years at Tate.
"At the party we would like to surprise Nick with a leaving gift from current and former members of staff.
"We have thought long and hard about what to get, and decided to put the money towards a sailing boat. Nick loves sailing, and this would be a lasting and very special reminder of the high regard which I know so many of us have for Nick and his contribution to Tate."
In 2015, Serota's basic salary was about £165,000.
The poster has now been removed, according to some reports.
A Tate spokesperson said in a statement: "The idea of a leaving gift was first suggested by members of staff who wanted to show their appreciation for everything Nick has achieved in his time at Tate.
"Our intention was to ask colleagues if they wished to contribute towards the purchase of a small dinghy on an entirely voluntary basis, in the same way that we would hold a collection for any member of staff who was leaving Tate."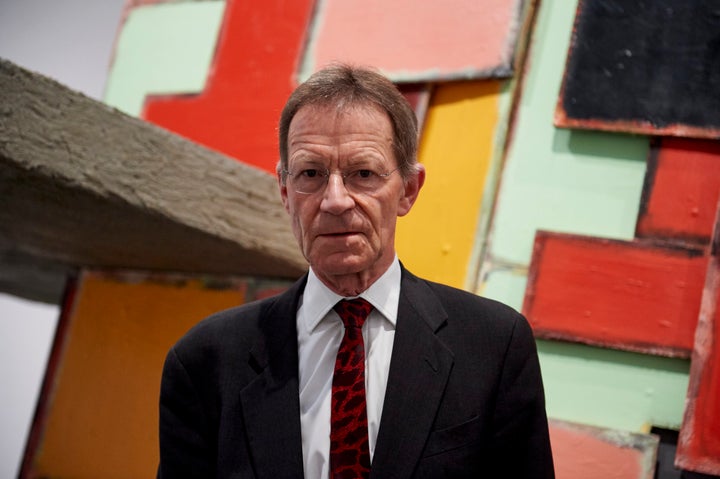 A message on the fundraising page, set up by Valerie Brownson, reads: "Nicholas Serota is leaving the Tate galleries – us, the front of house staff, are heartbroken.
"His legacy of outsourcing, union-busting, stagnating wages and corporate smooching will be dearly missed.
"As you can see from the picture of the poster found at the service staff room of the Tate Britain, Mr Serota is likely to get the pay for all his hard work – a yacht."
It continues: "I have been inspired by this crowdsourcing technique and hoping that I can ask for something even more frivolous such as money for rent, transport and lunch (the staff canteen just put the prices up, you see).
"While I deeply regret that my need for 2 for the price of 1 tortellini pack and a pint of milk will mean that I may not be able to contribute to Serota's fund, I surely welcome the spirit – ask publicly funded employees that have no social security, sick pay, holiday pay or pensions to pay for a parting gift that is worth more than 10 years of our salary."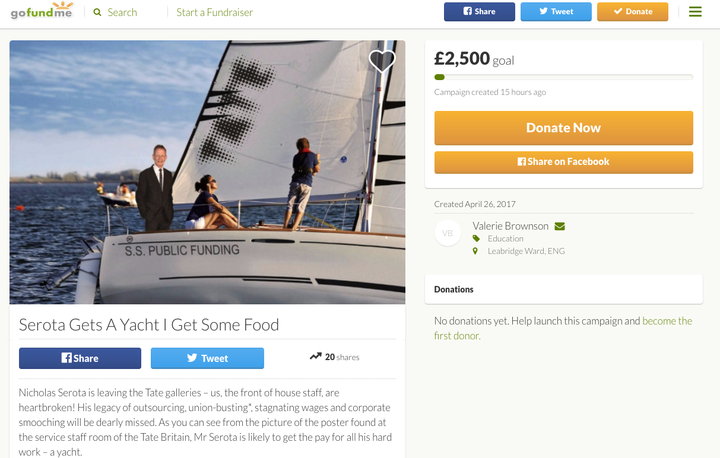 PCS union officer for the Tate, Edwards, said that a number of her union representatives have seen the notice, which she originally thought was a spoof.
She told HuffPost UK: "Both this year and last year we have had ongoing disagreements at the table over pay.
"Our members have been languishing on low pay for a number of years now because Tate is always claiming it doesn't have any money to allot a pay rise to the staff."
Edwards added: "I think seeing something like that has made people feel a bit sick to be honest.
"What planet is the guy on?
Edwards said staff at the Tate are "underpaid and overworked", with many members on zero-hours contracts.
The poster drew scorn from many people on social media.
A Tate staff member, who is hired through Securitas, told the Guardian: "The chasm that exists between upper management and the staff on the ground is just farcical and this just made it clearer than ever. For us, Serota's legacy among staff is one of privatisation and union busting and turning the Tate into Westfield with pictures."
A spokesperson for the museum said that the Tate had "invested considerably in raising salaries over the past three years" and that contributions to the gift were voluntary.
The spokesperson added in a statement: "Tate is not in a dispute with PCS about low pay or outsourced jobs. We are working with our trade union colleagues to address issues with pay for all staff groups at Tate. Tate has not outsourced roles to Securitas.
"The level of outsourced services have remained the same for many years. Last year we retendered an existing contract for the provision of temporary Visitor Assistant workers that has always been an external contract.
"None of the people who work for Securitas have ever been directly employed by Tate. A small number of PCS members (those who work for Securitas) are on zero hours contracts. The majority are on permanent contracts.
"The rooms where the posters were shown are for visitor experience staff all of whom earn the London Living Wage or above and for volunteers. The Securitas staff are also paid above the London Living Wage and on the same pay range of the in-house visitor assistants.
"Tate's staffing levels are appropriate to manage larger visitor numbers when the galleries are busy. Any additional staffing required to cover late nights or evening events outside of the core rota is offered as overtime to our in-house team and is entirely voluntary.
"Any uncovered positions are then filled by temporary visitor assistants provided by Securitas."