We've been (quite rightly) clapping for healthcare workers once a week, and have found a new and vital collective appreciation for those keeping us going throughout the pandemic: retail workers, supermarket shelf stackers, farmers.
But behind the scenes, there are also scores of teachers, learning assistants and school staff who are keeping children's spirits up – not only the kids of key workers still attending school, but those at home, too.
Here are 10 brilliant things teachers are doing to get kids through lockdown.
1. Dress-up storytime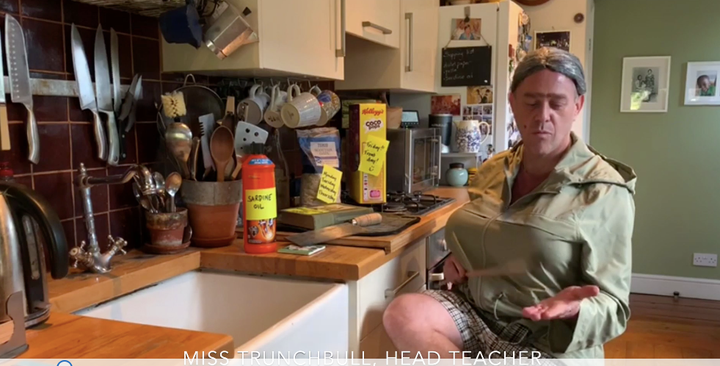 At Aldersbrook Primary School in east London, teachers have been making videos of themselves reading their favourite children's books from their kitchens, and sharing them on the school website. We particularly enjoyed a 'surprise visit' from Miss Trunchbull, a.k.a the school's headteacher.
2. Staff singalongs
Teachers and assistants at Barnfields Primary School in Stafford put together this hilarious, disco ball-fuelled version of 'I'll be there for you' by The Rembrandts. One parent told HuffPost UK her kids absolutely loved it.
"The head teacher is the guy in a shirt, tie and cycling shorts, with the disco lights!" she told us.
3. Dancing in disguise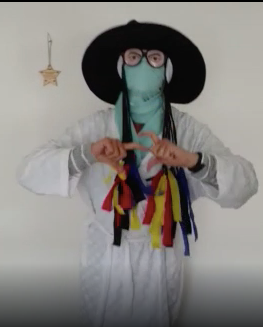 Llantilio Pertholey CiW Primary School in Abergavenny offered up a fantastic compilation video of teachers in disguise as the children have never seen them before. "Head over to our website to see how many of our teachers you recognise," the school teased on its Twitter account.
4. Drive-by birthday
Staff at Sacred Heart School in West Reading, Pennsylvania, pulled out all the stops when one of their students – Ivann, in the third grade – had a birthday. They did a 'birthday drive-by', holding up signs to wish him well and dressing up in costume, then posted the video to their Twitter account.
5. Messages of hope
Trinity St Mary's Church of England Primary School, in Chelmsford, Essex, made an amazing collage featuring teachers holding up signs to send a message to the children. The message, posted on the school Twitter account, said: "To all our wonderful TSM families. We just wanted to say we miss you and cannot wait to see you all again soon. Keep safe and happy."
One mum told HuffPost UK it had "really helped" her daughter feel like she was still in touch with school. "It was very cute," she added.
6. Pyjama book party
Staff at St Oswald's Catholic Primary School, in Old Swan, Liverpool, have been donning their PJs and grabbing their favourite books for a 'virtual pyjama party' with pupils, as part of #Pyjamarama day celebrations, an online festival on May 1 run by Booktrust. St Oswald's teachers posted a preview picture on Twitter.
7. Piano recital
Graham Ford, headteacher at Snaresbrook Primary School in east London, showed off his piano skills with a beautiful rendition of 'Somewhere Over the Rainbow' for his pupils. The video included pictures of the kids and their rainbow drawings.
8. Ping-pong pancake challenge
9. Missing you messages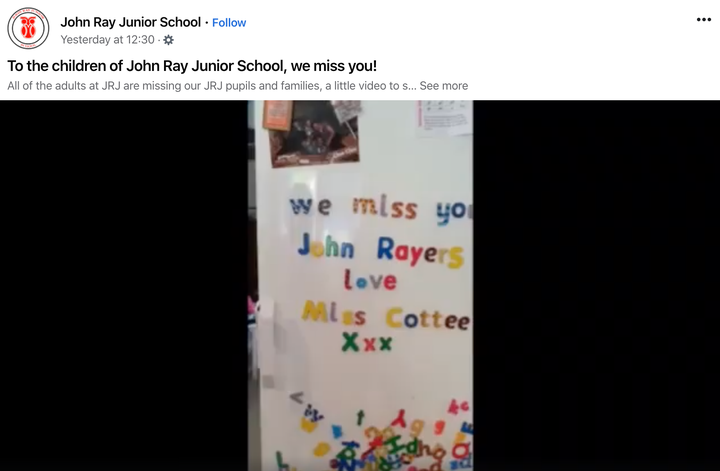 Teachers at John Ray Junior School in Braintree, Essex, put together a heartwarming video set to the tune of 'Africa' by Toto. It features staff members making hearts with their hands and writing sweet messages on flipboards and notepads to tell their students how much they're missing them. Aww. One mum told HuffPost UK she loved it and so did her 11-year-old daughter.
10. A song for us all
Possibly our favourite teacher video yet, featuring TikTok user Liz – a music teacher in the US, who said she'd found the perfect way to process the transition to homeschooling. A song, truly, for us all.