An 80-year-old man with dementia has landed a record deal after videos of him doing 'carpool karaoke' with his son went viral.
The 80-year-old, who is also known as 'The Songaminute Man', has now been signed by Decca Records.
Ted has recorded the Frank Sinatra song 'You Make Me Feel So Young', which will be released on 23 September. Proceeds from the single will go to the Alzheimer's Society and, of course, Ted and his family.
Simon, 40, said it was a "dream come true" for his dad, who has sung all of his life.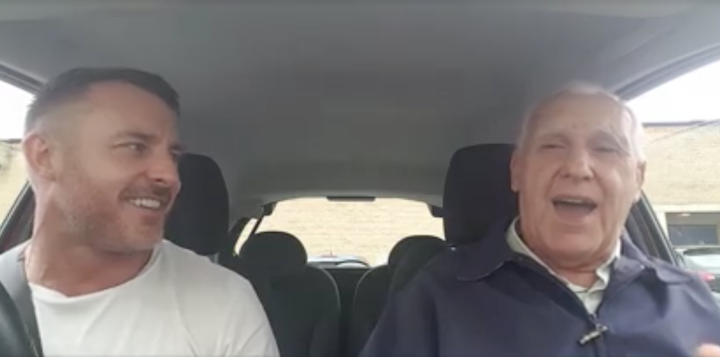 The father-son duo used their newfound fame to raise more than £115,000 for dementia charity Alzheimer's Society, which has supported the McDermott family since Ted's diagnosis.
Ted, who used to work as a Butlin's Redcoat and performed in various pubs and clubs throughout his life, was diagnosed with dementia in 2013. But despite this, he still loves to sing.
The 80-year-old and his 40-year-old son have performed a wide range of songs, which have been posted to his 'The Songaminute Man' Facebook page. In one of their more recent, viral numbers, the duo sang along to Engelbert Humperdinck's 'Quando Quando' in a Sainsbury's car park.
So far the pair's videos have had more than 40 million views.
Simon said his dad's dementia has been tough for the whole family, but the symptoms are often helped by singing.
Writing on Ted's Facebook page, Simon said his father is sometimes unable to recognise his own family and he can even experience "aggressive episodes". But when he sings, he's back in the room.
"It's these moments that we treasure," he said.
The 80-year-old has now recorded a track with the Guy Barker Big Band, which has been mixed and mastered at Abbey Road Studios.
He will also be releasing 'Quando Quando', the track which went down a storm on Facebook.
"This is a dream come true not only for dad, but for the entire family," said Simon, according to the Press Association. "There have been some really tough days in the last few years - especially for mum.
"We threw an 80th birthday party last month and thought that would be his last time singing solo for people, so it's amazing to think he now has a single coming out.
"And it's great to help the Alzheimer's Society who provide so much help and support to other families going through the same things as us."
You can preorder the track here, or donate to their JustGiving page.