A teenager with autism who feared he wouldn't receive any birthday cards has been inundated with greetings from celebrities and well-wishers after an online campaign went viral.
Kyle Busby's dad, Stuart, 41, was shocked when his 16-year-old son asked him why he did not get cards from people from outside the family.
The doting dad started a Facebook and Twitter appeal asking for people to send a card to Kyle for his 17th birthday on 7 October.
Incredibly, just days later the campaign went viral and Kyle received dozens of cards from around the world - including from 'This Morning' presenter Phillip Schofield.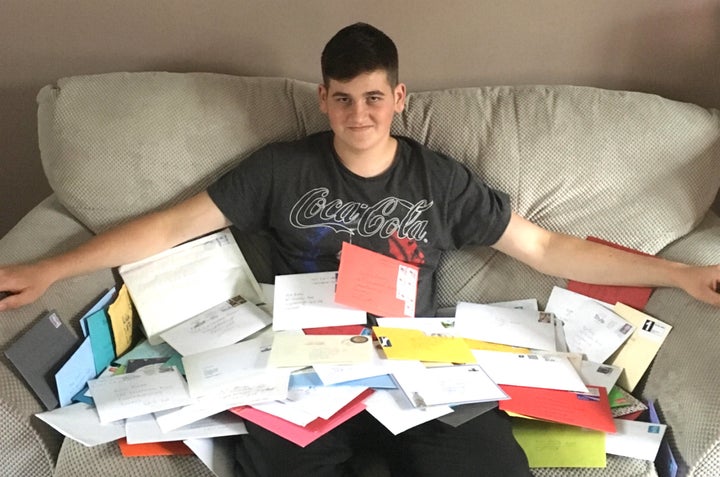 Kyle has received messages of support from big-name organisations, including Everton Football Club and Sky Media.
The Boston Red Sox and international cricketer Niall O'Brien also popped cards in the post to Kyle.
Step-mum Hannah Smith, 35, a telemarketing executive, said: "Stuart put a post out on Facebook and Twitter asking if anyone could send Kyle a card, with a bit about his autism, and it just went viral.
"The post has had hundreds of thousands of views, and Stuart's phone is going off constantly."
More than 100 cards from countries including America, Australia, South Africa, New Zealand, Canada and Ireland have arrived at the Busby house, in Leicester Road, Loughborough.
Hannah, who also has eight-year-old daughter, Georgia, and is step-mum to Nicole, 19, added: "Every day when he sees his cards coming through the post, he has to count them.
"Kyle is so happy, and he loves looking at the stamps that have come from all over the world.
"He's going to get an album to keep all his stamps in.
"We're so very thankful to everyone, and Kyle has a lot of thank you cards to write back.
"He wants to open his cards now, but we're making him wait until his birthday.
"Autism can be a lonely life for the person and the family and the post has helped raise awareness of that.
"He doesn't have any friends and spends his time with me and his dad. It was sad when he said he wouldn't get any birthday cards because he's got no friends.
"We've had people with autistic children contact us - it's been great as it makes you feel a little less like you're on your own."
Dad Stuart, who is full-time carer to Kyle, is now hoping that Kyle will set the world record for most birthday cards received.
He said: "The response has been amazing, we're bowled over. I put an appeal out on Facebook just asking people if they wouldn't mind sending Kyle a birthday card and it went mad over night.
"He's received 250 cards so far and more are arriving every day.
"Kyle's very happy and loves looking at the stamps. He hasn't opened any yet but it's wonderful to see so many people took the trouble to send him a card."