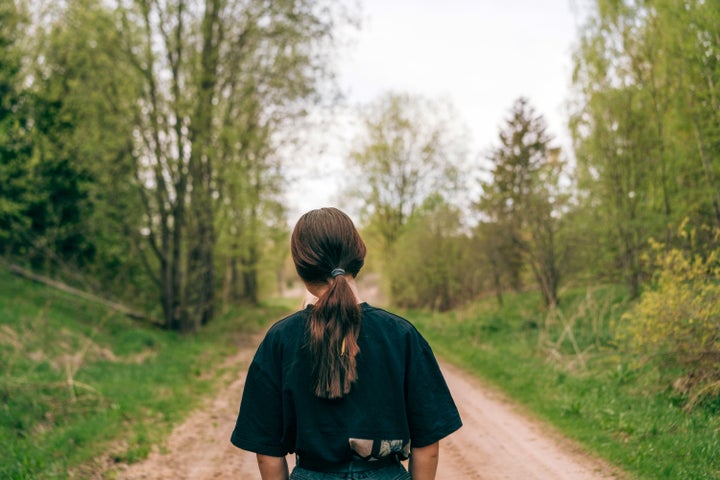 A new survey of teens has lifted the lid on how the next generation is really feeling – and one of the biggest takeaways is that the cohort of 13- to 18-year-olds are harbouring a lot of worry.
Over 2,000 teenagers aged 13-18 were asked about a range of topics – from anxiety and social media to vaping, 'sexting' and pornography.
The survey, commissioned by BBC Radio 5 Live and BBC Bitesize, found more than a quarter of teens polled feel anxious all or most of the time – with a further 45% saying they feel anxious at least some of the time.
Exams, school life and peer pressure were cited as the main reasons for this.
How to spot the signs of anxiety in teens
Anxiety can present in a range of different ways, including tense muscles, an increased heart rate, feeling out of control or on edge, worrying constantly, and being preoccupied by negative thoughts.
How to talk to teens about anxiety
It can be a worry for parents if you notice something is amiss with your child. In this instance, the most important thing you can do is listen.
In a video on the topic, Dr Pooky Knightsbridge, who has a PhD in child mental health, urges parents to let their children tell them how they're feeling – so, how it feels physically, how it feels emotionally, and what's triggering it. Initially you don't need to problem-solve, it's just about understanding what's going on.
She suggests listening to your teen as they talk through a typical day and then trying to work out, within that day, what the trigger points are that cause anxiety.
"When we can begin to isolate that it's when you're with a certain person, you're in a certain place, it's in the lead up to a certain activity," she says, "then we can begin to understand whether these are things that we can do something about, whether we need to be addressing our feelings about them, whether we might avoid them..."
She caveats you have to be careful with avoiding anxiety triggers as sometimes this can make the issue loom larger in our minds. But if a certain person isn't making your child feel great, then it's perfectly OK to suggest they spend less time with them.
According to Mental Health First Aid, it's really important to empathise with your teen during these conversations – even if what they tell you seems ridiculous or illogical. Instead of giving advice, you could say things like, "It seems like you are really feeling left out."
It might also help to share your own experiences with similar issues – for instance, sharing your own challenges with anxiety at school could help normalise these feelings for your teen. "By relating, you humanise yourself and open the door for communication," suggest experts.
And lastly, ask questions – if you know your teenager is anxious, check in regularly about how they're feeling and keep the dialogue going.
"The most important thing you can do when you are concerned is comfort your teen and let them know you will figure this out together," they suggest.
What else did the survey find?
Over a third of teenagers do not feel safe walking down the street by themselves, according to the new BBC poll.
More than a third (37%) said they had experienced verbal abuse on the street including name-calling and being shouted at, while nearly one in five (19%) said they had experienced sexual harassment on the street, such as leering or wolf whistling.
More than a third of teens said they had seen pornography online, with 73% agreeing that social media and technology companies need to do more to stop pornography being viewed accidentally online.
The survey also suggested that 16% of teenagers had been asked to make or share nude pictures or videos by a peer and 17% said they had received unwanted nude images/videos.
When it comes to online safety, nearly a third (31%) of those interviewed said they had messaged someone online that they didn't know, and of those who had, 30% said they would consider meeting up in person.
More than half of teenagers surveyed (55%) said they followed online influencers – with more girls than boys saying influencers made them feel they needed to change the way they look.
'Understanding how teenagers feel and think about the world is crucial'
Heidi Dawson, controller of BBC Radio 5 Live, said of the new survey: "Understanding how teenagers feel and think about the world is crucial and this survey provides fascinating insights. Some of the findings are concerning and the research shows there is a big conversation needed on teen issues."
BBC Bitesize has developed a suite of content and articles for teenagers that touch on some of the key themes from the survey – including articles from anxiety expert and author Joshua Fletcher.
The findings of the poll will be discussed live during the Teen23 Summit on BBC Radio 5 Live all day on Wednesday 20 September.
Teens were also asked about what matters the most to them in life. On a brighter note, the survey suggested that 66% of teens feel positive about their future, and that family is the most important thing in their lives right now.