A terminally ill woman will attend her own wake – after her friends and family decided to "send her out with a bang".
Pauline Davison, 59, of Moss Side, Manchester, was diagnosed with bowel and ovarian cancer in July 2015.
The mum-of-three had her bowel removed and a hysterectomy in August 2015 followed by months of chemotherapy.
But after she developed septicaemia in May this year, doctors gave her the sad news the cancer had spread too far and was terminal.
So her best friend of more than 30 years, 53-year-old Karen McCloud and daughter, 36-year-old Brenda Healey, have decided to throw her a wake – before she dies.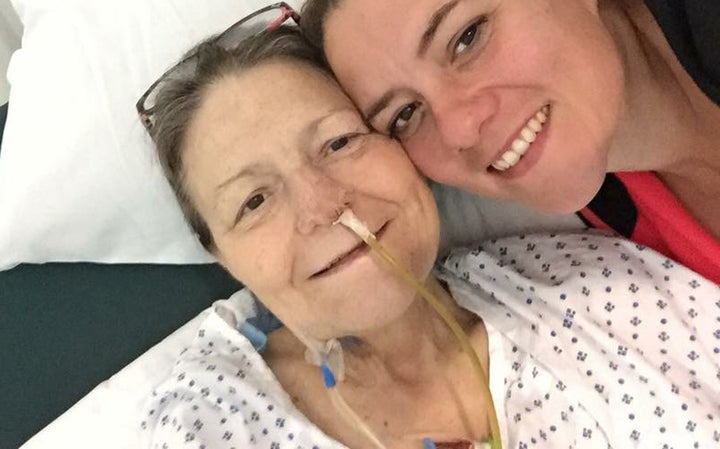 The friends have set up a GoFundMe page to raise funds for the event.
It is due to take place in Hume, Greater Manchester, on July 31.
Pauline, who will celebrate 39 years of marriage to Steve on July 23, spoke briefly from her hospital bed at the Manchester Royal Infirmary to say she was looking forward to her wake.
"It was my daughter that suggested it," she said. "I don't want to miss my own wake."
Karen, 53, a phlebotomist - a specialist clinical support worker who takes blood samples - met Pauline as a young mum.
"We were both with our kids at a local community centre," she recalled. "We hit it off straight away and stayed friends. I was devastated when I found out she was sick.
"I wanted to support her and I visit her in hospital every day. I listen to her; see her kids and her husband."
For Pauline and her husband's 40th birthdays nearly 20 years ago, Karen organised a surprise party, attended by more than 500 people.
Well aware of her pal's popularity, she knew lots of people would also attend her funeral and wake and felt Pauline ought to be there to see it.
"Another friend told me about living wakes and I thought, 'Pauline deserves this – she needs to know how loved she is," Karen continued.
"If she's going out, she's going out with a bang."
The theme of her wake will be butterflies.
"Pauline is mad about butterflies," Karen said. "She loves them. But the wake will be about family too.
"There will be face-painting, balloons, DJs.
She said Pauline agreed it was "a great idea".
"She thinks it's a laugh," her friend said. "She doesn't want tears and crying. She wants good memories of the people she loves."
She is working alongside Brenda, getting businesses in Manchester to donate resources – such as balloons – for the do.
"We were devastated when mum was diagnosed," Brenda, who has a brother and sister said. "At the Manchester Royal Infirmary, she had her bowel removed and a hysterectomy.
"Spots of cancer were found in her liver and she underwent chemo at the Christies Hospital.
"She was having regular blood tests and earlier this year we got the news the cancer was back.
"Now it's a case of making her comfortable."
She said her mum was so loved a living wake was a great idea.
Writing on a fundraising page for it she said: "It's party time!
"We want to celebrate, throw a huge party for Pauline, get all her family and friends together and just spend as much time as possible with her.
"The surgery unfortunately hasn't worked and they are no longer giving her treatment for the cancer – it has spread too much."
She continued: "There has been a lot of heartache in this family and we want to give mum the send off she deserves – with her there.
"She's Irish and has a lot of family in Ireland.
"We'll listen to all the good old Irish songs, the golden oldies.
"We'll talk about mum and share memories.
"It'll be just like a wake – which she isn't missing."