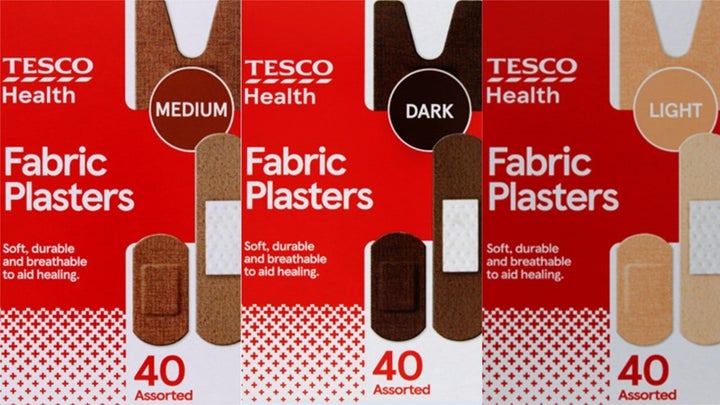 Tesco has become the first UK supermarket to launch plasters in a diverse range of skin tones. The plasters come in dark, medium and light shades and will be available online and in store from Monday.
The supermarket said it developed the plasters after an employee saw a viral tweet in which a Black man said he was "holding back tears" at finding a plaster that matched his skin tone after 45 years.
Paulette Balson, chairwoman of the 'BAME at Tesco' network, said: "No UK supermarket had ever stocked plasters in a range of skin tones before and we saw this as an opportunity for Tesco to lead the charge and make a genuine difference.
"Through our research within the network, we know how emotive a product like this can be. For example, one colleague reported that their child had felt self-conscious wearing a plaster on their face to school recently, because it didn't match their skin tone and stood out."
To date, plasters or bandages in diverse skin tones have not been sold at a major UK supermarket, with just a small number of independent businesses selling them online.
Last year Dominique Apollon, a 45-year-old from America, posted a Twitter thread explaining how finding a plaster to match his skin tone via the online company Tru-Colours made him feel.
"I definitely didn't expect the complex emotions that would swirl as I watched it just... blend in. A seemingly trivial exercise I've repeated 1000x on my body with 'regular' ones since childhood," he said.
"This felt like belonging. Like feeling valued. Sadness for my younger self and millions of kids of colour, especially black kids. Like a reminder of countless spaces where my skin is still not welcomed."
The company Tru-Colours was founded by Chicago-based dad Toby Meisenheimer, who realised the lack of diversity on the plaster market when he adopted his son Kai, who is Black.
"I just want my kids, who are already gonna struggle with the fact that they don't have the same skin colour as their dad, I want them to see they were made as just as authentic and just as beautiful and the bandage market needs to reflect that," Meisenheimer told HuffPost.
"There's something special about what a bandage does in terms of the connection between a parent and a child at the right moment in time where there's hurt, there's pain and a grown up can show up and provide care and love in the form of a bandage."