Samarn Poonan, a former member of the country's elite navy SEAL unit died on Thursday night after entering the cave to lay oxygen tanks along a potential exit route, his commander said.
"The conditions in the cave are tough," Admiral Apakorn Yuukongkaew, commander of the SEALS unit, told reporters on Friday.
"Once he placed the oxygen tanks he became unconscious on his way back. His buddy tried to administer first aid, when there was no response he tried to move him," Apakorn said.
"We won't let his life be in vain. We will carry on".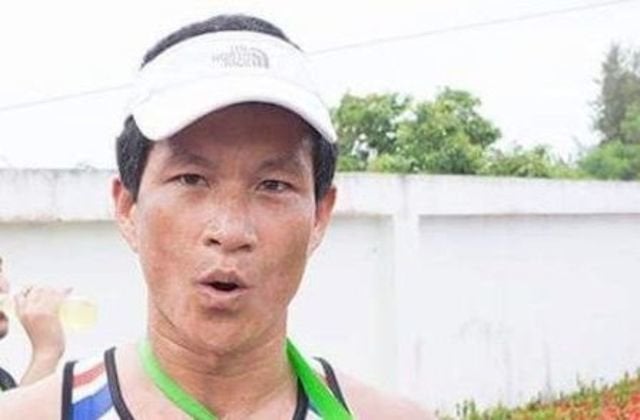 The death lays bare the difficulties of extracting the boys from the cave, none of whom are professional divers and and are all in a weakened state after being trapped since 23 June.
Volunteers at the Tham Luang cave in northern Chiang Rai province were shaken by Samarn's death.
"A navy SEAL just passed away last night. How about a 12-year-old boy that will have to pass through?" Rafael Aroush, an Israeli living in Thailand and volunteer who arrived at the cave site on Thursday, told Reuters.
"There will be rain and many things could go wrong. I don't want to say it, but it could be a catastrophe," he said.
Parts of a passageway leading to where the boys and coach were found on Monday is still flooded all the way to the ceiling, making diving the only way out.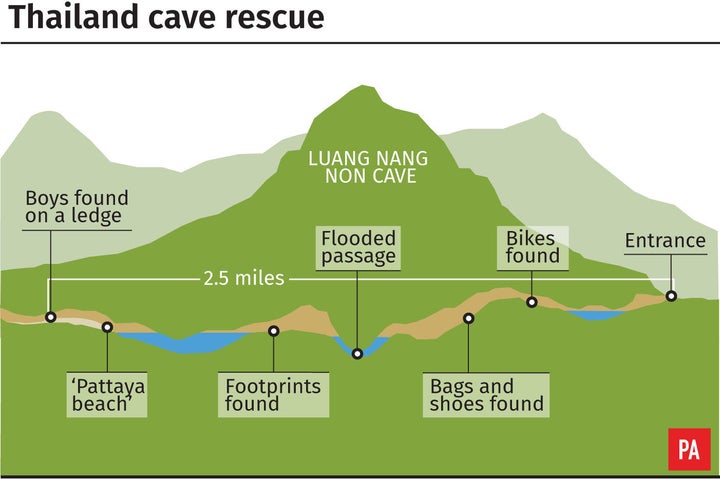 Rescuers are racing against time to pump out water before they can extract the boys.
"What we worry most is the weather," Chiang Rai provincial governor Narongsak Osatanakorn told reporters. "We can't risk having the flood back into the cave."
Chiang Rai Governor Narongsak Osottanakorn said on Thursday that rescuers were preparing a 5km (three miles) "oxygen pipeline" as part of preparations for the group's extraction, but added that the boys would not be coming out soon.
"You see we are increasing the number of people going inside the cave. So we have to fill it up with oxygen," Narongsak told reporters.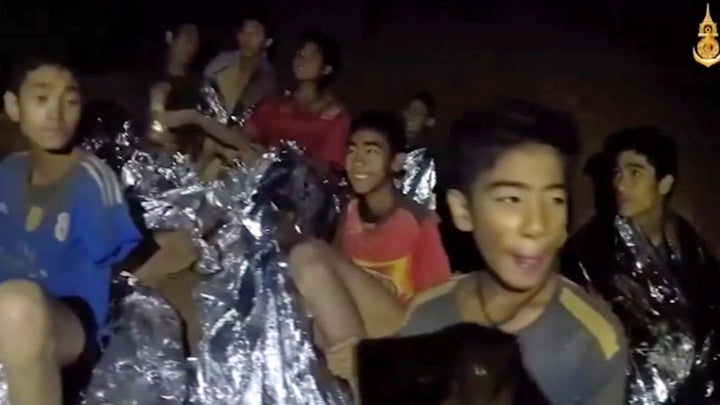 Rescuers, including international teams, are considering alternative ways to bring the group out before heavy rains hit the country's north next week, which could further hamper the rescue operation.
"We have considered many alternatives to find the most feasible ones," Narongsak said.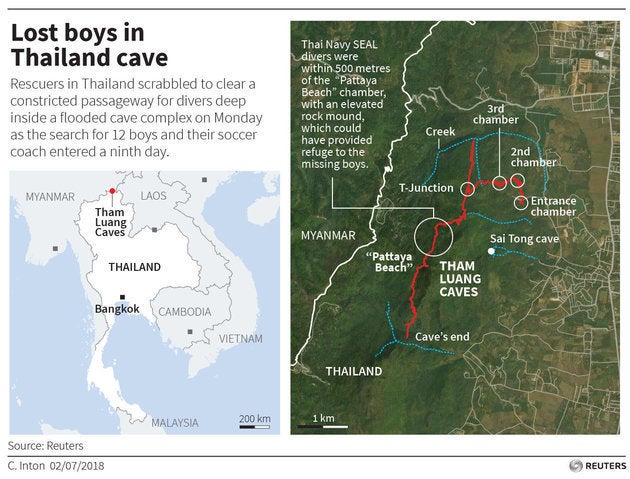 Rescue alternatives include teaching the boys to dive and then swim out, a highly risky venture; remaining in the cave for months until the wet season ends and flood waters recede; or drilling a shaft into the cave from the forest above.
The boys, aged between 11 and 16, and their assistant coach were found inside the cave on Monday, after nine days underground, hungry but in good spirits.
They went missing after they set out to explore the cave on June 23.