Fans of 'The Bridge' will be cheered by news that Swedish writer Hans Rosenfeldt has all but revealed there will indeed be a fourth series of the hit crime drama.
"I'm not allowed to say," is what Hans reveals to Radio Times this week, ahead of the debut of his brand new British crime drama 'Marcella' on ITV next week.
Hans reveals that the Swedish and Danish broadcasters will make their final decision later this month, but "we have checked with everyone we need to get back".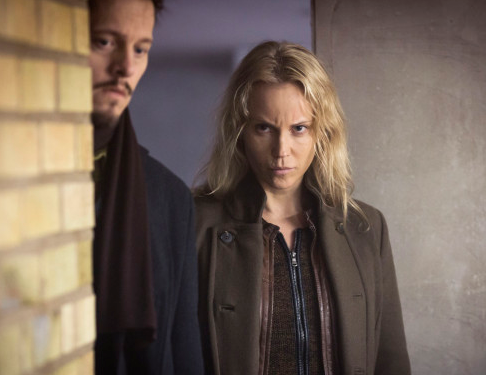 Viewers will be delighted to see Saga Noren and her new colleague Henrik return to screen, following their departure together across the famous bridge in the closing scenes of Series 3.
"I would love to, there is so much to enjoy about this show, but it's not for me to say. It is the genius (writer) Hans Rosenfeldt who has to put in the hard work for it to happen, so we'll have to see."
Thure also told us what he thought of the dynamic between the two characters, which will surely evolve during another series.
"I wouldn't say they were in love," he ponders. "It seems to me to be a very intense connection. But I just acted it my way. Whatever the audience wants to feel is going on is fine with me, I don't want to get in their way by saying the wrong thing." (Read the full interview here)
Hans seems to have changed his tune, as he previously praised the discipline with which Danish broadcaster DR kept their hits to three series in total. 'The Killing' and 'Borgen' both concluded definitely after triumphant trilogies.
Meanwhile, the writer has been busy penning a brand new eight-part British drama, which begins next week on ITV. In 'Marcella', starring Anna Friel and set in London, he once again tells the story of a female police detective, trailing a serial killer. Like Saga, she has a neurological condition that makes her difficult to deal with, but Hans is adamant the two characters are very different.
"We kind of went the opposite with Marcella," he says. "With a lot of emotion, with much more vulnerability."
So what is the character's medical condition? "It is crucial to the plot," is all he will tell us for now.
Marcella begins on Monday 9.00pm ITV