Imagine what Mondays could look like if you didn't have to go to work: a morning free of the rush-hour commute; time spent working on hobbies, or enjoying life with your pre-school kids. You could start baking or get to the gym more often, or simply get to enjoy a long weekend knowing you have time to plough through the life admin and chores before the working week starts. Simply put: life would have better balance, and time would feel less fraught.
A nice idea, but unaffordable for many. Now imagine how having Fridays off would feel if you were still being paid a full-time salary. That's what Frances O'Grady, the general secretary of the Trades Union Congress (TUC) called for in a speech this autumn, arguing that advancements in technology which seem to keep us pinned to our desks longer, should in fact be helping us all to work less.
If, like most full-time workers in the UK, you're knackered after slogging through five-day work weeks since the very start of your career, then that definitely sounds appealing. So is it possible? HuffPost UK tracked down four companies already working four-day weeks to find out about the highs, the lows, and the compromises.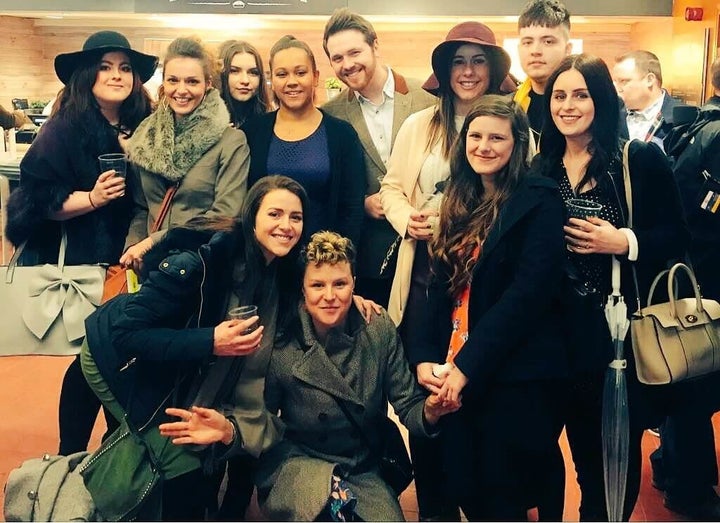 "One of the things I'm most proud of is that we have a few dads working here who have young children, and they get to spend Fridays with their kids – which in any other circumstance I can't see would happen," Chris Downs, co-founder of design tech company Normally tells HuffPost UK. "So the fact this has enabled some dads to spend more time with their kids on a weekly basis, to get to know them and bring them up – that for me beats profits. It's our proudest achievement."
Normally adopted the four-day working week early; it's a "non-negotiable" principle of the company. The 14 staff members have only ever worked four days a week since Normally was founded in 2014.
The four companies we spoke to – a retailer, a design and technology company, a digital marketing agency, and a PR company – all approach the working week in a different way. But they all have one thing in common: they believe that having an extra day off in the week makes for happier and well-rested colleagues, which in turn equals better quality work.
Working more hours doesn't make you more productive
"It's almost as if people measure your success by how many hours you work. We feel the opposite – we think those people are probably just wholly ineffective and terrible time managers," explains Downs. "We'd much rather boast about being super productive in a short amount of time."
Pay and holiday at the company are the the same as for a five-day working week and employees work standard, 9 -5 hours ("Though it's flexible – people don't have to be here at 9, they can come in at 10 depending on whether they have kids to take to school or if they're just not early risers. We don't clock watch the team.") - And when people have finished their work for the day, then the policy is to leave and go home. Downs is not a fan of presenteeism.
Tom Head, founder of digital agency Lab, agrees. "We believe having three days off gives you what feels like a significantly greater amount of downtime, which will result in people being more energised, engaged, and creative."
At Lab, as part of a three-month trial into four-day working, team members can either take Monday or Friday off, to avoid having everyone out of the office at the same time. "There was just a huge surge in engagement in the first month, it was monumental... We had people going on holiday, someone got engaged on their day off."
The trial has been running for around six weeks now, and unsurprisingly some challenges have emerged. They're still working out the kinks: not everyone is finding it smooth and easy and some have struggled to fit five days of meetings into four.
At the start, Head says, everybody was supercharged. "We overheard people saying – well why would you ever leave when you're working a four day week?"
"We're actively encouraging people not to work on their day off. For us, the success of the test for us will be not working that day – having a three-day weekend and coming back in with more energy."
It all sounds like a win-win situation. But how do companies on four-day weeks keep that day off sacred when everyone else around them in the industry is working? Surely there has to be a catch?
Tech means most of us can do our job anywhere, any time
Wednesdays have been set aside as a designated day-off day since luxury slipper company Mahabis was founded in 2014. Founder Ankur Shah is live-testing his own 'work anywhere remotely' policy when he speaks to HuffPost UK over the phone from Spain.
Initially, the idea was to take Wednesday's off completely – but Shah admits that it's morphed into a half day-off / half work from home hybrid. The reason? "The rest of the world is still working on a Wednesday," he says, which means staff need to be flexible.
"[Staff] have to be contactable – it's not a day off in the sense that it's a weekend but it's a more relaxed approach. The reality is it's a day when you can do what you need to do," he says. So if someone has a personal appointment, for example, they could organise if for a Wednesday,
"My COO spends his whole Wednesday afternoon playing football with his daughter – nobody is going to come down on you for taking that time out," he says. "It doesn't work for a business in the long term if staff are burning out."
Rich Leigh, the founder of Gloucester and Manchester based public relations firm Radioactive, reduced the hours of his 11-strong team from a five-day week to a four-day week in September – without reducing employees' pay.
Whatsapp and other instant communication technology has made that possible, he explains. His team communicate with their clients on Whatsapp fairly constantly – which means everyone is always looped in and things don't get overlooked. If something urgent crops up in a Friday – the team's day off – that means people can still be contacted. (Although Leigh insists that as the founder it would be him dealing with anything urgent anyway).
He ditched Fridays because he wants staff to have a better work/life balance. The extra day off each week has come at a price – holiday has been cut by five days and lunch breaks cut to 45 minutes – but working hours Monday to Friday are unaffected.
"We've always had a big focus on what will make people happy. Because my mantra for the team is this: a happy team does great work, which means happy clients," he tells HuffPost UK. "Workplace happiness is one big, big, thing – which sounds really namby-pamby but it's real. You're more productive if you're in a good place."