Any parent will tell you that the best way to get the kids excited to sit around the kitchen table for an afternoon is with the promise of arts and crafts: creativity meets mess equals plenty of laughter and fun for the whole family. Painting is the ideal mindful activity to wind down after school or enjoy on a rainy afternoon indoors.

With the Cadbury Dairy Milk Fingers Games, Cadbury has come up with a finger painting challenge that combines a bit of friendly competition with your best artistic skills to get everyone in the family involved. Ready to show off your arty side? Time to play The Great Family Finger Paint-Off.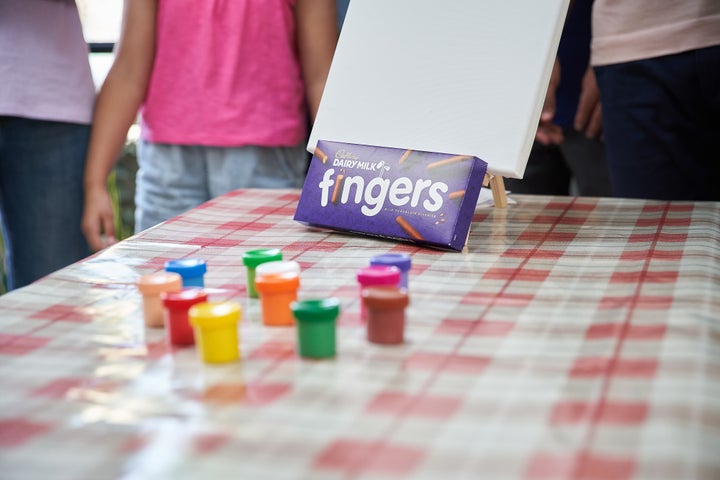 "The rules are simple, guys," explains ITV Lorraine's Ria Hebden in the video above. "You paint as many objects off the list as you can only using your fingers and your teammate has to guess what they are. Ready, steady, go!"
Participating in the Cadbury Dairy Milk Fingers Games is the Khan family of five: granddad Nick, mum Chloe, dad Omar and daughters, Sophia and Alyssa.
The Great Family Finger Paint-Off is inspired by Cadbury's very own Cadbury Dairy Milk Fingers biccies, a shareable snack that the whole family enjoys. There are several flavours to appeal to a variety of tastes, from the original Cadbury Dairy Milk chocolate to Cadbury Dairy Milk Orange Fingers, dark chocolate Cadbury Bournville Fingers and even Cadbury Triple Chocolate Fingers – these are double-dipped in milk and white chocolate.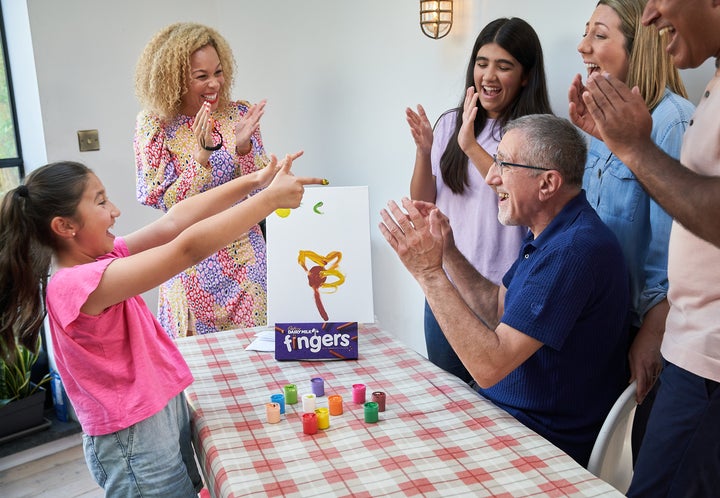 Alyssa teams up with her granddad for the game, while Sophia and her mum work together: one person from each team paints fruits, flowers, body parts, animals and more as the other tries to guess what each design is before the clock runs out.

You'll have to watch the video to see who scores the most points (there are some Picassos-in-training in this family!) and which team wins, but if you want to try this at home, you only need a few bits and bobs to get stuck in: some paper, a few shades of finger paints and a list of objects to paint.

Oh, and some Cadbury Dairy Milk Fingers to munch on after those masterpieces are complete.

Share your videos of your family's finger painting fun using the hashtag #CadburyFingers.

Click here for more Cadbury Dairy Milk Fingers family fun...