We sat down with star Roger Allam yesterday and, although we were there to mainly to talk about 'Endeavour' (ITV's Morse prequel that returns in the New Year), we couldn't resist seeing if he anything to divulge about his character, the bombastic but troubled Brigadier Stone.
"He's not got a glint in his eye," Roger agreed. "What's the opposite? There's a deadness in his eye, I think."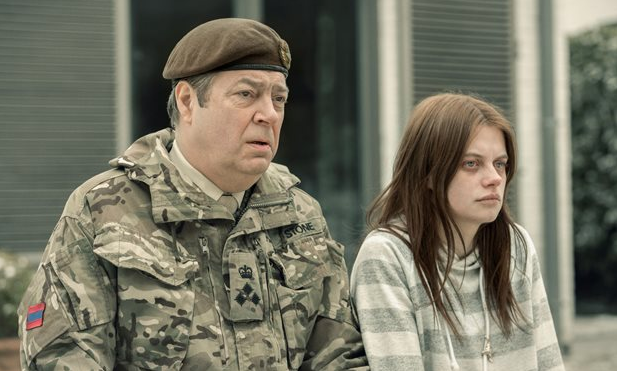 The actor known for his avuncular, comedic turns in 'The Thick of It' and radio drama 'Cabin Pressure', is relishing showing another side of himself to so many fans. "It's the thing I enjoy most about acting, getting to experience these different things."
With two episodes left to go, Roger was at pains to keep the secrets of 'The Missing' intact. "I can't tell you anything without messing it up," he said ruefully.
However, when pressed on whether it would be a satisfying outcome for the millions of viewers hooked on the fate of Alice Webster, Sophie Giroux and those responsible for their welfare, Roger would give us this...
"It's an exciting and dramatic outcome, and I think you'll be surprised at what happened a long time ago."
Hmm. That's the sound of heads being scratched. We're guessing he's referring to either a) what happened in Iraq that has been the source of Julien Baptiste's enquiry, something Nadia Herz has just promised to tell him all about, or b) possibly what happened to his daughter Eve, something hinted at in the hospital as she gave birth, when Roger's character Brigadier Stone couldn't remember the details of her own birth.
Julien Baptiste actor Tcheky Karyo previously told us how difficult he found it keeping the timeline clear in his head. For his part, Roger revealed he also requested more information about his character to help in the playing...
"I can't remember at what stage I found out," he remembered. "I think I insisted on seeing more than I was given at the read-through stage, but I didn't see the last episode until some time later."
And that's all he gave us, which is fair enough. Only two episodes to go.
NOW READ:
Popular in the Community