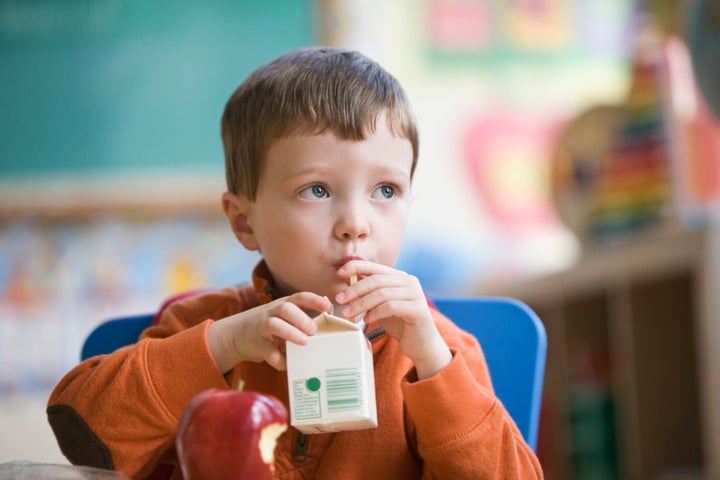 Children with allergies, intolerances and alternative diets are being excluded from a nationwide scheme that allows youngsters under the age of five to be given free milk at nursery and school.
The Nursery Milk Scheme is operated by the Nursery Milk Reimbursement Unit (NMRU) on behalf of the Department of Health and Social Care (DHSC).
It entitles children under the age of five who attend approved daycare facilities to receive a drink of milk (one-third of a pint, to be precise) each day, free of charge.
But the milk provided is cow's milk, which means the estimated 2-3% of the UK's under-fives with cow's milk allergy are excluded. And that doesn't take into account those with a dairy intolerance or those who are vegan, either.
A new petition is taking off to try and change this, with some of the UK's leading nutritionists and paediatric dieticians getting behind it. At the time of writing it had almost 8,000 signatures.
The petition was launched by Peterborough-based parents Sylwia Lysakowska-Lombari and her husband David, who follow a vegan diet, and were surprised to hear their daughter would have no alternative milk option upon starting school.
"We were shocked that she wouldn't have an alternative to dairy products on the milk scheme," said Sylwia.
"We started the petition not just for those that follow alternative diets, but also for those whose children suffer from incredibly severe allergies – a few of which we know personally."
She added: "Not only is this legislation outdated, but it also seems very unfair on the children that aren't able to drink milk."
According to The Nursery Milk Scheme's website, it does not provide fully-skimmed milk, goat's milk, soya milk, lactose-free milk, fluoridated milk or unpasteurised milk, milk with added flavours, colours, vitamins or other additives.
Dr Shireen Kassam, founder of Plant Based Health Professionals and co-founder of VegMed, believes it is "essential" that all schools offer dairy-free alternatives to cow's milk.
Dr Kassam highlighted that cow's milk protein allergy is also a "significant problem".
"Although cow's dairy provides certain nutrients for children, including protein, calcium and iodine, dairy-free alternatives such as soya and pea drinks, especially fortified varieties, contain equivalent amounts of nutrients," she said.
"There is no recognised detriment to a child's health when avoiding dairy products."
Dr Kassam concluded that in order to be "truly inclusive and evidence-based and care about the planet and the animals we share it with" dairy-free alternatives should be offered in schools.
At present the legislation governing the Nursery Milk Scheme allows for the purchase or reimbursement of the cost of cow's milk and infant formula based on cow's milk. However HuffPost UK understands this position is being considered.
Lucy Upton, a qualified paediatric dietitian and feeding therapist, also known as The Children's Dietitian, works with hundreds of children every year who have food allergies.
"I would be very much in support of an initiative to see suitable unsweetened and fortified milk alternatives in schools," she said.
"Children with food allergies can often find themselves repeatedly reminded about what they cannot have. It would be refreshing to see suitable alternatives, in this case, milk, available in all settings including education settings so no child has to go without."