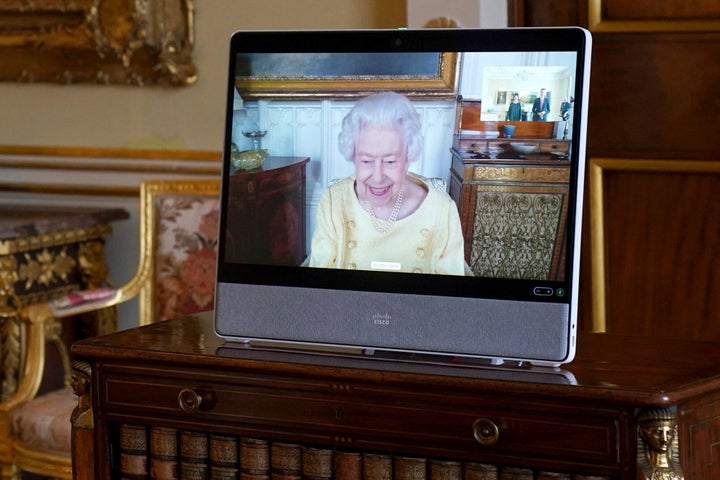 The 95-year-old queen took two virtual appointments from Windsor Castle, meeting with Gunn Kim, the Korean ambassador to Britain, and Markus Leitner, the Swiss ambassador to the United Kingdom.
The engagements were the queen's first scheduled meetings since October 19, when she hosted a reception for the Global Investment Summit at Windsor Castle. She spent part of the following day in the hospital for what a spokesperson described as "preliminary investigations".
But she will not attend – in person – the United Nations climate change conference, COP26, on November 1 in Glasgow.
The monarch was due to travel to Scotland for the high-profile engagement on Monday, but will now record a speech later this week that will be played in a video message to delegates.
It is understood the Queen very much wants Cop26 to be a success and result in meaningful action from the participating nations.
It is hoped no world leaders will use the head of state's absence as a reason not to attend the global summit in Glasgow.
A palace spokesman said: "Following advice to rest, the Queen has been undertaking light duties at Windsor Castle.
"Her Majesty has regretfully decided that she will no longer travel to Glasgow to attend the evening reception of Cop26 on Monday, November 1.
"Her Majesty is disappointed not to attend the reception but will deliver an address to the assembled delegates via a recorded video message."
The queen had planned to visit Northern Ireland last Wednesday and Thursday, but the palace announced at the last minute that the trip had been canceled, saying Elizabeth had "reluctantly accepted medical advice to rest for the next few days".
It wasn't until The Sun broke the news of the monarch's hospitalisation that the palace acknowledged she underwent "preliminary investigations" following the cancelation of the trip.
"Following medical advice to rest for a few days, The Queen attended hospital on Wednesday afternoon for some preliminary investigations, returning to Windsor Castle at lunchtime today, and remains in good spirits," the spokesperson said. The palace didn't elaborate.