On a seven-hour flight from New York to London, Jack Littlejohn gave up his first class seat so 88-year-old former nurse Violet could enjoy a little bit of luxury.
A photo of Jack and Violet went viral when it was shared by Virgin Atlantic flight attendant Leah Barry on Facebook, who praised the 29-year-old for his kind gesture. "He sat on the row of seats directly next to the economy toilets and never made a peep or asked for anything the rest of the flight," Leah wrote. "No fuss, no attention, [he] literally did it out of the kindness of his own heart."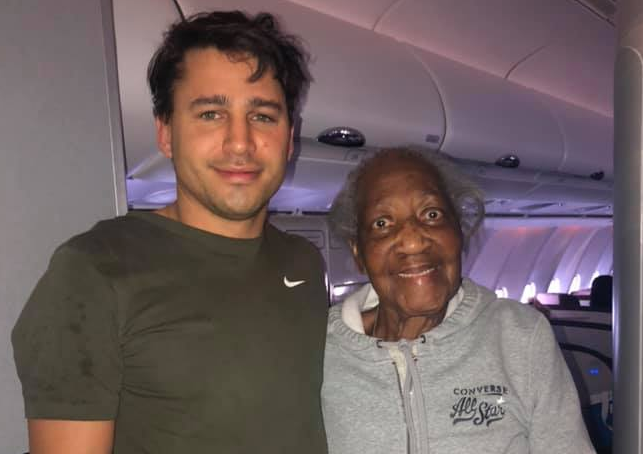 Violet was flying back to London Heathrow after visiting her daughter in New York. Jack was also returning from a family trip – he'd flown to NYC to attend his brother's charity event, the World's Big Sleep Out, which raises awareness of homelessness (generosity clearly runs in the family).
While Jack's face was plastered across news sites after Leah's post went viral, not much was known about the 29-year-old, from Stirling in Scotland, and his motivations for giving up his seat to a stranger. So HuffPost UK asked him about it.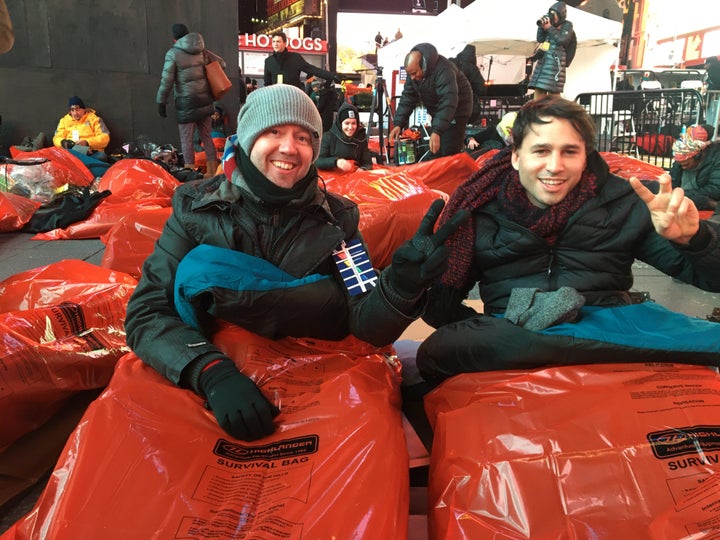 "I've never liked the idea of first class because I don't like the inequality side-by-side and I don't think it's healthy for people who have to walk past all the nice seats to the normal seats," Jack tells us. "It's also a metaphor for how society is going, with the inequality just rising and rising."
Jack explained his mum had purchased the Upper Class seat – basically Virgin's version of first class – as a surprise for everyone on the way back from the charity event, which saw them sleep rough in Times Square. He was travelling home with his mum, her partner and her best friend. When he was told he'd been upgraded, Jack joked he was going to give his seat away. But when he got on the flight, he realised how nice it would be if he actually did gift his seat to a stranger.
"Before the flight was about to take off, I went for a jaunt through Economy," Jack recalls. "I was searching for someone cool to give it to – and then I saw Violet, an elderly Jamaican woman, who you could just tell was really sweet."
Jack sat on the armrest of a nearby seat and asked Violet if she was travelling alone. When she said she was, he responded: "I'd like to give you my seat."
After explaining what Upper Class actually was – the cabins feature leather seats that double up as beds and have the benefit of free food and drink – Violet reluctantly agreed.
"There was a girl beside her who nudged her and said, 'it's very nice up there, I think you should take it'," Jack recalls. "So she said, 'ok I'll do it'. We gathered up her bags, told the hostess and then jaunted back down the plane to the seat."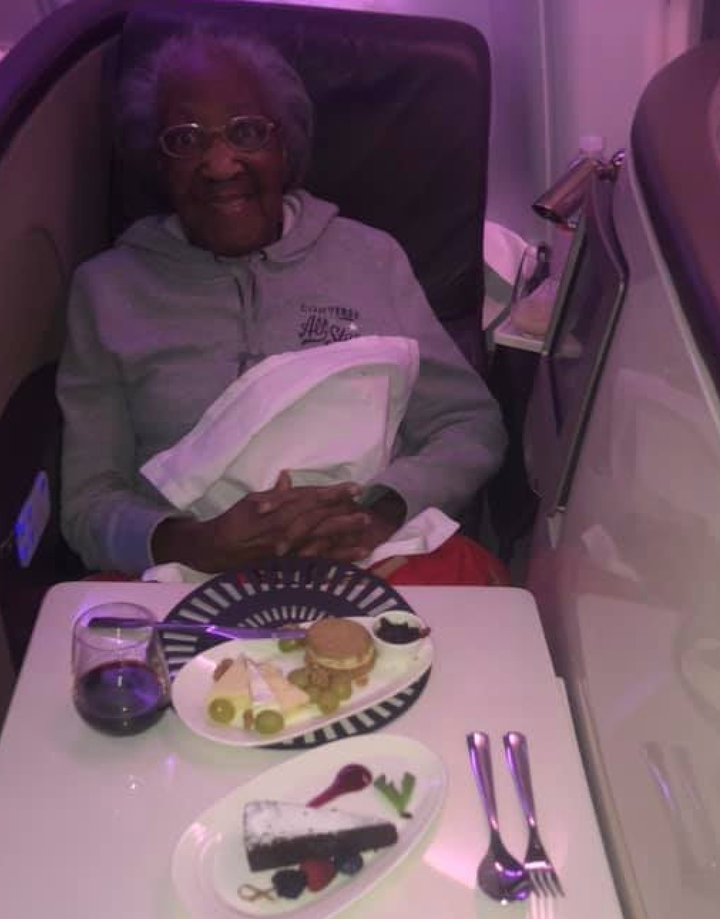 When they got back to his seat, there was a bottle of complimentary water on the table which Violet asked if she was allowed to have. "It was quite nice," says Jack, "she was very appreciative."
Meanwhile Jack went back to Economy to sit in what had formerly been Violet's seat – "It was fine to be honest," he says. "I was very tired. It was a normal flight, I slept for most of it."
According to flight attendant Leah, who managed to have a chat with Violet, the 88-year-old hadn't been able to visit her daughter in New York for a while because she'd had a knee replacement. "You should have seen her face, when I tucked her in her bed after supper," said Leah. "She said her daughter won't believe her. Her dream had always been to sit at the front, and Jack made that come true."
Jack says it's not just small acts of kindness the world needs, but systematic change to improve equality. "I think Virgin is a good example," he adds. "They've got quite a lot of good PR from this, their name has been attached to this story and it's gone around the world.
"I would love to see them give Violet, who is 88 years old, free Upper Class flights for the rest of her life to see her daughter in New York.
"For the amount [of publicity] they've received for this story, it would cost them – in relative terms – pennies."
When asked why it's important to him to help others and be kind, Jack replies: "At the end of the day, what else is there to do?"
Since publishing this piece, Virgin Atlantic confirmed it would be upgrading the eldest customers flying over the festive season to the highest cabin available.
"This is in honour of Jack, giving his Upper Class seat to 88-year-old Violet on his flight home from New York to London," a spokesperson told HuffPost UK on 23 December.
"On behalf of Sir Richard Branson and Virgin Atlantic, upgrades will be offered to the eldest customers on board all Virgin Atlantic flights from tomorrow, 24 December 2019 until 1 January 2020."
HuffPost UK has asked to be put in contact with Violet. We will update this piece if we hear back.