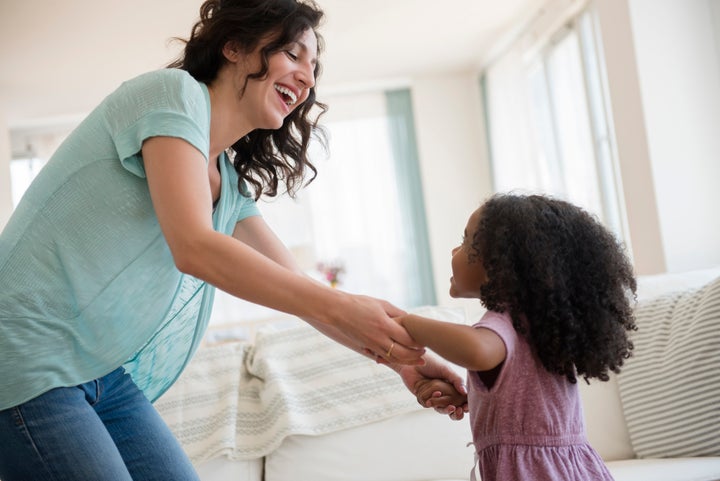 Our favourite songs trigger happy memories. Dancing at weddings with electric in the air, singing along with our parents in the car as kids and unforgettable nights out with friends are all triggered with familiar strings of chords. Whether it's the lyrics speaking to you or a foot-twitching tempo, these are the songs that are with us for life. When you have kids, those memories become even more poignant and filled with joy. Why? Because all of a sudden, there's the song that was playing on the car radio when you brought your baby home, the track that your toddler loved to bop to standing on your shoes and being whirled around the living room and the song that your children spend hours perfecting their flamboyant dance routine to.
Dancing with your kids is one of the most fun things you can do together. No wonder that family raves and and kids discos, like Big Fish Little Fish (2-4hour party people) and Baby Loves Disco are witnessing an intense surge in popularity. But your living room or kitchen is just as good a place to make some shapes with your bouncing balls of energy. Young children don't have the inhibitions that plague the older lot, so they're brilliant at helping you to shed yours. Besides, no one's watching. If you want to spin round and round until you feel dizzy or recapture your Sandy from Grease impression, then go for it.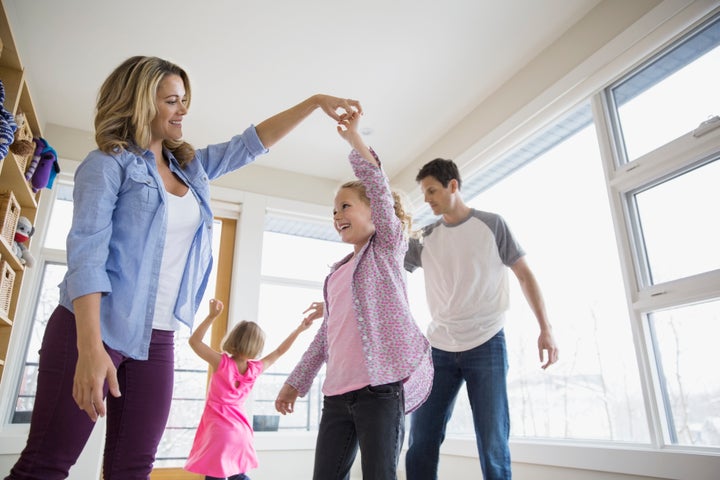 "Kids are natural dancers," says Karl Morgan, a professional dancer whose career includes West End appearances in Cats and Billy Elliot and now runs non-traditional dance and movement classes for boys at Movement Warriors. He started the classes as an antidote to 'the boys play football, girls do ballet' school of thought. From an initial class of 10, he now holds sessions for 150 boys a week at the Ballet Boyz studio in Kingston, South West London.
"When I'm in a class, I have the most amazing 45 minutes of my life, because I get lost in the music, dancing with kids who want to dance. It's the best feeling!" he says. "As a professional dancer, I was getting a bit jaded, and dancing with kids has reignited my passion. With kids of five up, we might make up a dance about knights and castles, or being in space or under the sea."
"I never teach them any formal dance steps, it's all about their creativity and imagination. All I have to do with younger kids of three to five year olds is put the music on and match my energy level to theirs. Parents join in, so I'll pick music the mums love dancing to. Recently I've played Don't Go by Yazoo and Notorious by Duran Duran, and I often play Good Times by Chic and Know How by Young MC."
Karl, who's dad to two boys aged 14 and nine, says dancing with your kids is a natural instinct – from the time they're babies and you'll naturally bop around rocking them in your arms.
Anything parents shouldn't do? "Don't play bad music. Its' got to have a bit of soul - kids can tell when it's fake," says Karl.
One of the great joys of being a parent is being able to impart your love of your music to your kids and bust some grooves with complete inhibition. Teenagers might learn to snort derisively at your 'mum music' (while still knowing all the words), but younger children will love dancing to anything you love, however 'uncool' or esoteric. So if you want to segue from Carmina Burana to Eminem's Round the Outside, just do it.
"Play loads of different music so you're exposing your children to different styles," says Kate Rose-Lean, mum to a son aged six and twin daughters aged three and co-founder of 3Dance Company in Newquay, Cornwall, which offers dance classes to children aged two upwards.
"Allow children the freedom to express themselves however they want and move however they want. Try to steer clear of 'do a turn for Mummy'. Dance is a brilliant way for children to express themselves freely and creatively – and to release energy." On her playlist are music as wide ranging as Bollywood's Bole Chudiyan and Can't Stop the Feeling by Justin Timberlake.
Club nights might be a distant memory for you, but the music lives on. To get you grooving, we've teamed up with Cadbury Dairy Milk Buttons to put together a playlist of 20 all-time classic dance songs for you that we guarantee will have you up on your feet and busting your moves with your kids. We hope you love dancing around to it as much as we do.