'Novichok' means 'newcomer' in Russian. But there is no shock newcomer in the Kremlin after Vladimir Putin last night won the Presidential 'election' he could not lose. Lowish turnout was the one crumb of comfort for young Russians dismayed at the prospect of another six years of his autocratic reign, though somehow the official 67% figure was miraculously higher than the exit polls, higher than last time and higher than the 58% in the US Presidential election of 2016 (tho some in the DUP seem to think Putin is genuinely 'incredibly popular').
Putin also spoke extensively for the first time about claims Moscow had used the 'novichok' nerve agent to try to murder Sergei and Yulia Skripal, claiming "any sensible person would understand that this is delirium and nonsense". Of course, no 'sensible person' would try to rig an election with CCTV cameras showing ballot-box stuffing or order political assassinations of opponents and journalists, so Putin's logic is not exactly impeccable.
Given the row here in the UK over the political response to the Salisbury attack, Putin's most bold claim yesterday was that "Russia does not have any such agents, we destroyed it all". (He also had the rather ominous line that: "The first thing that came to my mind: if it was military grade agent, they would have died on the spot, obviously.") This directly contradicts Boris Johnson's line on Marr that the UK has "evidence within the last 10 years that Russia has not only been investigating the delivery of nerve agents for the purposes of assassination but also has been creating and stockpiling Novichok". Johnson is in Brussels today to urge EU ministers to take coordinated action against Moscow.
Inspectors from the Organisation for the Prohibition of Chemical Weapons (OPCW) arrive in the UK today to analyse samples of the substance used against the Skripals. It will take them a week to conduct their work here and a further two weeks to share and check its identity with 20 laboratories in 16 other countries. Jeremy Corbyn's team will believe that timeframe underscores his call for a "measured", "rules-based" approach. But what's been notable is the way Labour has shifted its lines in the days since Theresa May's Commons statement.
Yesterday, John McDonnell on Peston was the strongest Labour had been on blaming Putin personally for the attack. "He is responsible, whichever way you look at it he is responsible and all the evidence points to him….It leads you to the conclusion that Putin has questions to answer because this is highly likely this could be state execution." As I said last week, 'responsible' is not the same as 'culpable', but McDonnell is now at least saying what Shadow Defence Secretary Nia Griffith said last Thursday. And the Shadow Chancellor's line about 'state execution' is a marked contrast to Corbyn suggesting that 'mafia-like' elements could have actually staged the attack.
Team Corbyn believe his approach is logical: proportionate action against Moscow is needed because it either used the nerve agent or lost control of it, and evidence is needed to prove which of those options it was. But what most upset Labour MPs last week was what they saw as Corbyn's refusal to back the expulsion of the 23 Russian diplomats and a lack of clarity as to Russia being responsible. It took him until Friday to state "We agree with the government's action in relation to Russian diplomats" (he hadn't explicitly supported the expulsions on Wednesday in the Commons or on his Facebook post, or in TV clips on Thursday). The tensions within the PLP may surface at its meeting tonight, though some think the OCPW visit helps Corbyn's case. What may unite the party is the call for tough financial meaures. Vociferous Russian exile Bill Browder, who wants a Magnitsky-type approach, is addressing Labour's backbench foreign affairs committee today at 2pm.
2. IMPLEMENTATION. PERIOD.
Yesterday on Peston, Anna Soubry insisted that despite Corbyn and McDonnell changing "their line to find favour with voters" on Russia, it's still her view that the Labour leader is "one of the most dangerous people in British politics". I pointed out last week that the real fear of some in Labour was that Corybn's line on Russia put at risk any hope of an alliance with Tory rebels on Brexit. Judging from Soubry's tone, that is more than a risk.
But at times the gap between Conservative Remainers and Leavers does indeed look as big as the one between May and Corbyn. After our exclusive on Friday on the Brexit Select Committee's call to extend Article 50, the acrimony continued all weekend. Jacob Rees-Mogg called chairman Hilary Benn (and his Tory colleagues like Stephen Crabb and Jeremy Lefroy) "the high priests of Remain". Stephen Kinnock countered that the tabling by JRM of an alternative report 10 minutes before the Committee considered the main report was "an underhand and discourteous move".
As an ambush, however, it appeared to have worked. This morning the Mogg uses his Telegraph column to warn the PM not to turn the UK into 'a joke nation' this week. But Remainer rebel George Freeman sounded equally adamant. He told Radio 4's Westminster Hour: "I would find it very difficult to vote for a Brexit that puts a border back between the north and south in Ireland and creates a cliff edge for investment next spring." He hinted too that he was still prepared to vote continued membership of the EU customs union in a Commons vote later this year.
Brexiteers are particularly worried about the language May will use on the Irish border issue during and after the 'implementation period' that starts next March and ends in 2021. Ahead of Thursday's EU summit, today David Davis meets Michel Barnier will start to hammer out some of the details of that period. Optimists think the right phrasing can be found to finesse Ireland, home affairs opt-ins, trade deal signings and even fishing. But the bigger story is perhaps the Guardian's report on Saturday that this week we'll see a political agreement - not a legally binding one that would give certainty to business in the UK and the EU. If you're a company planning life after March 2019 or January 2021, maybe the lack of legal guarantees is the 'new normal'. But it will worry them nevertheless.
Back in the 2001 general election campaign, Tony Blair had a slogan that Labour would put "schools and hospitals first". Derided as schoolsnhospitals by the Tories, it drove a wedge between the two main parties that was yanked open even further in the 2017 election. Planned cuts to school budgets, as well as worries about the NHS, caused serious damage in many Tory marginals. Not for nothing the Theresa May admit in her party spring forum speech this weekend that the public still "wonder whether we care enough about our NHS and schools". Away from Russia and Brexit, she will try to revive her 'burning injustices' theme on domestic policy with another speech today.
This weekend, a joint survey by ITV News and the National Association of Head Teachers, revealed that 97% of heads say their school is facing "severe financial difficulties". Michelle Gay, who runs Osborne primary school in Birmingham, was in tears as she explained why she'd had to cut school teaching to half days on Fridays, lacked basics like writing paper and had to ban kids from playing football because of a lack of cash for a playing surface. Education Secretary is before MPs on Wednesday. It seems his department has stopped trotting out the line that funding is protected, and now claims schools are sitting on £4bn of reserves. That claim looks suspicious too, but it's all a reminder the Philip Hammond has to do more on education and not just the NHS.
The Health Service Journal has revealed that several trusts are creating private companies to transfer support staff such as cleaners and porters to claim back VAT costs. Labour's Jon Ashworth claims this is 'back door privatisation' and HuffPost has his letter written to Jeremy Hunt today demanding the Government block the moves. Meanwhile, Darren Murphy, who advised Tony Blair and Alan Milburn on health policy back in their heyday of 2001, has quit Labour over Corbyn's Russia response (I understand he says the party has left him, not the other way round). Things are certainly fluid in Labour right now. Moderates were cheered that their candidate won the Young Labour chair election, while Momentum was happy it won the Young Labour rep slot on the NEC. And Newham Mayor Sir Robin Wales, a famed 'trotbuster', was ousted after 23 years.
BECAUSE YOU'VE READ THIS FAR...
It's still icy here in the UK. In case you missed it, watch this rather hunky bloke dressed as Elsa from Frozen as he pushes a truck out of some snow in Boston. Nice curtsey.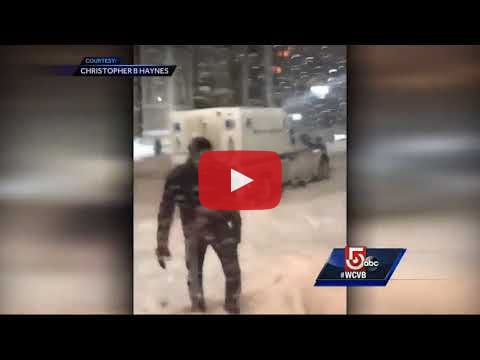 4. ENCYCLOPEDIA ANALYTICA
The Cambridge Analytica story has been brewing for some time, but this weekend it boiled over. We learned in recent days that the data analysis firm employed by Donald Trump's presidential campaign had allegedly tapped the Facebook profiles of more than 50 million users. The FT reports it is trying to stop the broadcast of an undercover Channel 4 news report due tonight on its activities. Facebook banned CA on Friday for failing to delete Facebook user data collected by an app for research purposes. The Observer continued its excellent reporting yesterday, with an interview with Christopher Wylie, "the gay Canadian vegan who somehow ended up creating 'Steve Bannon's psychological warfare mindfuck tool'".
The Commons Culture, Media and Sport Select Committee has played its own role too. Chairman Damian Collins is now accusing CA's chief exec Alexander Nix of giving "deliberately misleading" and "false statements" to MPs probing links between his firm and claims of influence in the Brexit referendum. Collins wants Mark Zuckerberg to give evidence to Parliament. There are also probes by the Electoral Commission and the Information Commissioner's Office (not to mention the Mueller probe in the US). And yet it remains unclear whether, despite all its boasts, the company did have any real impact on either Brexit or the US election. Any data on that really would be valuable.
The decision to put 'Digital' at the heart of Matt Hancock's new title the Secretary of State for Digital, Culture, Media and Sport was one of the smarter moves of the May government. With one eye on the Cambridge Analytica story, he has told Telegraph he wants to end the 'Wild West' era for Google and Facebook (an echo of Sadiq Khan last week). But does that mean new legislation? Or just the threat of it? And today he faces demands to act as a tough sheriff on the wild west of the gambling industry too.
At 7am (as previewed by the Times), the Gambling Commission watchdog recommended the maximum stake for fixed-odd betting terminals (FOBTs) should be set "at or below £30". The key words there are 'or below', as campaigners want Hancock to do something really radical slash the stake limit to £2. With bookies' profits on the line, the Secretary of State really has got a big call to make.