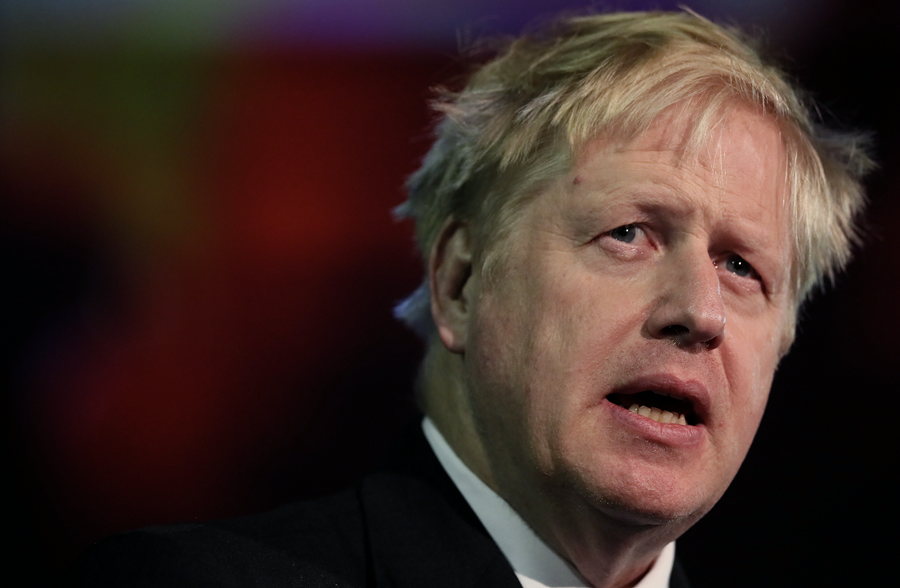 Yes, the Commons is back and so too is the political conundrum that is Brexit. Story fatigue on this long-running drama kicked in a long time ago, but we have a lovely catch-up piece on where we are now after the Easter break (spoiler: this latest season is the most disappointing yet). Don't forget that before MPs packed their bags, the PM told them: "Let us use the opportunity of the recess to reflect on the decisions that will have to be made swiftly on our return after Easter." This week we will find out whether 'swiftly' means 'swiftly'.
The key twin issues remain the delayed departures of the UK from the EU and Theresa May from the leadership of the Tory party. With little new movement on the former, the latter is what's motivating some Conservative backbenchers today. Is delay the thing, wherein they'll catch the conscience of the King, sorry Queen? As the executive of the backbench Tory 1922 Committee meets today, there's plenty of excitable talk among some MPs about changing the party leadership rules to force the PM to face a no-confidence vote in June, rather than wait to December.
It's unclear whether the rules can be changed so easily, and the rebels may be themselves guilty of the can-kicking charge they lob at May. Few Tories want to further harm their party's chances in the local elections next month and some local associations are reportedly waiting until after disastrous Euro elections on May 22 to pass their own (non-binding) no-confidence motion. Committee grandee Nigel Evans has repeated his demand that 'we need fresh leadership', but it will need new big new names, or a Cabinet walkout over a customs union, to shift the dial.
One thing that has shifted in recent days is more support for Boris Johnson among activists. The latest ConservativeHome survey gives him a big lead over Dominic Raab. Boris superfan Conor Burns MP summed up the mood of his allies with this tweet yesterday saying: "Things can't go on as they are" (although several people spotted a premature election lurking in his green shorts). A Boris Backlash is also underway, with the 'i' reporting that moderate Tories are wargaming against him. I note that former Tory minister and London Mayoral candidate Steve Norris warned yesterday that he would quit the party if Boris became leader.
Meanwhile, it's worth recalling that the last time the 1922 Committee met before recess, there was much laughter at the fact that the whips' next Commons business was about post-Brexit 'seed potato' regulations. Well, the vote on that particularly exciting statutory instrument is due to take place today. Michael Gove will ask that "the draft Animal Health, Seed Potatoes and Food (Amendment) (Northern Ireland) (EU Exit) Regulations 2019, which were laid before this House on 3 April, be approved".
Cabinet is hardly moving "swiftly", (it's at 11am rather than its usual 9.30am) and No.10 is still stubbornly clinging to its stance that some kind of cross-party compromise is the way through. Neither the Tory nor Labour grassroots are over the moon about talking to the enemy on Brexit. But the attempt at engagement continues today with a 'working group' on security that will see Brexit Secretary Steve Barclay and his shadow Keir Starmer get into the detail.
Other 'working groups' are due to meet later this week. Wider talks will resume in the Cabinet Office this afternoon with David Lidington, chief whip Julian Smith and No.10 chief of staff Gavin Barwell expected to attend. It's worth remembering that some in Labour think that the PM really hasn't changed anything of substance in these talks, not least on their key demand for a customs union/arrangement. Some Cabinet ministers (admittedly Brexiteers) think Labour is stringing the talks out to ensure another fresh push at a confidence vote and a general election. They believe (with some justification) that the EU's new October deadline has removed all pressure on Corbyn.
I note the PM has a written ministerial statement on a 'machinery of government' change on the Order Paper. No, it won't be the creation of a Coalition Government. As I've said before, no 'deal' is ever likely to be hatched between the government and Labour. The best that could be hoped for is an agreement on process, and possible free votes on both sides on the vexed issue of customs. Even that is a big ask, however.
Today, the Euro elections pressure on both parties may intensify as ChangeUK unveil their latest candidates with an unashamedly 'Remain' agenda and former Tory, Labour and LibDem 'MPs, ministers councillors and activists' promised at their Bristol launch. Nigel Farage's Brexit Party is set to reveal more of its candidates too, with Claire Fox among them. She is a libertarian who also happens to have been a member of the Revolutionary Communist Party until 1996 and used to co-publish Living Marxism magazine.
The Extinction Rebellion protests may resume in Parliament Square today but the main media attention could well be for Greta Thunberg, the Swedish teenager who launched the global school strikes environmental movement. She has a speech this afternoon, after meeting Westminster party leaders at 11.30am. Thunberg will meet Jeremy Corbyn, Caroline Lucas, Vince Cable, Ian Blackford and Liz Saville Roberts.
The one person Thunberg is not due to meet is Theresa May. The Green Party's Lucas asked May to do so at the last PMQs and amazingly No.10 has missed up the opportunity (so far) to invite her into Downing Street. I'm told that various substitutes were put forward for today's Westminster meeting, including climate change minister Claire Perry and the PM's environment adviser (and former deputy chief whip) John Randall. Thunberg, showing political nous beyond her years, made clear the invite was for party leaders only. At some point, Environment Secretary Michael Gove is rumoured to be meeting her, though that's yet to be confirmed.
On the Today programme, Thunberg talked about her Asperger's but also about how impossible it was to deal with Donald Trump. "Obviously he's not listening to the science and what we have to say." Yet she also rammed home the protestors' point that this is an area of public policy that really is an emergency, declaring people had to 'panic like their own homes were on fire'. Thunberg has realised that if science, logic and reason aren't enough to get politicians to move, emotion could be the key.
As it happens, Perry appears at 2pm before the Commons Science and Technology Committee to give evidence on 'Technologies for meeting Clean Growth emissions reduction targets'.
BECAUSE YOU'VE READ THIS FAR...
Jeremy Hunt is due to make a Commons statement about the appalling Easter Sunday massacre by Islamist terrorists in Sri Lanka. The Guardian reports on the Sri Lankan government's admission that it received warnings two weeks ago that suicide bombers from a radical group were planning to target churches. A father who lost two teenage children in the explosions has spoken of the ordeal he faced in trying to save both of them on the last day of their holiday.
5. NEW IRA, OLD 'APOLOGY'
The New IRA has admitted responsibility for the murder of journalist Lyra McKee in Londonderry. McKee, 29, died as a result of injuries sustained when she was shot on the Creggan estate on April 18. In a statement given to The Irish News using a recognised code word, the group offered "full and sincere apologies" to her family and friends.

HuffPost is part of VerizonMedia and on 25 May 2018 we will be introducing a new Terms of Service and Privacy Policy which will explain how your data is used and shared by VerizonMedia. Learn More.
If you're reading this on the web, sign-up HERE to get The Waugh Zone delivered to your inbox.