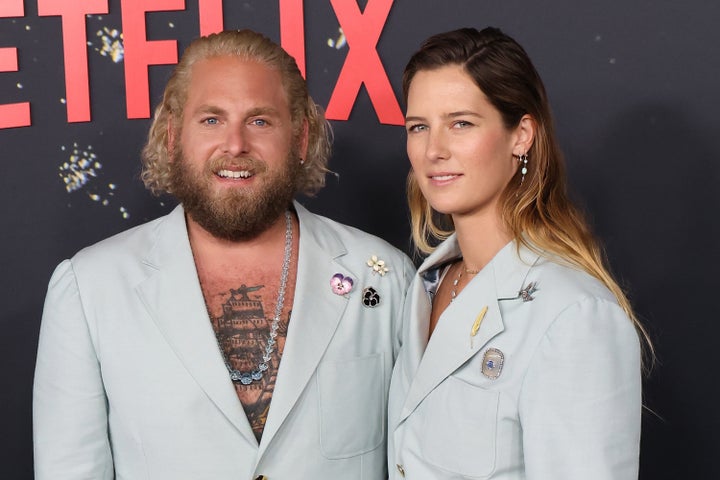 If you've been online recently, chances are you will have heard about the posts surf instructor and law student Sarah Brady put up about her ex-boyfriend, Jonah Hill.
The 25-year-old shared a series of screenshots on her Instagram stories that detailed what she called Hill's "emotionally abusive" behaviour. The alleged conversations included Hill demanding that Brady stop doing the following: modelling, surfing with men, posting pictures of herself in a bathing suit, and hanging around with "women who are in unstable places and from (her) wild recent past."
The 39-year-old actor allegedly stated that these were his "boundaries", but Brady disagreed, writing "See the misuse of the term 'boundaries'?" in one of her stories.
And it looks like licensed counsellor Jeff Guenther, known on TikTok as Therapy Jeff, agrees with Brady.
He recently posted a TikTok which begins "Jonah Hill was using therapy speak to control his girlfriend Sarah – his now ex-girlfriend."
Here's what Guenther has to say about the misuse – and how you can spot it.

What is therapy speak?
The "misuse of therapy language is kind of a thing these days," starts Guenther.
But what is "therapy language" in the first place?
"Therapy-speak is prescriptive language describing certain psychological concepts and behaviours. It's generally formal. It might be language you pick up from a mental health professional. It might be language you pick up from, you know, social media or just talking to your friends," she says.
"I actually saw someone online refer to it as the HR-ification (ph) of language, and I really like that because it's sort of scripted in a way that removes culpability," the writer added.
In other words, therapy speak involves using words and phrases derived from professional, clinical language in your day-to-day interactions with people. Words like "toxic", "triggering", "holding space," and more are often involved. Fishbein adds that it's not necessarily a problematic thing to use this language for "self-care and boundary-setting."
But the language can also assume a place of presumed blamelessness. "If a friend says to you, 'I'm in a place where I'm trying to honour my needs and act in alignment with what feels right within the scope of my life, and I'm afraid our friendship doesn't fit in that framework,' then there is a subtle intimation within that ridiculous turn of phrase which implies you are the one at fault for the collapse of the friendship, not them," Evie says.
Basically, it's a good thing that it seems more of us are able to talk about our mental health and communicate boundaries these days. But like any other skill, it has the potential to be misused.

OK, so... how can I tell?
Guenther draws a clear distinction between boundaries and demands in his video.
"A boundary is a healthy limit a person sets for themselves to protect their wellbeing and integrity. It is a rule or guideline that one creates to identify reasonable, safe and permissible ways for others to behave towards them and how they'll respond when someone passes those limits," he says.
However, the therapist feels that "in the message Jonah (allegedly) sent to Sarah, he is not setting boundaries that protect his emotional well-being. Instead, he is dictating what behaviours and friendships Sarah is permitted to have... This is not an example of healthy boundary setting. Instead, it reflects an attempt at control."
A key distinction, Guenther says, is that while boundaries are defensive, Hills' alleged texts were demanding. In other words, the alleged texts became less about Hill protecting his feelings, and more about him dictating the actions of his then-girlfriend.
"A healthier and less manipulative approach might be for Jonah to express how Sarah's actions make him feel without using ultimatums about what she should or should not do," Guenther adds.
Of course, therapy speak is not in and of itself a bad thing. The New Yorker shared that most of the therapists they spoke to were not worried about the rise of more clinically-informed language. "Most of us are still more likely to minimise mental-health challenges (including addiction) than to exaggerate them," they say, adding that the distinction between 'real' and 'fake' psychological issues and needs is rarely straightforward.
Still, if you feel a friend, partner, or family member is using therapy speak to avoid accountability or even unfairly influence your own actions, don't be afraid to call them out.
Here's Guenther's full video:
Help and support: