Theresa May is facing a backlash after appearing to suggest foreign-born doctors will not be welcome in the United Kingdom beyond 2025.
Health Secretary Jeremy Hunt has announced plans to train up to 1,500 more doctors a year in a bid to tackle the recruitment crisis and make NHS England "self-sufficient" in doctors by the middle of the next decade.
NHS hospitals rely heavily on foreign doctors, who currently make up 25% of the medical workforce. This morning, Theresa May said the NHS should have a "larger pool of British doctors" to pick from.
Speaking to BBC Breakfast, the Prime Minister was asked: "Can you reassure those doctors, nurses, other staff working in the NHS from overseas they are welcome to stay here in that interim period?"
May said:
"Yes. There will be staff here from overseas in that interim period - until the further number of British doctors are able to be trained and come on board in terms of being able to work in our hospitals.

"We will ensure the numbers are there. But I think it's right that we say we want to see more British doctors in our health service."
Many spotted what they saw as a clear signal from the PM that after the 'interim period', foreign-trained doctors would no longer be allowed into the NHS.
Scotland's first minister, Nicola Sturgeon, responded by criticising the "arrogance" of May's government.
And JK Rowling retweeted complaints from others furious at the new policy.
Others on Twitter greeted the new announcement with a mixture of fury and ridicule, with some claiming the plan was May's equivalent of Donald Trump's 'Great Wall' with Mexico.
In later interviews, May appeared to change her stance. When asked if foreign doctors would be asked to go home, she told Five News "No...we want to see more British doctors being trained".
But when pressed on the matter, she added: "It will be for hospitals to decide who they employ in terms of the openings they have."
As the backlash grew, Hunt went out of his way to praise the current contribution of those medics from overseas working in the NHS.
"The NHS would fall over without them," he said in his speech to the Conservative Party conference on Tuesday.
However, critics said that Hunt's phrase that he wants a 'self-sufficient' health service staffed by 'home-grown' doctors, suggests either a bar on new foreign doctors or a gradual cut in their numbers of those already here.
Despite a growing backlash from the BMA, May underlined her backing for more British-trained doctors on Sky News.
"There are people here in the UK who want to train as doctors who may not be able to do that because of the limits that have been put on the numbers," she said.
"We want to give those opportunities to British people and we want to see more British doctors in the NHS. We want to ensure that we can see more British nurses and doctors operating in our NHS, working in our NHS. I think that's only fair."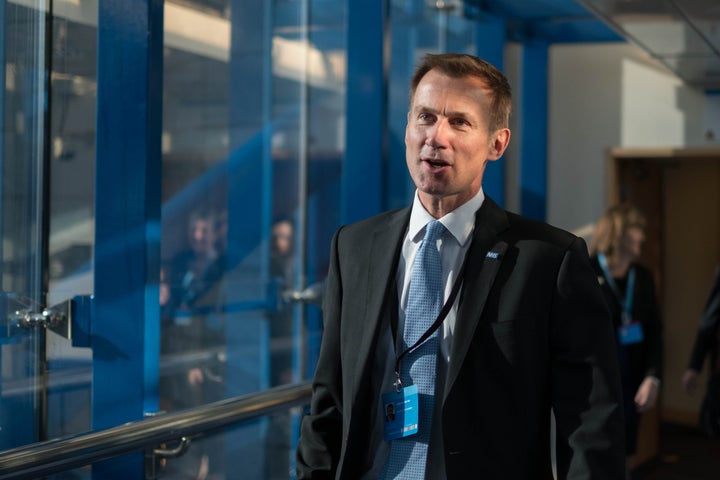 Hunt will reform the current 6,000-a-year cap on students at medical schools, allowing numbers to grow by as much as a quarter.
And he announced a new requirement for all doctors trained in Britain to work for in the NHS for a minimum of four years after graduation - or face a bill of £250,000 if they choose to move overseas.
"Currently a quarter of our doctors come from overseas. They do a fantastic job and we have been clear that we want EU nationals who are already here to be able to stay post-Brexit.
"But is it right to import doctors from poorer countries that need them whilst turning away bright home graduates desperate to study medicine?" he said.
"From September 2018, we will train up to 1,500 more doctors every year, increasing the number of medical school places by up to a quarter. Of course it will take a number of years before those doctors qualify, but by the end of the next Parliament we will make the NHS self-sufficient in doctors."
Aspiring doctors will be able to apply for the new places from the 2017/18 academic year to start their courses in September 2018.
Labour's shadow health secretary Diane Abbott said: "Training more doctors and nurses here is a good idea, but it will need additional money and the Tories are cutting £22 billion from the NHS budget.
"The idea we can be self-sufficient in medical staff is ridiculous. An additional 1,500 doctors' training places only scratches the surface of the professionals that are needed to staff our health service. Some of these will drop out and others choose to work abroad.
"The NHS will be facing disaster without freedom of movement. This Brexit fantasy is deeply damaging to the NHS."
Lib Dem health spokesman Norman Lamb told HuffPost UK: "These comments by the Prime Minister are deeply unhelpful. It seems like the nasty party never went away.
"Many foreign staff in the NHS are already feeling undervalued and unwelcome in this country, particularly after the toxic rhetoric around immigration following the EU referendum.
"We should be thanking them for the work they do rather than implying that we can do without them.
"This Government seems increasingly determined to pull up the drawbridge and close Britain off from the rest of the world, even though such an approach would leave the NHS in dire straits. It's a total fantasy to suggest that the UK can become self-reliant in its medical workforce."